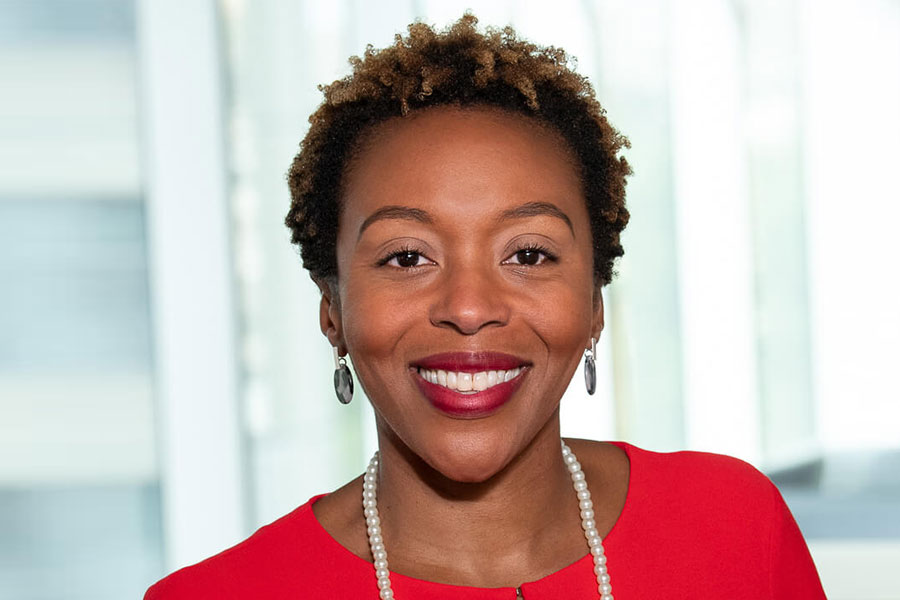 May 24, 2021
Tepper COO Honored at 2021 Awards of Distinction
In a two-part ceremony, Tepper School Chief Operating Officer Rhonda Fischer was honored for her accomplished career and for serving as a role model to young women at the Girl Scouts of Western Pennsylvania (GWSPA) 2021 Awards of Distinction. Fischer, who received the award for business, was one of ten women to receive the honor.
The event was presented by UPMC. On May 18, guests were invited to a VIP reception that included a panel with the 2021 award winners as well as a session of small-group networking. The general program on Friday, May 21, featured an awards ceremony to honor the Women of Distinction as well as local Girl Scouts. The event also included a salute to Girl Scout frontline and essential workers. Girl Scouts Western Pennsylvania serves more than 18,000 girls from 27 counties across western Pennsylvania.
Following the event, we caught up with Rhonda to hear more about her experience and how she became a leader in her industry.
What does it mean to you to receive this honor?
This honor is incredibly special for me. As a newcomer to Pittsburgh, I'm humbled to receive an acknowledgement to my contributions to the Tepper School and CMU, and the work throughout my career. I believe strongly that you should "bloom where you're planted," and I've worked hard in my two years in Pittsburgh to make an impact in all of the spaces that I occupy. The Girl Scouts are renowned for their leadership development of young girls and women, and to be recognized as a woman who exemplifies their values means the world.
What accomplishment are you the proudest of?
I've been very blessed in my life with great educational opportunities and experiences that have shaped who I am today. When I was a 35-year-old, I decided to go back to school for my MBA, which proved to be the most transformational experience for my career and opened up a world of opportunities for me. I am most proud of this accomplishment because I was able to balance my roles as student, mom (Charles IV was 5 at the time) and wife. I did an accelerated one-year program at Emory University, and it was one of the most challenging, yet rewarding, years of my life.
What is your advice for young women currently entering the workforce?
My advice to young women entering the workforce is to always remain authentic and true to yourself. It's important to remember that you possess a unique combination of skills, talents, and experiences; and a story that only you can tell. Any company or organization that is worthy of your time will appreciate you and will be better, and more effective because you show up as your most authentic self. Additionally, remember that feedback is a gift. Always seek to understand from colleagues, supervisors, and friends what you're doing well, and where you have opportunities to improve. We all have blind spots, so recognizing and acknowledging them allows you to grow.
What three factors would you attribute your success to?
Faith, which gives direction and purpose for my life; family and friends – for grounding me and providing unwavering support; tenacity – remaining dedicated to and persistent in the pursuit of my goals, especially when things get tough.
How have you balanced your career and personal life as a wife and mother? Do you feel there is more pressure on women to find this balance?
Balancing my career, which has evolved significantly over the past decade, with my personal life as wife and mother of two is HARD work. I don't know that I've achieved this "balance," but I aim to give my best to my career and my family. However, family comes first in every instance. Even in the busiest and most hectic seasons of my career, I try to maintain boundaries that allow me the opportunity to spend time with my husband and kids. Also, I protect my weekends as much as possible, which allows for rest from work, and quality time for family and friends. Lastly, I believe strongly in self-care and prioritize doing those things which bring me joy and nurture my own physical, mental and emotional well-being.
In a house full of boys, how do you share/teach encouragement of girls and young women to aspire toward success?
I am fortunate to have lots of young women in my life that I get to spend time with. I'm intentional about sharing all aspects of my journey – the good, bad, and lessons learned along the way. I try and expose them to what's possible and reframe any negative thoughts they have or have been told about their personality traits, or characteristics. When someone tells you you're bossy, know that means you may be a COO one day!
What do you most look forward to as we move back on campus again?
As we prepare to come back to campus gradually, I look forward to seeing colleagues and friends again! I miss the informal chats in the hallways and the impromptu cups of coffee (tea for me) at Tazza D'oro with colleagues. When I interviewed for this role two years ago, one of the factors that compelled me to take the job was the Tepper community. I loved the collegiality and warmth among staff and appreciated the amazing hospitality that was extended to me. I continued to experience this from day one at Tepper, through the day in March when we all packed up to head home for an unknown period of time. While I know we will need to establish a "new normal" that involves flexibility, I'm eager to reestablish community in the Tepper building.
Congratulations to Rhonda on this well-deserved award!