Featured Project: Sustainable Pittsburgh E-Newsletter and Technology Planning
Community Partner: Amanda Harber, Executive Administrator, Sustainable Pittsburgh
Student Consultant: Kevin Purtell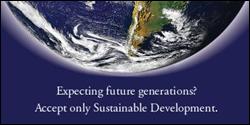 Sustainable Pittsburgh, a 501(c)(3) nonprofit, affects decision-making in the Pittsburgh Region to integrate economic prosperity, social equity, and environmental quality bringing sustainable solutions to communities and businesses. Through the policy and practice of sustainable development, their vision is for Southwestern Pennsylvania to have a strong economy in which all people can live to their potential, are engaged, and prosper within the means of a clean and healthy environment. Further information on Sustainable Pittsburgh is available at their website.

At the time of the Technology Consulting in the Community partnership, Sustainable Pittsburgh had significant education programs with the public through workshops and other events but was looking to improve the information they made available through their website. None of their staff members had an extensive technology background, however their organization had an operational website and were already utilizing technologies such as e-mail, word processor applications, printer, copiers, and telephones to accomplish their daily tasks.



In discussions between the Community Partner and Student Consultant, they decided to focus on revising the format and organization of their online biweekly e-newsletter "3E Links," one of their primary communication tools with the public.
TCinC Student Consultant Kevin Purtell worked with Community Partner Executive Administrator Amanda Harber and her colleagues at Sustainable Pittsburgh to improve their e-newsletter as well as plan for further technology improvements in their workplace.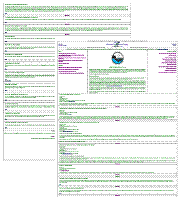 "Working with our technology consultant, Kevin Purtell, was both eye opening and enjoyable. Kevin's growing expertise was a benefit to Sustainable Pittsburgh, as he helped us to pinpoint quick changes that would enhance our day to day operations as well as brought about a positive change to our e-newsletter. As Kevin was so attuned to Sustainable Pittsburgh's needs and immediately responsive to my questions, I felt like we had hired a professional."
Amanda Harber, Executive Administrator, Sustainable Pittsburgh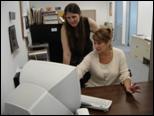 "Technology Consulting in the Community has been one of the best experiences of my college career. By working with Sustainable Pittsburgh, I learned to manage a small project in a complex environment, cause it to have lasting impact, and concisely communicate its outcomes. Later as a Teaching Assistant, I had the privilege of overseeing a classroom of caring students as they positively impacted the Pittsburgh community."
Kevin Purtell, TCinC Student Consultant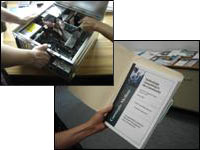 As a result of the collaboration, the new and improved biweekly e-newsletter is available on Sustainable Pittsburgh's website. Kevin also provided a number of technology recommendations at the end of the consulting experience in his Final Consulting Report. Since then, Sustainable Pittsburgh has followed his recommendations by upgrading their hardware and new hiring decisions have been influenced by applicants' technological expertise in addition to their other skills.