Featured Project: Dance Alloy Theater Database Development and Management
Community Partner: Lauren Urbschat, Marketing Director, Dance Alloy Theater
Student Consultant: Eddy Lee
Dance Alloy Theater (DAT) is a Pittsburgh-based non-profit arts organization that offers opportunities to exercise the muscle of imagination through its performing dance theater repertory company, school, and outreach opportunities. Further information on Dance Alloy Theater is available at their website

At the time of the Technology Consulting in the Community partnership, DAT had no staff member dedicated exclusively to the role of information technology in their organization, however they were already utilizing technologies such as e-mail, word processor applications, printer, copiers, and telephones to accomplish their daily tasks.

In discussions between the Community Partner and Student Consultant, the greatest challenge facing the organization where technology could play a role was managing contact information.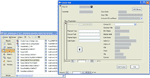 TCinC Student Consultant Eddy Lee worked with Community Partner Marketing Director Lauren Urbschat and her colleagues at DAT to build a new database to include their ever-growing list of members and class registrants. After researching a few different options, they worked together to design and implement a relational database using Microsoft Access.



"TCinC provides an incredible opportunity for both the organizations and the students and I highly recommend the program to all my colleagues. My student consultant and I worked together every step of the way to turn an ancient behemoth database into a well managed organized information system that fit our specific needs.
I L-O-V-E my new database!"
Lauren Urbschat, Marketing Director - Dance Alloy Theater

As a result of the collaboration, the DAT staff transitioned from the old database to the new version and fully adopted the new system. At the conclusion of the project, Eddy provided some additional technology recommendations to assist DAT's work in the future.