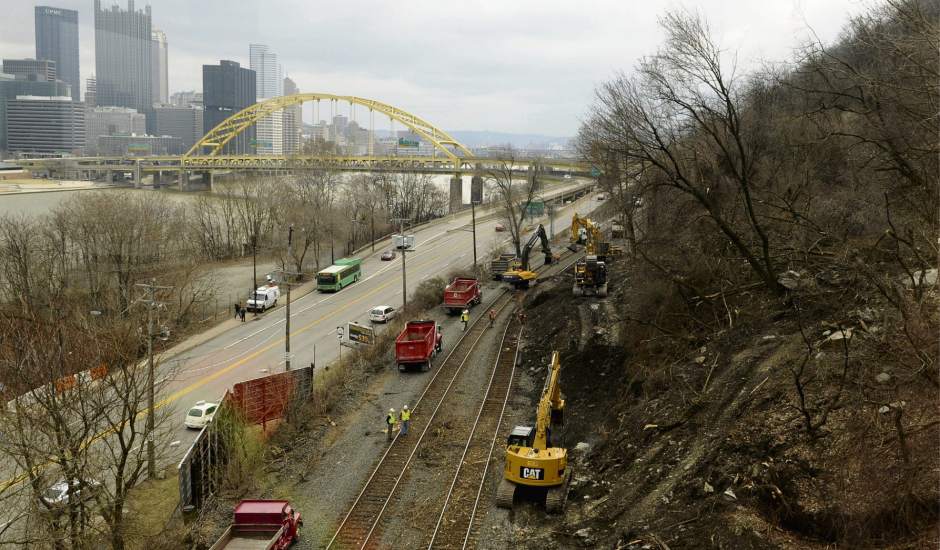 Landslide Prediction and Analysis from Images
The beginning of 2018 was marked by unusually heavy rain falls which caused a lot of landslides in and around Pittsburgh. Fortunately, no person was insured, however, houses were destroyed and several roads had to be closed, some for months to be completely reconstructed. In this proposal we want to develop and test an inexpensive early warning and post-event analysis system. The basic idea is to collect images of the hill sides on a regular basis and analyze these images with computer vision algorithms to identify precursor events. Our group has already shown that such a data collection can be done efficiently with smartphones mounted in vehicles that drive around the area on a regular basis. In fact, this data collection system is part of a CMU spin-off that inspects road surfaces (RoadBotics, Christoph Mertz is co-founder). 
From this earlier road monitoring research, we have GPS tagged images as far back as 2012. Of particular interest are images we collected about once a month around the West-End-Circle from where one can view a recent landslide. We want to analyze these images to look for changes in the 3D shape of the hill side, change of color of the surface, unusual amount of dirt on the road or any other indication of impending problems. Additionally, we want to compare those past images with current ones to see if we can get any information that is useful in the post-event analysis. E.g. one can create a 3D model of the hill side from the images and compare the geometry before and after the slide to determine how much dirt moved and where it ended up.
This project is a proof-of-concept development of an early warning and post event analysis system for landslides that will enable communities to spot slopes that are prone to collapse, helping in remediation prior to catastrophes. By using state-of-the-art computer vision techniques and developing mechanical models and accompanying tools that can take the results of the image analysis to predict or evaluate landslides.
The project demonstratedthe 3D reconstructing of hillsides from images and calculate the stability of slopes with a 'Cohesive Zone Modeling' (CZM) approach. Additionally, researchers identified cracks, debris, water, leaning trees, or deformed guard rails as possible landslide indicators that might be detected in images. 
Project Update (March 2020)

The project was the subject of the Heinz College masters course "Policy Innovation Lab" whereby students took the findings of this project and helped apply it to Westmoreland County; the students presented their final project to the County Commissioners which was live-streamedto residents.
A follow-up project "Bus on the edge: Continuous monitoring of traffic and infrastructure" has been funded by Mobility21, CMU's USDOT-sponsored National University Transportation Center on Mobility.
Media and Publications
Asish Yadav Madala, "Cohesive zone modeling of soil slopes", technical report, Carnegie Mellon University, 2019.
The work was presented at the University of Pittsburgh IRISE workshop "Explore Approaches to Managing Landslide Risk." AxiosArticle –July 2019.WTAE feature story–July 2019.
Project Partners
City of Pittsburgh 
Allegheny County 
Project Team
Christoph Mertz 
Project Lead, Principal Project Scientist, Robotics Institute 

Amit Acharya 
Faculty, Civil & Environmental Engineering