Solar for the City
Forty Carnegie Mellon students from architecture, design and mechanical engineering competed in the Solar Decathlon in Washington, D.C., with an entry designed to reduce urban utility bills and pollution.
By Tom Nugent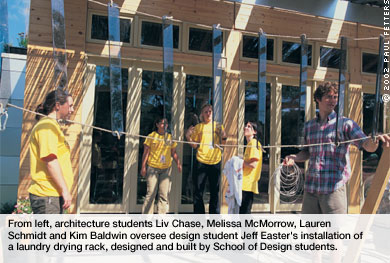 Ask Carnegie Mellon architecture student Andy Lee what it's like to "build a solar-powered house entirely from scratch," and this hard-charging, fifth-year senior won't miss a beat.
"It was an amazing experience," enthuses Lee, the student team leader who captained the university's crew of about 40 undergraduate designers and builders to a 12th-place finish in last fall's Solar Decathlon, held on the National Mall in Washington, D.C. "As architecture students, of course, we were already used to designing buildings in the classroom day in and day out.
"But the Solar Decathlon was different. This was the first time I'd ever been told to get out there and actually build the structure I was helping to design. Believe me, that's an awesome challenge."
Sponsored by the U.S. Department of Energy, the 10-day competition (Sept. 26-Oct. 5) drew more than 120,000 curious visitors to the Solar Village, which included 14 futuristic-looking, sunlight-powered houses built by architecture students from competing American universities and colleges. According to Lee, the task of designing and then erecting a "solar house that people could actually live in" proved to be far more difficult than he and his teammates had expected.
"I spent nearly two years working on the design aspects," he recalls, "and I became super-hyped, to the point that this event has actually become the turning point of my career. From here on, I want to specialize in urban architecture, with an emphasis on solar-powered housing. Why? Because I'm convinced that solar energy can play a major role in solving this nation's urban housing crisis in the years ahead.
"This new technology will lower utility bills for economically disadvantaged urban residents," Lee says. "It will also help reduce our dependence on polluting fossil fuels and, in that way, help to protect the environment."
After building the experimental houses on their college campuses, the solar decathletes disassembled and transported them by truck to Washington. They then re-assembled the 500-square-foot buildings on the Mall. The result was a remarkable display of dwellings that were completely covered with gleaming solar panels—giving the entire village the look of a space colony from some future, high-tech world.
Located less than 100 yards from the huge Smithsonian Air and Space Museum on Constitution Avenue, the solar village consisted of two rows of sun-fueled homes divided by a narrow street named Decathlon Way. Under the rules of the competition, the students were not permitted to actually sleep overnight in the solar houses but boarded instead with area residents or stayed at local hotels.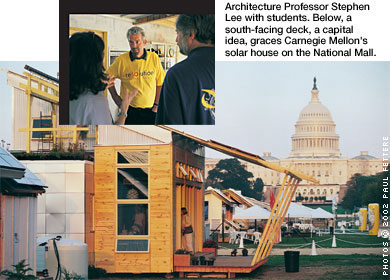 During the 10 days of the exhibition, crowds of intrigued visitors wandered from one cleverly designed structure to the next from early morning until 10 p.m., while the eager students demonstrated ways in which energy obtained from the sun could be used to accomplish a variety of household activities, including such mundane daily tasks as taking a hot shower, cooking a pot of chili or washing a laundry basket full of dirty clothes.
Learning real-life lessons about construction
Near the end of the competition, a panel of judges evaluated the homes on 10 different performance criteria categories that ranged from heating and lighting the home efficiently to generating the energy required for operating a homeowner's electric car.
First place in the 18-month-long competition went to the University of Colorado at Boulder, which reportedly spent more than $450,000 on materials and private construction contractors who helped to build the winning entry. Carnegie Mellon placed 12th overall with a 2nd in design presentation and simulation. The team also took the Good Neighbor award because it plans on donating its house to a Pittsburgh family.
"The Colorado team did a great job, but it's also true that we spent less than half the amount of money they had at their disposal," says Architecture Professor Stephen Lee, who served as Carnegie Mellon's Decathlon coach, along with School of Design Lecturer Liza Wellman and Visiting Professor of Architecture Thomas Spiegelhalter.
"We were at a definite disadvantage on the financial side," says Lee (A'75, '77) after the competition. "But we also lost points in the judging because we insisted on building what we called an 'urban version' of the solar house. For example, our [24-foot-tall] structure turned out to be six feet taller than the rules called for, because in an urban setting, you need to expand vertically rather than horizontally in order to save space and allow for density of population.
"Right from the beginning, the students on the Carnegie team made it clear that they weren't interested in contributing to 'suburban sprawl' by designing a house that would waste energy resources, which is what so often happens in suburban settings," says Professor Lee. "Our design was globally oriented, with a strong emphasis on good urban citizenship."
The official CM Team Strategy, drawn up by the participating students at the start of the competition in early 2001, points out a "commitment to a comfortable urban model...in all aspects of our design. Most distinctively, we have chosen to minimize our environmental footprint by using less horizontal area and greater height flexibility. Incorporating a rooftop garden and a loft bedroom makes more efficient use of the space that is allowed, without impeding access to sunlight for others."
The strategy underlined Lee's emphasis on "good urban citizenship." As the planning document notes: "Our design is modeled on multi-story, modular urban housing, featuring a smaller floor plate with a second-floor loft space, or optional more floors if desired. "This [design] supports more environmentally friendly land use and offers an alternative to sprawling, horizontal and polluting development.... Carnegie Mellon University's entry in the Solar Decathlon competition is an example of sustainable building design based on the Zero-Non-Fossil-Energy model, specifically for an urban environment."
"Unfortunately, many of the design elements required for that kind of house wound up costing us points in the judging," says Professor Lee.
Most of the students involved said the time and energy they put into building the Carnegie Mellon entry had taught them some very useful real-world lessons about both architecture and housing construction. "I was on the structures and enclosures part of the team, and I worked the entire summer on this project," says Lauren Schmidt, a Carnegie Mellon decathlete who spent hundreds of hours working on the solar home. "One of the most important things I learned was that it's very difficult to go from an architectural drawing to constructing an actual building. I really learned a great deal about construction, so the time I put in was well worth it."
Solar-powered housing: a bright future?
Like the thoughtful faculty leader Lee, Carnegie Mellon student team leader Andy Lee (no relation) says he was less concerned with winning the solar competition than with building a solar-powered structure that could help solve this country's continuing urban housing crisis, in which more than 35 million city-dwelling Americans are now living in overcrowded or substandard housing, according to the federal government.
"We were determined to build vertically, in order to make a statement about the kind of wasteful land use that often contributes to urban sprawl," said Lee after the event. Added teammate Schmidt: "I'm a pretty competitive person.... Yet I wasn't really disappointed by the outcome of the Decathlon, because I think we made an important statement about urban housing with our design." Describing the team's 18-month effort to design and build the house, Professor Lee said that "right from the get-go, we focused on finding an urban solution to the problem of constructing a solar house. In the end, we decided to save space by building a taller structure, and by hanging a loft bedroom from the roof. We also extended the horizontal plane with decks on the front and back of the house, which is a feature you often see in Japanese housing.
"I was also proud of the fact that our house was assembled from scratch by the students." This was not the case with "many of the schools involved in the competition."
"Our investment in renewable energy and energy efficiency technologies can also contribute to the nation's energy security."
Although he described both the faculty and students on the Carnegie Mellon team as "totally exhausted and worn out" by the months of work involved, Professor Lee said the contest proved an important point. "There's no question that solar energy technology is here to stay, or that it's going to play an increasingly important role in housing in the years ahead. This project gave our students a great deal of exposure to the technology, which should help their professional careers considerably, down the road."
U.S. Secretary of Energy Spencer Abraham also praised the Decathlon for calling public attention to the potential benefits of the new technology. "The Solar Decathlon proves that solar energy is practical today," said Abraham. "It's affordable, and solar-powered homes can be livable and attractive."
For more information, check the Web
School of Architecture: www.arc.cmu.edu
School of Design: www.cmu.edu/cfa/design/
Solar Decathlon: www.eren.doe.gov/solar_decathlon

Let the sun shine in
The sunlight that falls on the Earth each day produces more energy than 6,000 times the amount of fuel-based energy (from gasoline, natural gas, etc.) used by the entire human race daily!
Solar power—clean, reliable, inexhaustible—will become an important source of electric power in the years ahead, say researchers at the U.S. Department of Energy.
According to DOE and private industry data, more than 1 million American homes use solar energy in some form (while heating swimming pools or greenhouses, for example), although fewer than 30,000 U.S. homes are entirely operated by solar power.
Until recently, the major obstacle confronting the solar-power industry has been cost. Average cost of solar-based electricity in the U.S. is 9 cents per kilowatt-hour compared to 4 cents per kilowatt-hour for conventional electricity. In most areas of the country, the cost of heating a home with rooftop solar panels then is approximately double the cost of heating it with conventional fuels such as oil and natural gas.
But that's about to start changing, say federal and private industry researcher. Some are predicting that solar energy will be competitive with conventional energy as early as the year 2010, as the technology continues to expand and improve.
How will the rapid growth of solar energy change the world? Here are a few statistics that will lead the way and brighten the route.
World's supply of solar energy is unlimited.
World's supply of "fossil fuels" will run out in 2080-90.*
If 1 million U.S. homes run on solar by 2010, that will reduce carbon emissions equivalent to emissions from 850,000 cars.*
If solar energy supplies 10 percent of nation's electricity by 2030, that will reduce oil consumption by 180 million barrels per year.*
World solar energy industry could swell to $1.5 billion per year by 2005.*
Solar energy industry could create 70,000 jobs in the U.S. by 2010.*
*estimate
Sources: U.S. Department of Energy; Worldwatch Institute; Electric Power Research Institute
---
Freelance writer Tom Nugent, the author of "Death At Buffalo Creek" (W.W. Norton), writes often about energy matters.
---
> Back to the top
> Back to Carnegie Mellon Magazine Home