Just a footnote to the story of a wonderful teacher: The good professor Norman Dawes (Mail, winter) also taught art students, not just engineers.
His History of Religion course was exceptional. The very first day of class he asked for only White Anglo-Saxon Protestant students to sit in the front row; Catholics, Jews and others in the back rows, please! His way of showing us the way to enlightenment! If you chose to join him on the weekend, he would take you to a Roman Catholic, black Baptist or Jewish service—or even to a Mosque to understand Islam.
Rolly Kraus A'42
Willoughby, Ohio

Just my type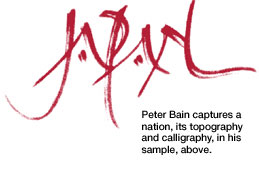 Congratulations on recognizing School of Design faculty Myrna Rosen (News, p. 13, winter). Her expert and enthusiastic teaching of calligraphy, combined with the influence of Arnold Bank, had a powerful effect on my choice of profession. I decided that I wanted to work with letters for a living, whether they were digital fonts or made by hand.
Peter Bain IM'85
Brooklyn, N.Y.

The writer is principal of Incipit, a firm which creates typeface design, logotypes, custom lettering and typographic design. He is co-editor of "Blackletter: Type and National Identity," which traces Blackletter or German Gothic type from its origins with Gutenberg to its decline at the hand of the Nazi regime.—Editor


Slight correction

I found the winter issue interesting. I would like to see more articles on engineering. In the description of Arthur Ruge's strain gauge (p. 8), quoting The New York Times, the line "if some force distributes the symmetry" should read "disturbs" the symmetry. You see I really read it!
I am forever grateful to Carnegie Tech for allowing me to further my engineering education. This was impossible in Belgium. Keep up the good work.
Georges G. Aigret E'66
Chimay, Belgium


Happy with focus

I am quite gratified by the considerable changes evident in the winter issue. Carnegie Mellon Magazine now focuses on the university. The articles carry the student experience from the campus to our alumni. Your new concentration brings the important work of faculty, researchers and many institutes to those who have the deepest admiration for, and stake in, the work that goes on.
Anthony Martignetti HS'84
Forest Hills, N.Y.


Winter issue a smasher

I continue to enjoy the magazine. The winter issue is a smasher. Beautifully done and full of interesting information. Keep up the good work.
Fred Price E'51
Nacogdoches, Texas


Fab fifties reunion

Wow! The Carnegie Mellon Magazine (fall) is gorgeous. I love the layout and, of course, the articles. Kudos to designers.
I'm still floating about the wonderful 1952 reunion. I never use the word "fabulous," but it was. Everything: In particular, the staff from the alumni office, Development staffer David Unruh (what a nice person), the young aides, the whole look of the events. Great kindness and concern.
Shirley Pearl Katz A'52
Pittsburgh