Homecoming Lure/Lore
Piping Still Prompts Tears and Memories
Homecoming brings the history of yesterday home to campus.
By Ann Curran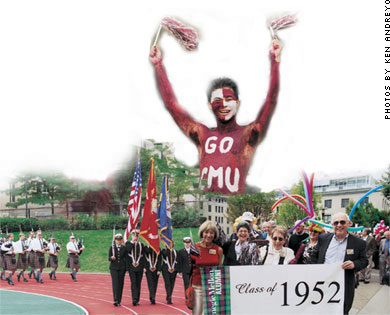 When the late actress Nancy Marchand (A'49) came to campus in 1986, she was asked how she liked the College of Fine Arts after its recent exterior cleanup. "I liked it dirty," she fairly snarled. That building, tinged with the darkness of the city's industrial past, was the building she remembered and loved. The born-again, cream-colored brick was not Marchand's college.
Some alumni who return to campus for Homecoming, only to find their favorite places changed, respond with regret, as Marchand did. Many are downright jealous of the facilities now available to students.
What alumni bring to Homecoming—besides their stories about what they have been doing for the last 10, 20, 50, 65 years—is their own distinct impression of the place and its people during a specific era. It's a history-enriching experience listening to their stories. Included here are comments from alumni reflecting on the education they received and how they might or might not change it.
A few alumni went away and had totally unique experiences. Astronaut Edgar Mitchell (IM'52, H'71) told classmates about how his flight to the moon changed his life forever. Despite his matter-of-fact descriptions, Mitchell managed to carry his alumni listeners right along with him aboard that Apollo 14 flight and on his mind-bending trip into space.
John Graham (HNZ'84) enlightened his listeners at the Heinz School about an arcane area of presidential power—the Office of Information and Regulatory Affairs—where simple rules and regulations cost taxpayers upwards of $800 billion a year.
During Homecoming, parties proliferate all over campus as schools, departments, clubs, Greeks and clans honor their own—from business to architecture, from Chemical Engineering to Physics, from swimmers to black alumni. Many marvel at the changes on campus, the new courses, even the diverse student body. Some will admit that the sound of the bagpipes still brings tears to their eyes and a flood of memories from so many yesterdays.
Yep, Homecoming is gooey and funny, sad and enlightening, and sometimes a rounding-off experience to see the places of the past with the eyes of the present.


Our man on the moon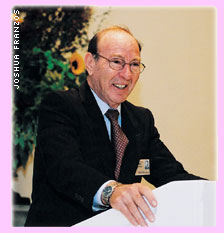 Face it. If you had walked on the moon, you might never be the same again either. A crowd of his classmates and other alumni packed a meeting room in the University Center, Oct. 5, during Homecoming, to listen to what had happened to Ed Mitchell (IM'52) since he bounced about on the Earth's moon in early 1971 with a to-do list on one wrist and a watch on the other.
No impressionable youth, astronaut Mitchell just made the cutoff of 36 years of age when he joined the NASA program in 1966. A short, slight guy (all the better to fit in a spacecraft) who first flew a plane at age l3, he looks like the businessman he trained to become. But he talks like your favorite philosophy professor.
NASA pulled him off the ill-fated Apollo 13 dramatized in a film of the same name, but he flew on Apollo 14. It was simply "the highlight of an explorer's career—to go where humans had never been," he says. "I would like to have had a lot more time gawking and looking at this new world."
The critical experience of his life—an epiphany of sorts—occurred on the 240,000-mile trip home. He had completed his job in the lunar lander and on the lunar surface. He had time to sit back and watch the universe go by—"every two minutes or so, we saw the moon, the sun, billions of stars."
Bingo! "This overwhelming feeling of being connected to the universe suddenly came over me...a wow experience, filled with ecstasy, overwhelming."
Being a serious, scientific sort, this former equipment manager for the Tartan Football Team and impromptu calculus coach to the players wanted to get at what it was. "I realized that the real great mystery that we and that humans have asked forever is who are we? how did we get here? and where are we going?" "Anyone can go to the mountain top and have a mountain-top experience," he asserts. "I had to go into space to get kicked in the head."
Some 30 years ago, he founded the Institute of Noetic Sciences (IONS), taking its name from a word that means understandable by the intellect specifically. He still nurtures and manages the organization that seeks to answer the key questions about the separateness and connectivity of everything in the universe. IONS is active in some 30 countries, organizing about 400 seminars and study groups.
Mitchell seems most excited these days about quantum physics and its recognition of emissions emanating from just about everything and resonating through the universe as a scientific solution to his questions. He is not alone in leaning toward the meld of physics and metaphysics. His audience bobble-headed like they followed that one completely.
He points out that over the past 30 years such once seemingly absurd notions as biofeedback and links between mental attitude and physical health have become mainstream notions.
When his time was up, astronaut Mitchell continued his conversation in a
Q-&-A session down the hall in the Skibo Coffeehouse. He stood throughout the hourlong bull session answering diverse questions from a thoughtful two dozen who had followed him in procession down to the tartan plaid carpet and high ceiling in the latest campus eatery named for Andrew Carnegie's Scottish castle.
He took on any topic from intuition to Mideast turmoil. He clearly believed that his trip to the moon had raised questions for him that he had never addressed before. Sometimes you have to send a man to the moon to find out the key questions.
The Lackner era
Carnegie Mellon's 21-0 second-half victory over Franklin & Marshall College in the annual Homecoming game was symbolic of the Tartans' success under Head Coach Rich Lackner (HS'79) and his staff—a core group of loyal, savvy assistants who have worked together for more than 20 years and who cumulatively have more than 300 years of coaching experience behind them.

After a scoreless first half against Franklin & Marshall, the Carnegie Mellon brain trust gathered the troops around the locker room white boards, grabbed their markers and diagrammed a few adjustments to their plan of attack. What did they do specifically? Lackner wouldn't say; the Tartans have F&M on the schedule again next year.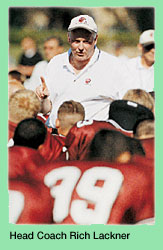 "It was a nice win for us," said the cool and considerate Lackner, whose 121-45-2 record since taking the post in 1986 makes him the most successful coach in school history. Lackner's teams have won seven University Athletic Association titles and he's been named the league's Coach-of-the-Year four times.
As an award-winning linebacker for the Tartans, assistant coach and head coach, Lackner has been a part of 27 consecutive winning seasons, 13 conference championships and five NCAA playoff appearances. In 1978, the Tartans with Lackner advanced to the NCAA playoffs, their first post-season appearance since the 1939 Sugar Bowl.
Lackner points to his staff as a key component of the Tartans' success. His assistants—Terry Bodnar, Rich Erdelyi, John Bainbridge, Al Fletcher, Pat Johnston, Jerry Mancini, Tom Nee, John Robertson and Ron Smith—are consummate teachers who take pride in instructing their students in the fundamentals and nuances of the game and its many positions. They excel in studying their opponents on videotape each week and preparing game plans and schemes to exploit the opposition's weaknesses.
They prepare the Tartans physically, and mentally. And they win. This year Carnegie Mellon finished the season with a 5-5 record, snapping their long string of 27 straight winning campaigns. But not since the 1939 Sugar Bowl and the upsets of Notre Dame in the '20s and '30s has the football team fared so well for so long. The Lackner years, a landmark era.—Bruce Gerson
Golf outing set for Aug. 4
The annual Carnegie Mellon Football Golf Outing will be held Monday, Aug. 4, at Longue Vue Club in Verona, Pa. For details, contact Rich Lackner at 412.268.2216 or rl2n@andrew.cmu.edu.
Making rules is really big business
Talk about rules. John D. Graham handles a few. His block-long title tells part of the story: administrator, Office of Information and Regulatory Affairs, Office of Management and Budget, Executive Office of the President of the United States.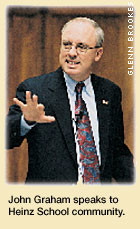 Speaking at the Heinz School, Oct. 4, during Homecoming when he received a Merit Award, Graham (HNZ'84) discussed "Presidential Oversight of the Regulatory State: Can It Work?" He stressed that "we live in a regulatory state" with rules governing such things as medical information, pollution from off-road vehicles not to mention tobacco and power plants. The volume of rules is staggering. Graham points out that "over 100 federal agencies and subagencies...churn out 4,500 new rules each year" at the request of Congress.
The cost is even more staggering. "The economic costs of the regulatory state...exceed $800 billion according to one recent estimate for the Small Business Administration...[and] translates into an average annual cost of almost $8,000 per household," says Graham.
Since the Nixon administration (1969-1974), Graham notes every president "has insisted on some type of centralized management of the regulatory state. The common theme has been professional analysis of regulations to make sure they are sensible." People expect government regulations, in such areas as safety, environment and public health, says Graham.
"Presidents use the powers of OMB...to advance administration priorities and policy objectives," Graham says. "President Reagan pursued an agenda of regulatory relief as one way to nurture a depressed economy.... President Clinton used centralized review to promote a wide range of social objectives such as tobacco and firearms control and children's health."
The Bush administration, Graham says, is pursuing "smarter regulation"—making certain that new regulations offer "benefits to the public [that] justify their costs"; improve or reduce costs; and eliminate regulations.
Since 9/11, OBM "worked with regulators on 58 new rules aimed at protecting homeland security, including airline safety, food safety and immigration control."
Graham, who came to Washington from the Harvard Center for Risk Analysis, is "convinced that presidential oversight of the regulatory state...works for the public good."
Joseph Greenberger E'32
Pittsburgh, Pa.
Retired manager, Research & Development, Danieli Wean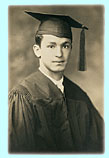 About your education
It was excellent. The fundamentals were taught to us that I actually used when I graduated. I graduated in the midst of the Depression, so it took two years before there was a job.

Would you change anything?
Besides computer technology? I have always been interested in the system used in Europe, particularly in Germany where the kids go to school and then right to the shops and do whatever they're doing. The fundamentals and the experiences that you get by working at something while you're at school rather than graduating and then trying to adapt whatever you've learned to the job is important.
Tony Pranses E'42
Elida, Ohio
Retired manager of manufacturing, Westinghouse Electric Corporation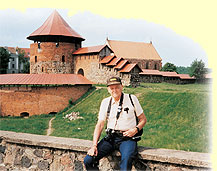 About your education
The education here was superb. The best in the country. This was a wonderful school. I never regret having come here.

Would you change anything?
I'm sure that many things have changed. In fact I don't recognize the campus anymore. And there are courses of study that exist now that did not exist when I was here. That's good. You should change. I have a grandson, Tyler Offenbaker, who just started here.
Joan Robison Astle A'52
Orange, Conn.
Co-owner, Tomtec

About your education
I didn't actually graduate because architecture was a five-year course. And I was only here four years and got married to Tom [Astle, E'52]. Know what I liked? We had open-book tests. They taught you how to use the things that were available. They taught you how to find out about something you don't know anything about.

Would you change anything?
We really planned to finish. Tom went in the service. We were going to come back; he was going to go to graduate school, and I was going to finish my last year. But I think by then the course had changed.
Barbara Walters Landis MM'52
Murfreesboro, Tenn.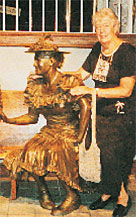 Retired travel consultant, Travel Centre of Butler

About your education
I think it was wonderful. And the friends I met were even better. We're still in touch after 50 years. Not many people can say that. My brothers and sisters have no contact with their schools. We lived in Morewood Gardens. First year anybody lived there.

Would you change anything?
I'd study harder.
Mel Bochner A'62,
New York City
Artist, painter, writer
About your education
It was a good education. There were so many memorable teachers. Robert Lepper, Wilfred Readio, Douglas Wilson, William Libby, Samuel Rosenberg, Robert Gardner, Robert Rabinowitz. I still think about things they said.

Would you change anything?
Yes. The irreversibility of time.
Preston H. Butler Jr. IA'72,
Westford, Mass.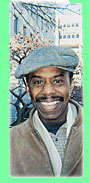 Project manager, Verizon

About your education
It was leading edge, very quantitative. It prepared you for technical fields.

Would you change anything?
More behavioral science might have helped. We were geared to solve problems, but not geared to political innuendoes, company dynamics, how to apply your own personality traits.
Martin C. Leinweber IA'82
Marietta, Ga.
Managing director, Center for Enterprise Risk Management and Assurance, J. Mack College of Business, Georgia State University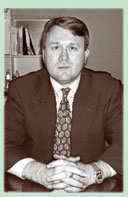 About your education
It was valuable, ahead of its time. It helped to prepare me for industries and careers. The analytical psychology was very useful; the integrative approach to teamwork; business communications, both written and oral; and business ethics from Tom Kerr all helped.
Would you change anything?
Nothing.
Adam Rabiner HNZ'92
Brooklyn, N.Y.
Office of The CIO, New York City, Department of Information, Technology and Telecommunications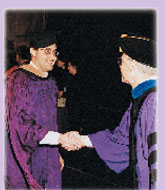 About your education
The teaching in economics and some of the other quantitative disciplines, such as statistics, was just outstanding. Classes were very demanding and thorough and did not skim through the material. The overall level of competency of the staff and the curriculum were excellent.

Would you change anything?
I might allow an elective or two in the first year to lighten up the core curriculum. Had I known how important technology was to become, I might have pursued it more.
C/Col. Edward L. Latimer CS'02
Pittsburgh, Pa.
Air Force ROTC, Cadet Wing Commander, University of Pittsburgh; Master's student, Robotics Institute, Carnegie Mellon

About your education
I received a quality education from Carnegie Mellon. The skills I learned both inside and outside the classroom helped me prepare for life beyond undergrad.

Would you change anything?
I would not require Carnegie Mellon students to get an annual bus pass but rather have the ID work as a bus pass. I have enjoyed riding the buses for free, and I think the aim is working-to get students to experience Pittsburgh more. I just wish there was a hassle-free way of doing it.
---
> Back to the top
> Back to Carnegie Mellon Magazine Home