Student Conferences
The Institute for Politics and Strategy regularly facilitates students' participation in undergraduate and graduate student conferences. Conference opportunities are publicized throughout the school year, and students should express their interest in conferences early as spaces are quickly filled.  
US Air Force Academy Assembly in Colorado Springs
In 2021, IPS students Sam Abodo, Audrey Pederson, and Arjun Ramachandran attended the US Air Force Academy Conference, an annual event that has provided an opportunity for undergraduate students to discuss contemporary topics.
At a virtual Naval Academy Foreign Affairs Conference, a discussion of COVID-19 and its ramifications
On the first day of the Naval Academy Foreign Affairs Conference in April 2021, the attendees – college students from around the world – were privy to an address that few would have cared about two years ago, but many would now would pay to see. The keynote speaker was Dr. Anthony Fauci, the Director of the National Institute of Allergy and Infectious Diseases, and he spoke about things he might not mention on CNN. 
"Having one of the students at the Naval Academy ask the questions, adding the student perspective, our perspective, I thought that was a really cool way to shape the conversation," said Arjun Ramachandran, a junior at Carnegie Mellon University who is majoring in International Relations and Politics.
"It was nice to be able to hear directly from the source, his perspective on [the COVID-19 pandemic], especially as we're hopefully coming out the other side of things with the vaccine," said Audrey Pederson, a fellow junior IRP major at Carnegie Mellon. "It was interesting hearing his perspective on COVID in the context of foreign affairs over a much longer period of time."
Audrey Pederson
Ramachandran and Pederson represented CMU's Institute for Politics and Strategy at this year's Forum, the sixty-first of its kind, which was held virtually last month. With the theme of "Resilience: The Global COVID-19 response," the Forum used panels and simulations to examine the long-term fallout from the pandemic and the need to address it as an international community.
A talk from Richard Haass, the President of the Council on Foreign Relations, illustrated that point.
"He was talking about how this pandemic is not going to be a full sentence," Ramachandran said. "It's not going to be a full chapter. It's going to be an exclamation point, and what's going to be the sentence in our book is going to be the next pandemic, the next global situation that we have to deal with as a coalition. We can't be dealing with things individually."
Arjun Ramachandran
To display the challenges in such a strategy, the students were split into small groups for a pandemic response simulation. Awarded resources based on the GDP of the countries they were playing, they grappled with vaccine rollout, a coup in Myanmar, and a dispute in the South China Sea. Ramachandran's group wrestled with international versus domestic vaccine distribution. Pederson's group distributed too many vaccine doses to the suburbs, and there were riots in the city streets by the third day.
"It was extremely difficult," Pederson said. "Our senior advisors were mentioning, at some point you only have forty minutes to make these decisions because sometimes that's also reality."
The Forum fostered discussions about the role the vaccine could or should play as a carrot to countries with rampant human rights abuse and the juxtaposition between the ways in which autocracies and democracies handled the pandemic.
"It helps, or it could help, but what helps truly create resilience is societal trust and international cooperation," Pederson said. "I thought that was a true testament to the world as a whole."
Fictional problem sets with real-world applications
The town of Rodgersville had a problem. It planned to build a tidal power plant just off the coast, and residents were concerned – about beachfront property, tourism, and the environment.
Julianne Tippett needed to earn the approval of 75 percent of Rodgersville residents, so she got creative: She focused her efforts on those most likely to answer the poll.
"There's a lot of discrepancies in polling," Tippett said. "We didn't only focus on the numbers."
This was the task that Tippett, a rising senior at Carnegie Mellon University who is majoring in Ethics, History, and Public Policy with a minor in International Relations and Politics, faced in the 2021 Media Plan Case Competition, an event hosted in Washington, DC by the Washington Media Scholars Foundation that went virtual this year because of the pandemic. Tippett and her partner, childhood friend Nervana Fadle, advanced to the finals, earning them $500 scholarships.
"I tried to use the things that I learned in Behavioral Economics because even though you have a really high GRP rating [gross rating points, a metric to measure the reach of a campaign], even if people see the ad, that doesn't necessarily mean the ad is going to affect them," Tippett said. "I was trying to look at psychology and look at how people best respond to ads, what mediums they respond to the best."
Participants in the competition attended four days of meetings with executives from The Wall Street Journal, The Washington Post, Spotify, Hulu, Google, and Tegna, a broadcast media company. 
"I think Tegna was the most inspiring. The head of multimedia journalism was there and he was really inspiring because he said that he didn't necessarily care about peoples' backgrounds," said Tippett, an aspiring journalist. "He was just looking for energetic young people who are passionate about news and telling stories."
Alexander Hamilton Society Student Leadership Conference
Millie Zhang and Nick Bellante attended the annual Alexander Hamilton Society (AHS) Student Leadership Conference in Washington, DC, for the second consecutive year. AHS is a non-partisan, not-for-profit, national organization that inspires and educates students in the importance of American leadership in the world and launches them into careers in public service, academia, and business. During the 2019 conference, they attended panels by and networked with national security, foreign policy, and economic statecraft professionals in organizations ranging from nonprofit global policy think tanks. This year, Millie Zhang was also featured on a student panel.
Women's Rights and Empowerment Network (WREN) Summit
Anna-Jamieson Beck, senior BHA student studying Politics and Public Policy and Drama, attended the 2019 WREN Annual Summit in Columbia, South Carolina. WREN is a South Carolina-based network whose mission is to build a movement to advance the health, economic well-being, and rights of South Carolina's women, girls, and their families. The theme of the conference

 

was "The Time is Now," and focused on creating change and opportunity for all South Carolina women. During the conference, Anna-Jamieson attended workshops about childcare and women's economic empowerment, thinking beyond the criminal justice response to domestic and sexual violence, and business and policy solutions for pay equity. There was a keynote conversation with WNBA star A'ja Wilson and other speeches and panels from female state leaders.

 
Defending Digital Democracy Project's (D3P) Information Operations Technical and Policy Hackathon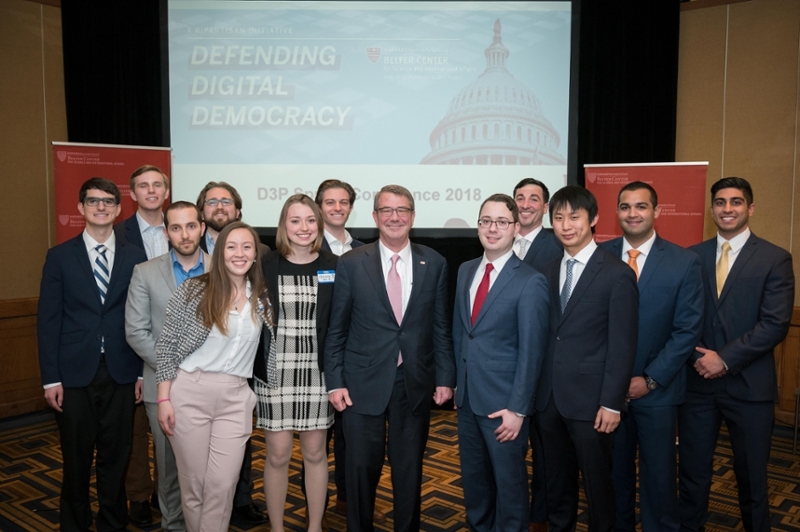 Carnegie Mellon University students Kellen Carleton and Arya Hezarkhani placed third in the policy category and concept category of the Defending Digital Democracy Project (D3P) Hackathon hosted by Harvard Kennedy School's Belfer Center for Science and International Affairs. Following submission reviews, Carleton and Hezarkhani were selected to attend the conference as finalists in Cambridge, Massachusetts on March 29, 2018. They won $1000 in prizes for each category they placed in.