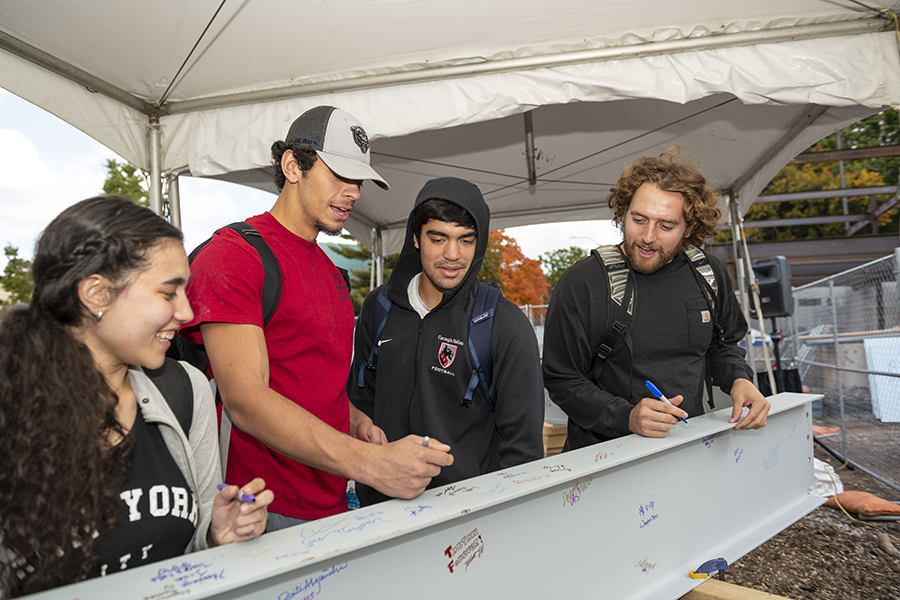 October 21, 2022
Highmark Center "Topped Off" During Family Weekend
CMU community members leave their marks on the final beams before they are lifted into place on the building
Rising on the corner of Tech and Margaret Morrison streets, Carnegie Mellon University's new Highmark Center for Health, Wellness and Athletics is rapidly transforming both this busy campus thoroughfare and the CMU student experience for generations to come.
When complete in fall 2024, the 160,000-square-foot building will provide comprehensive support around health and well-being for the campus community, including new and enhanced spaces for University Health Services, Counseling and Psychological Services, varsity and recreational athletics, and other wellness, spirituality and religious life programming.
On a picture-perfect Family Weekend, members of the CMU community were welcomed to campus to leave their mark on two of the last structural beams of the Highmark Center, a tradition with construction projects on campus.
View photos from the beam signing in the gallery below: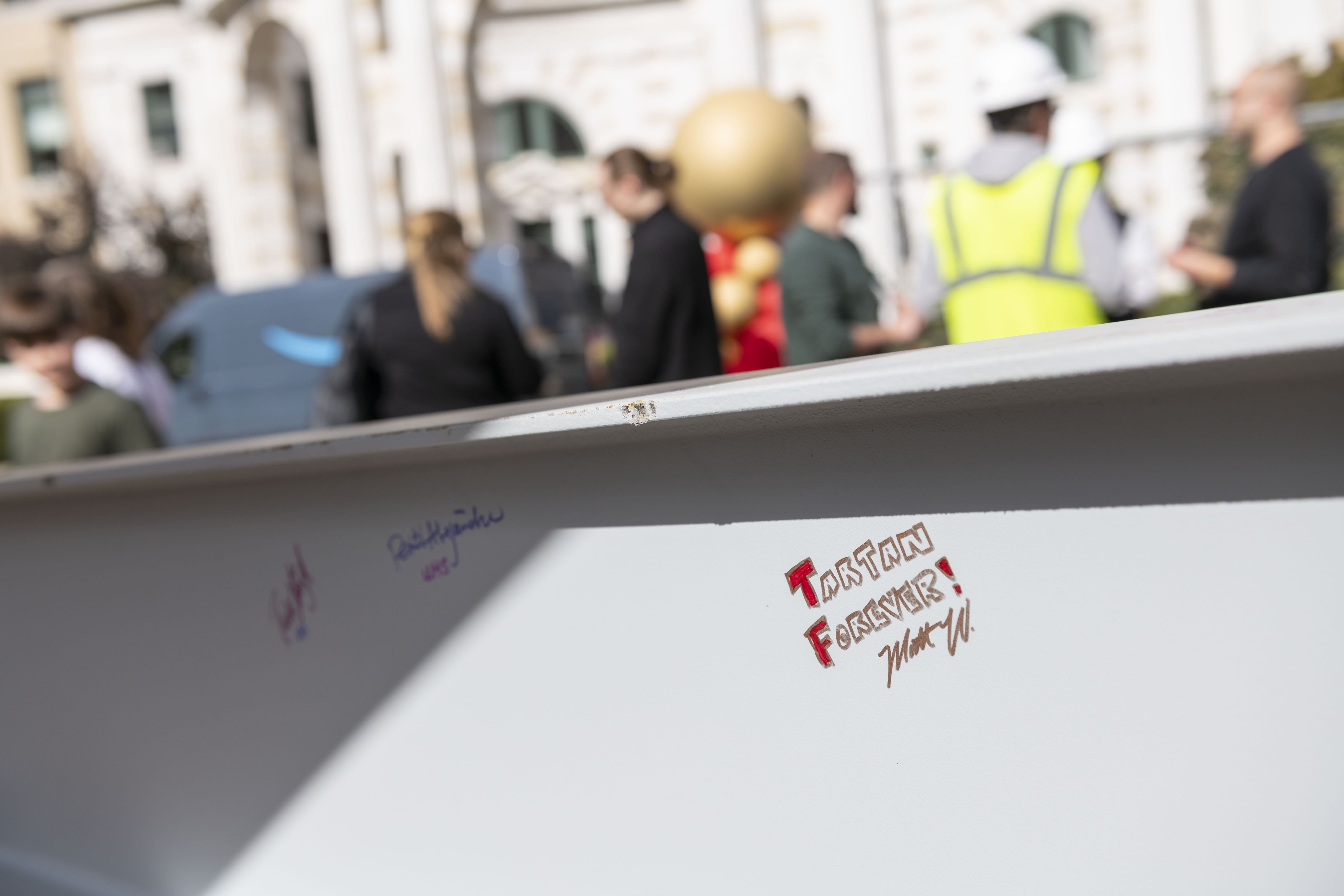 These final beams were lifted into place on Friday, October 21, in the central part of the building, which will be above the performance arena, the highest point of the facility.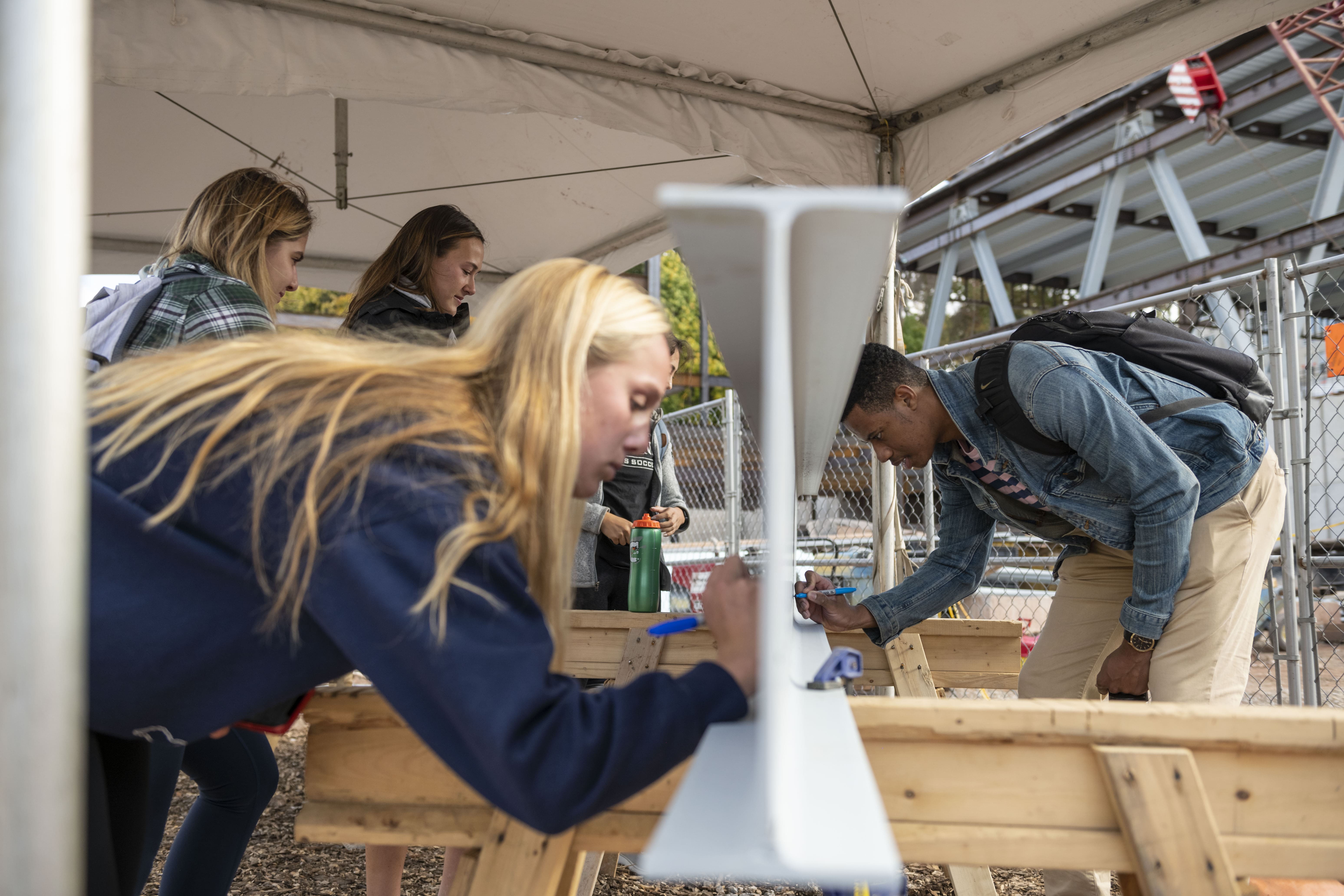 Nearly 600 people signed the two beams during the topping off on Family Weekend 2022. Among them were students, their families, alumni, project supporters and staff from across the university, including the Division of Student Affairs, many of whom will enjoy new space and resources inside the facility.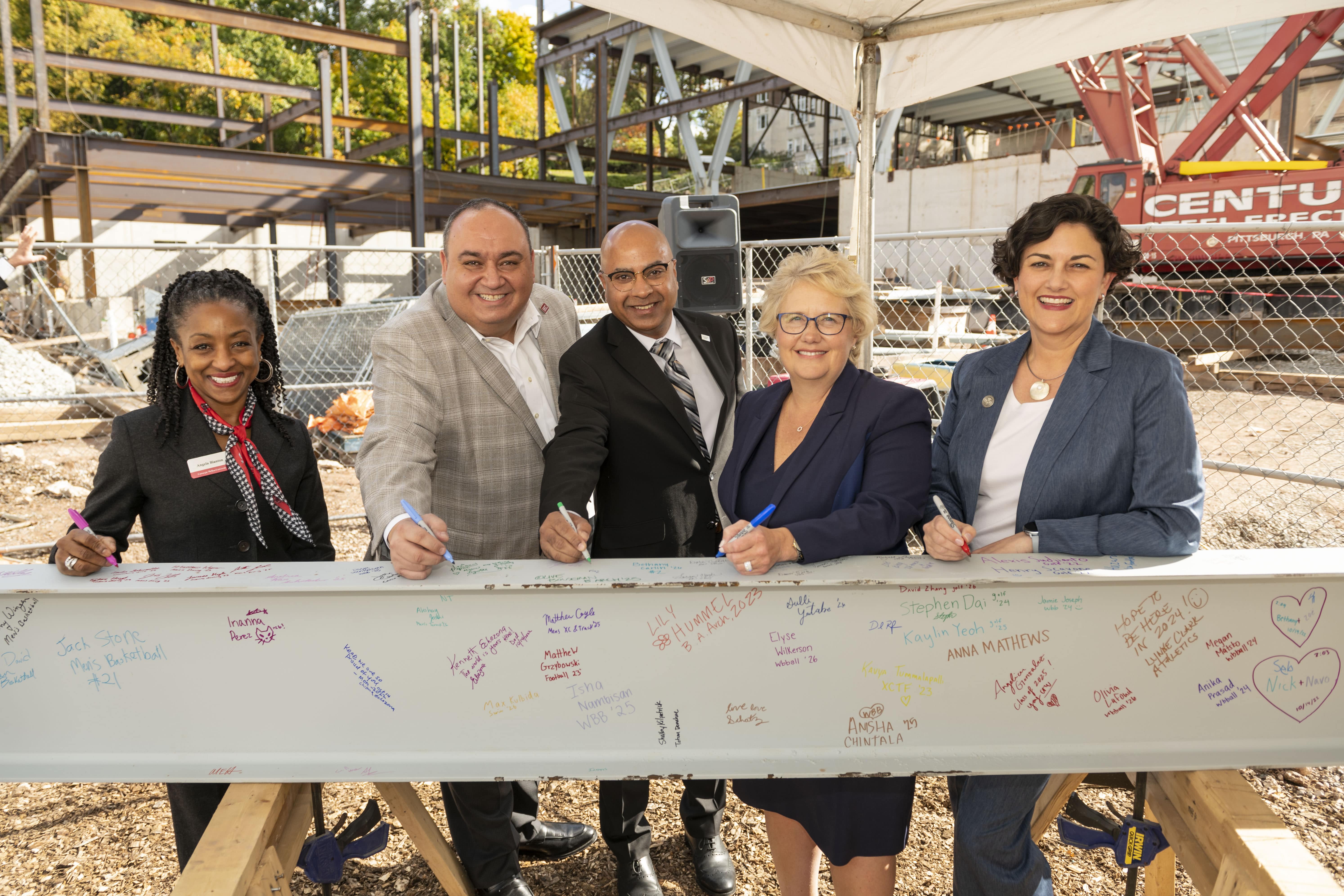 CMU welcomed Karen Hanlon, Executive Vice President and Chief Operating Officer, and Saurabh Tripathi, Executive Vice President and Chief Financial Officer, from Highmark Health, which made the lead grant for the building, to sign the beam. Pictured from left to right are Angela Blanton, Vice President for Finance and Chief Financial Officer at CMU; Scott Mory, CMU Vice President for University Advancement; Saurabh Tripathi and Karen Hanlon, from Highmark Health; and Gina Casalegno, Vice President for Student Affairs and Dean of Students at CMU.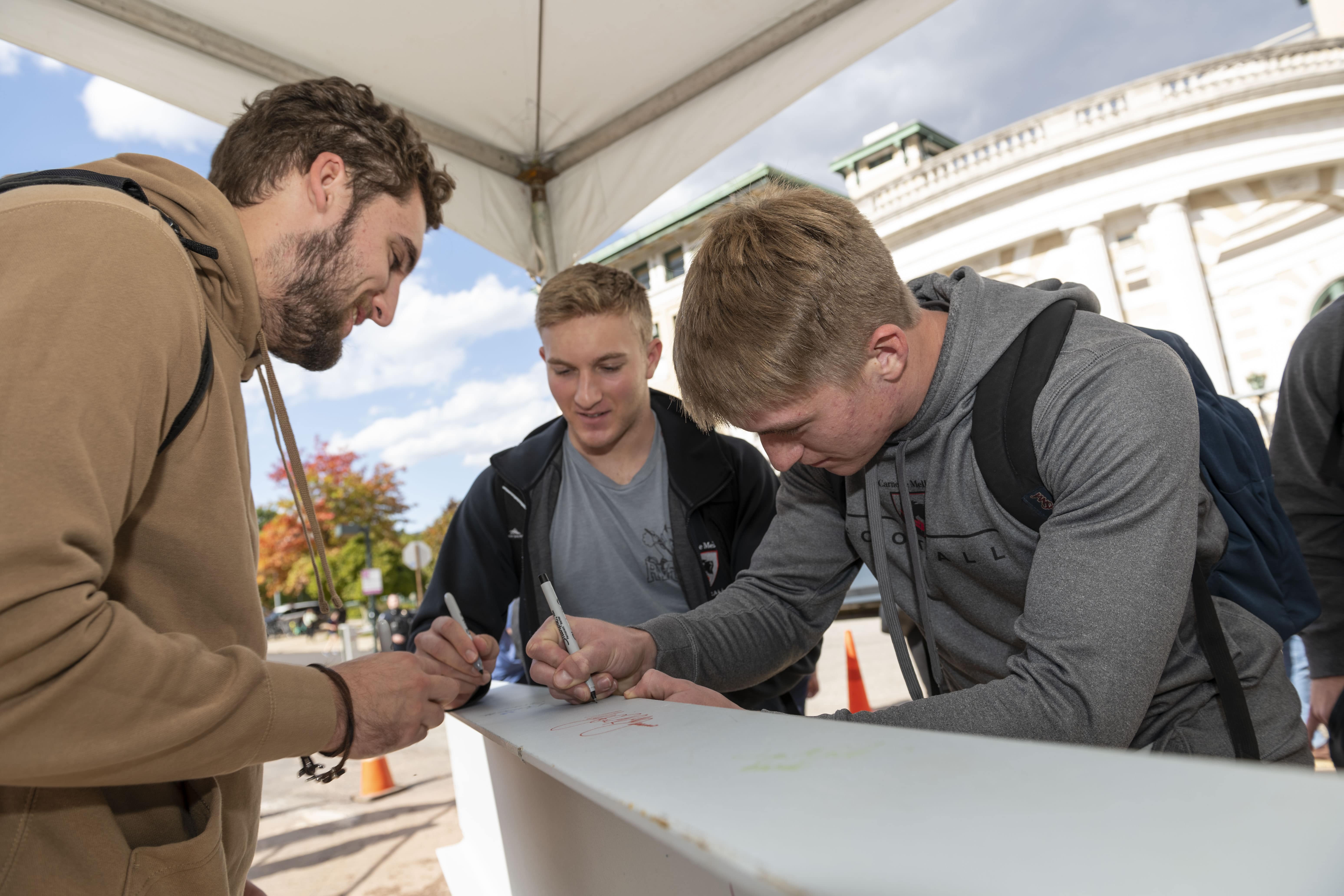 CMU's student-athletes will have a home in the Highmark Center, which will provide new training, competition and team-building spaces and resources that will take CMU's intercollegiate program to the next level.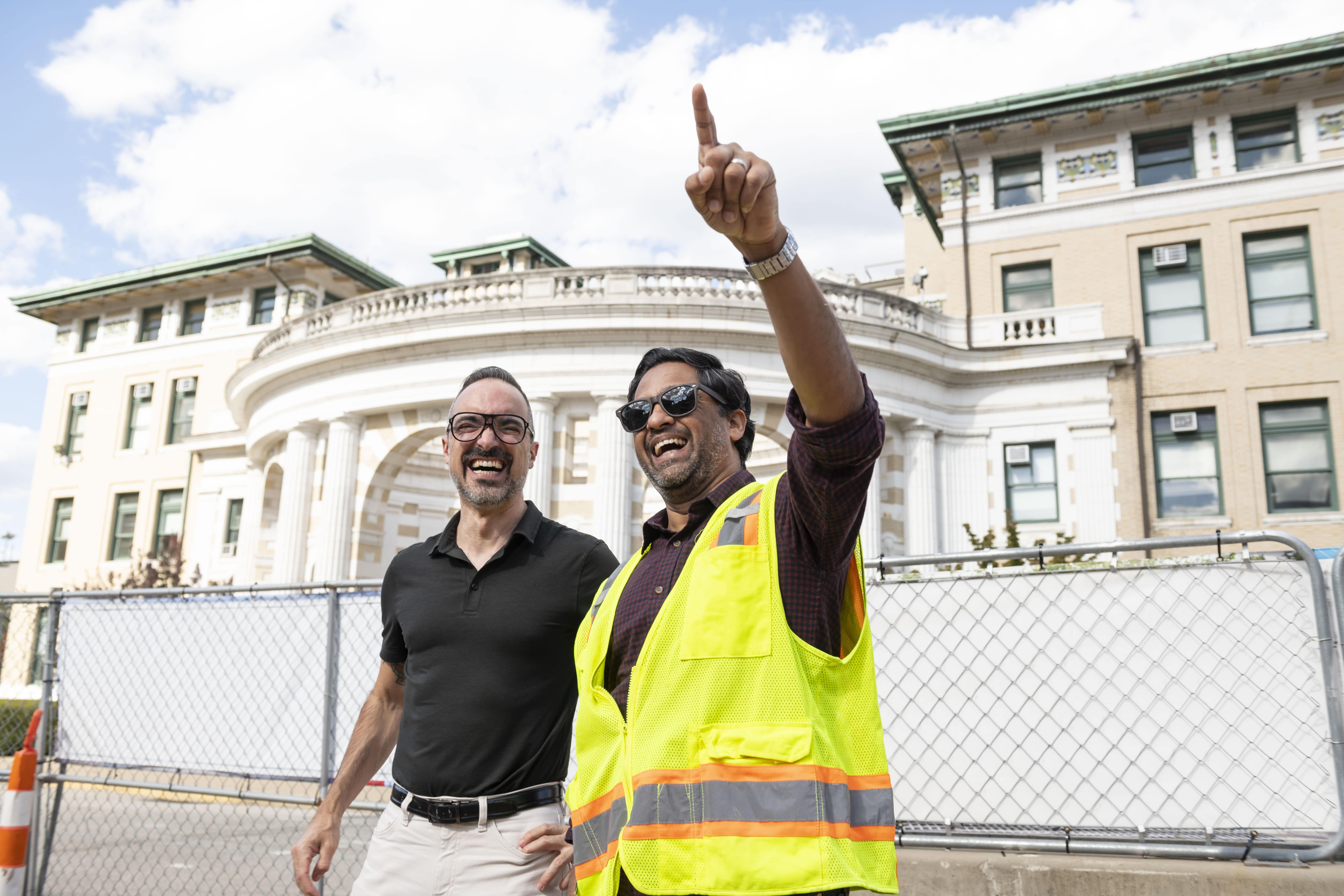 Shane Chaplin, Executive Director of Counseling and Psychological Services (CaPS), stands with Utkarsh Ghildyal, Principal Project Manager from CMU's Campus Design and Facility Development. CaPS will be a key part of the holistic health and wellness experience in the Highmark Center.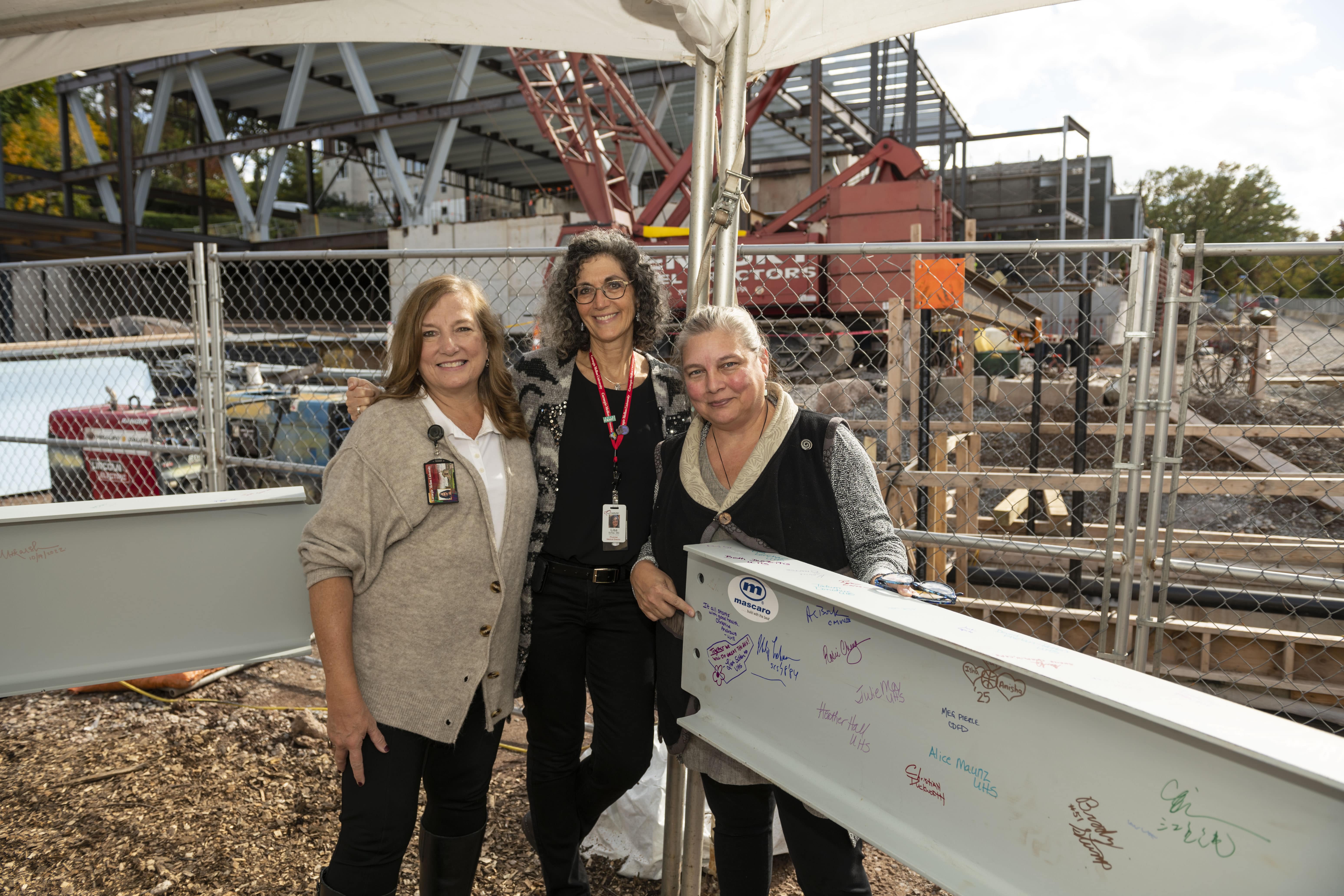 University Health Services' (UHS) Lisa Lonchar, Nurse Supervisor, Dr. Lisa Schlar, Medical Director, and Dr. Christine Andrews, Executive Director, signed the beam together. In the Highmark Center, UHS will serve the healthcare needs of a diverse, active community through expanded clinical and treatment areas.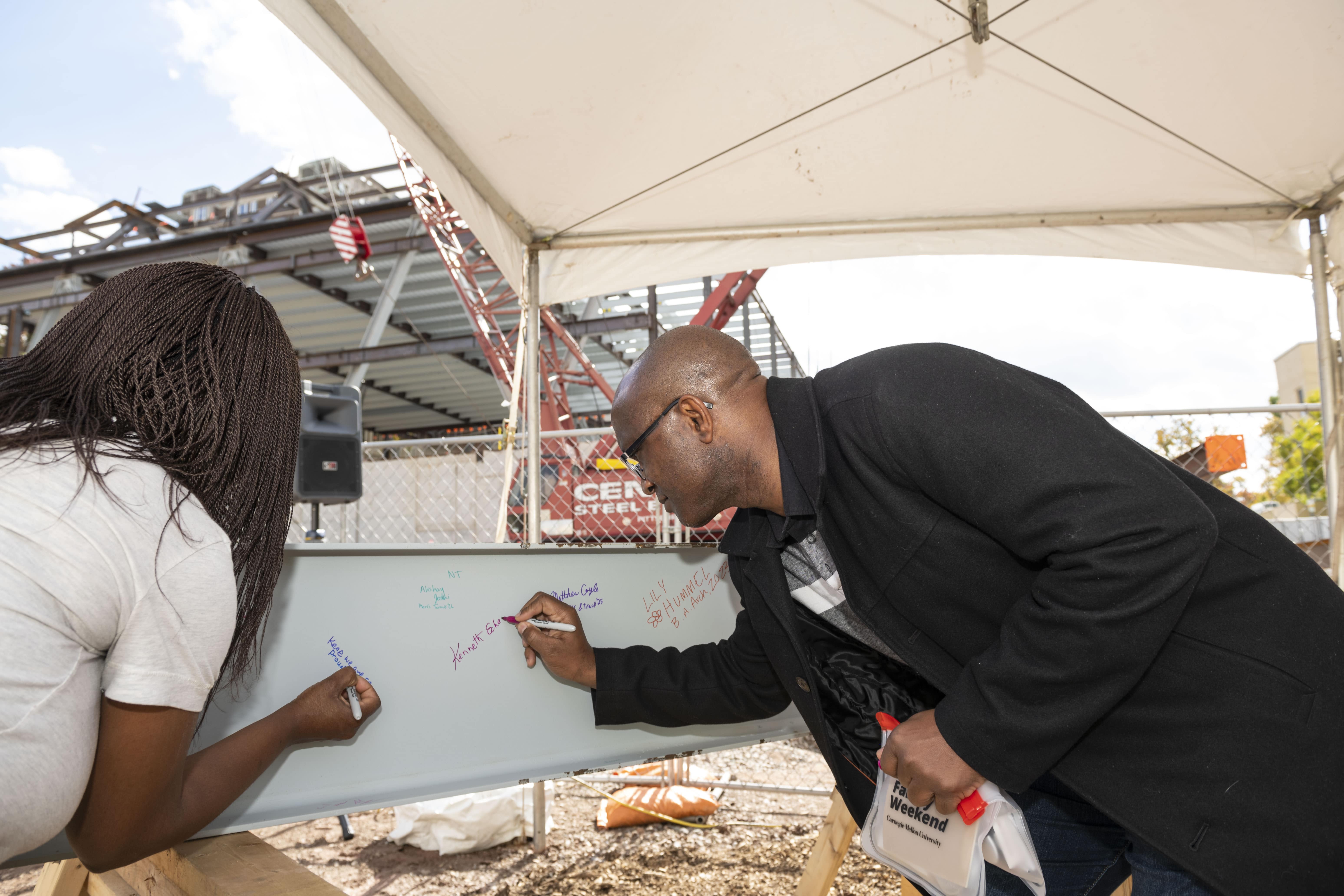 The Highmark Center is scheduled to open in fall 2024 and will be a central hub for health, wellness, athletics, spirituality and religious life programming and resources on campus.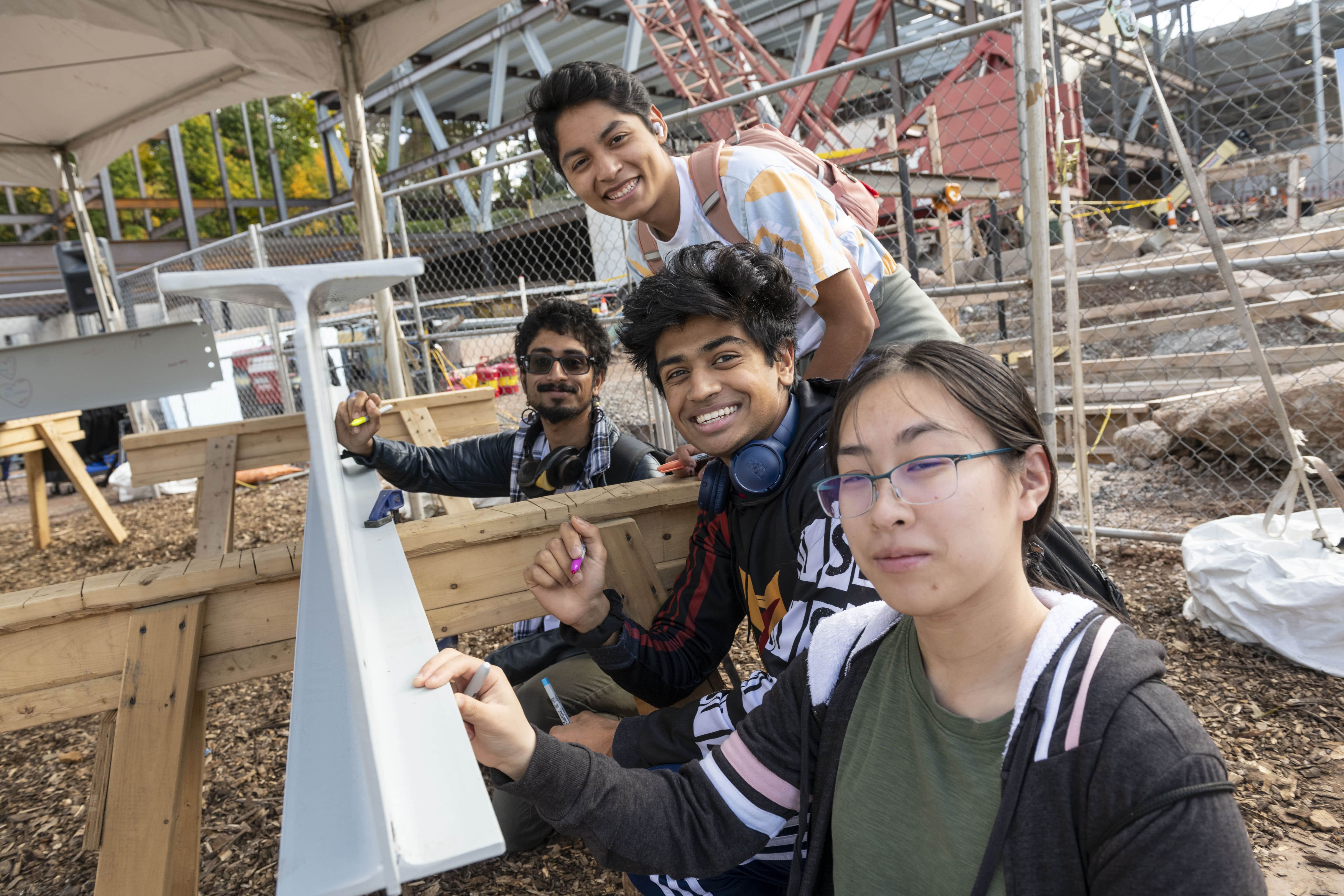 In the Highmark Center, CMU students will establish the foundation for a lifetime of physical, spiritual and emotional health.
There are still many opportunities to add more than a signature to this facility's legacy.
If you'd like information on how to support the Highmark Center, please reach out to Sarah Mier, senior director for development.