Mehrabian's Legacy Honored
Dedication Ceremony slideshow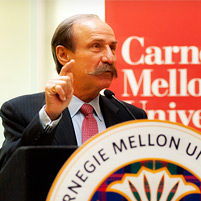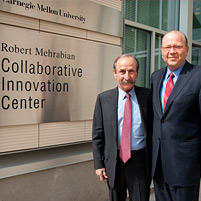 Presidents Mehrabian and Cohon
As the seventh president of Carnegie Mellon University, Robert Mehrabian left a legacy that made a lasting impact at the university and in the Pittsburgh region.

From providing a better student experience to collaborating with some of the top technology companies, Mehrabian's vision and perseverance was recognized recently with the re-naming of the Collaborative Innovation Center, the Robert Mehrabian Collaborative Innovation Center.

An overflow crowd attended the dedication, including friends and former colleagues and students who praised the former president for having his heart in the work.

"His inspirational leadership was essential. He looked at what wasn't working and said, 'We can do better.' That spirit has really helped to propel the region forward," said CMU alumnus Donald F. Smith Jr. (HNZ'94), president of Regional Industrial Development Corporation (RIDC). 

Mehrabian's vision of building partnerships with industry propelled CMU into an elite group of national research universities.

"Robert quickly surmised the commercial potential of CMU's technologies and innovations. This was widely noted in Pittsburgh and became a watershed for new attitudes and activities toward new company formation and economic development in the region," said Benno Bernt, founder and first director of CMU's Technology Transfer Office (CTTEC). "The movement has continued to thrive ever since."

Mehrabian's influence includes the Regional Economic Revitalization Initiative and the Pittsburgh Technology Center. These successes ultimately enabled university and government leaders to obtain funding for a unique business incubator — the Collaborative Innovation Center.

Developed in partnership with the RIDC, the building quickly became a hub of technological innovation that contributed to Pittsburgh's recognition as a top technology city.

"It is fitting that Robert's legacy be associated with a building that so visibly links the university, its students and faculty to leading technology companies and the broader Pittsburgh community," said current CMU president Jared L. Cohon. 

The Robert Mehrabian Collaborative Innovation Center houses technology research and development offices for Apple, Intel and Disney. It also houses Carnegie Mellon's CREATE Lab — a robotics lab sponsored by Microsoft — and space for Carnegie Mellon CyLab, the university's Information Networking Institute and the CERT® Coordination Center, Carnegie Mellon's internationally known cybersecurity team.

"This building is a tremendous example of the power of the collaboration between universities and business leadership that has really been the fuel for Pittsburgh's economic turnaround," said Smith.  

Another major thrust and success of Mehrabian's presidency was fueling the tech transfer efforts of CMU's talented faculty. His leadership laid the groundwork for the university's innovation ecosystem — Greenlighting Startups, which is uniquely designed to support CMU's culture of entrepreneurship and new business creation.

As a result, CMU has become one of the fastest growing entrepreneurial universities in the United States.

During his tenure, Mehrabian also focused on improving the student experience and attracting world-class faculty. His efforts doubled student applications and increased endowed faculty chairs.

He led the completion of an ambitious campus building plan, noted as one of the most far-reaching contemporary efforts of any private university in the United States. A centerpiece of that plan was the creation of the University Center, which opened in August 1996.

Mehrabian, who led CMU from 1990 to 1997, is now chairman, president and CEO of Teledyne Technologies Inc. He is the seventh CMU president with a university building named in their honor.
Related Links: Read More | University Leadership | A Presidential History | Greenlighting Startups
---