Earth Appreciation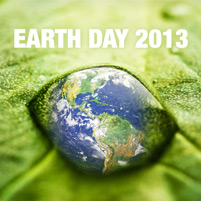 Carnegie Mellon University celebrates Earth Day this week with activities designed to increase  awareness about the environment and sustainability.

CMU has a longstanding commitment to the environment and a sustainable energy future. The university boasts 10 Silver or Gold LEED certified (green) buildings, including the nation's first green dormitory on its Pittsburgh campus.

The university's second annual Steinbrenner Institute Environmental Expo kicks off with John Collins, Guinness Book world-record holder for flying paper airplanes the farthest distance.

"These exciting paper airplane demos are a great way to better understand aerodynamics and to focus attention on the environment in which we work and play," said Jayon Wang, a senior mechanical engineering major from Bethesda, Md., and a leader of CMU's student chapter of the American Institute of Aeronautics and Astronautics (AIAA). 
The environmental expo — to be held Wednesday, April 24 from 4:00–6:00 p.m. in University Center on the Pittsburgh campus — will showcase university-wide environmental art, design, service and research projects with a sustainability theme. The Steinbrenner Institute will also present members of the campus community who are engaged in environmental and sustainability focused research, design and service.
Informal displays will also be on hand from Solar Splash and Sustainable Earth as well as a Zero Waste refreshment table with information on how to do a campus event in a zero-waste fashion. Collins will perform his demos from 3:00–5:00 p.m.

An Environmental Leadership Workshop takes place on Sunday, April 28, from 1:00–4:00 p.m. in the West Wing TV & Tech Lounges. It's an interactive and innovative student-centered leadership development workshop for emerging & seasoned environmental leaders. The event is open to both undergraduate and graduate students interested in envisioning and strategically planning collaborative events or activities for the campus community during the 2013–14 academic year. 

Directly following the workshop, Sustainable Earth and the Peer Health Advocates will lead participants on a campus clean-up.

A spring harvest festival will be hosted by the CMU Community Garden on Monday, April 29 (rain date May 1) from 11:00 a.m.–2:00 p.m., featuring local, sustainable, organic and nutritious items for sale.

Sustainability is top of mind for CMU faculty and researchers  who have a successful history of creating innovations in energy. Under the leadership of CMU's Granger Morgan and Andrew Gellman, the university's new Wilton E. Scott Institute for Energy Innovation is meeting an acute need for energy solutions worldwide.

This major research initiative harnesses the work of more than 100 faculty university-wide and is focused on improving energy efficiency and developing new, clean, affordable and sustainable energy sources.
Related Links: Steinbrenner Institute | Environmental Education | Green Practices Committee | Scott Institute | Energy Innovation Gets $30M Gift | Breaking Ground for Innovation
---