Symposium Launches Energy Weekend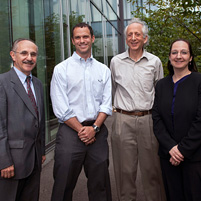 [l-r]: Ed Rubin, Jay Whitacre, Baruch Fischhoff, Jeanne VanBriesen
Sherman Scott participates in audience vote for energy topic
An overflow crowd in Rashid Auditorium, eager to hear from Carnegie Mellon University's energy experts, voted on the four topics that would be presented at a symposium celebrating the launch of the new Wilton E. Scott Institute for Energy Innovation.

Water concerns with shale gas development, low cost batteries, clean coal and the effect of human behavior on energy futures received the largest number of votes among the 11 topics proposed.

CMU President Jared L. Cohon provided opening remarks, Granger Morgan, the newly appointed director of the Scott Institute and Andrew Gellman, associate director, moderated the event, which gave the audience a first look at the experts who will power up the new institute.

Presenting the four top energy topics voted on by the audience were CMU's:

The faculty experts at the symposium represented the more than 100 professors and researchers across campus who work together to solve the world's toughest energy challenges.

CMU's faculty and researchers have a successful history of creating innovations in energy, and under the leadership of CMU's Morgan and Gellman, the Scott Institute is now poised to meet an acute need for energy solutions worldwide.

Made possible by a lead gift from CMU alumni Sherman Scott (E'66), president and founder of Delmar Systems, and his wife Joyce Bowie Scott (A'65), a trustee of the university, this major research initiative is focused on improving energy efficiency and developing new, clean, affordable and sustainable energy sources.

Through its research and education programs, the institute will develop new innovative energy technologies and create an improved understanding of how to promote their wide adoption through better regulation and public policy.

For example, CMU's faculty research on carbon capture and sequestration has helped California provide electricity without greenhouse gas emissions and helped protect the U.S. electric system from cyber attacks.

Jay Whitacre, an associate professor of materials science and engineering and engineering and public policy, developed a novel sodium-ion battery capable of storing power for later use in the electrical grid. He founded Aquion Energy based on that technology and will be opening a manufacturing plant near Pittsburgh next year.

The institute will support teams of CMU engineers, scientists, economists, architects, policy specialists and others to tackle various issues, including developing cleaner, more efficient energy solutions while reducing carbon emissions; using smart grid technology to enable the use of large amounts of variable wind and solar power; and new advanced materials and processes to produce and store energy, increase efficiency and reduce waste.

"By bringing together experts from a range of disciplines, Carnegie Mellon is the perfect place to help meet the energy challenges of the future," said Scott, who founded Delmar Systems in 1968 and built it into one of the world's leaders in mooring systems for the offshore oil and gas industry.
Related Links: Read full release | Wilton E. Scott Institute for Energy Innovation | Environment at CMU | WSJ: Article Authored by Jay Apt | Fuel Economy Standards | Carnegie Mellon Today: Power Brokers
---