New Tech-Arts Programs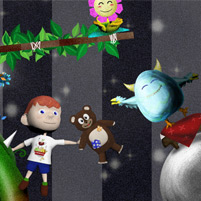 One of the fastest growing areas of the economy is the creative industries sector that blends technology and the arts. It includes social media, games, the maker movement and responsive environments.

To meet growing demands of employers and interest of prospective students in this area, Carnegie Mellon University is launching eight interdisciplinary undergraduate concentrations, building on decades of CMU's success in the arts and technology.

In August 2014, concentrations and minors will be available in Animation and Special Effects, Entrepreneurship for Creative Industries, Game Design, Intelligent Environments, Learning Media, Media Design, Physical Computing, and Sound Design.

Students who choose Game Design, for example, will learn theory and skill from faculty experts across the university in key areas such as dramatic narrative and character development; visual and sound synthesis; special effects and performance capture; programming and engine development; interface and interaction architecture development; game assessment and redesign.

Students who choose the Entrepreneurship for Creative Industries concentration will develop the knowledge and skills to navigate new markets, identify the diverse experts who will be able to skillfully collaborate with each other, and lead those teams from concept to product.

The concentrations will be available to all students and will be embedded in relevant degrees across the 25 units across the university. The minors will be completed alongside a primary major.

"The model is such that one-tenth of your undergraduate education is a technology-arts interdisciplinary experience. It helps develop T-shaped knowledge where students get in-depth knowledge in a discipline combined with cross-training that allows them to collaborate in diverse technology-arts teams. And then if the student gets interested in the interdisciplinary experience, they can stay an extra year and get more of that interdisciplinary training through a set of related professional master's degrees" said Thanassis Rikakis, CMU's vice provost for Design, Arts and Technology.

Building on the connections already thriving between the world-class technology and arts units at CMU, Rikakis recently formed the IDeATe (Integrative Design, Arts and Technology) Network and the related Integrative Media Program (CMU-IMP). The IMP program is in collaboration with Steiner Studios and the New York City applied sciences program. It will have a hub at Steiner studios at the Brooklyn Navy Yard.

Using the network and its resources, students and faculty from all disciplines will collaborate through courses and research and in facilities designed to encourage interdisciplinary exploration and teamwork. Seven cross-cutting research themes have already been identified for the program, taking advantage of existing and planned "living" laboratories on campus.

"A key aspect of integrative design is bringing together diverse teams to solve complex problems, and no university is better positioned than Carnegie Mellon to address the demand for professionals in this area," Rikakis said. "We're taking the principles of integrative design and making them a driving principle of the curriculum, which is a significant innovation."
Related Links: IDeATe Network | Graduate Programs in Integrative Media | Research Themes | Community Partners
---