Nation of Makers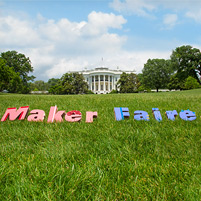 Crafting. Shaping. Tinkering. Designing. Building. Carnegie Mellon University is a place where learning is a hands-on experience that includes making things.
President Barack Obama visited a CMU partner, TechShop, in Pittsburgh on June 17 to discuss how manufacturing, even on a small scale, affects the U.S. economy. The following day, he is hosting the first White House Maker Faire.

CMU President Subra Suresh joined more than 150 higher education leaders in responding to President Obama's call to empower America's students and entrepreneurs to invent the future. The letter was created on a 3-D printer at America Makes in Youngstown, Ohio. It also commemorated the June 18 White House Maker Faire and nationwide "Day of Making."

"I want to thank President Obama for his leadership in convening the first White House Maker Faire. His call to action has sparked enthusiasm and inspired new thinking on our campus and across the nation," President Suresh said.

College of Engineering alumna Hahna Alexander (E'12) from CMU spinoff SolePower was among the makers, innovators and entrepreneurs invited to participate in the Washington, D.C., event. The Pittsburgh-based company's shoe insoles generate and capture power to charge mobile devices.

In addition to the higher education community letter, President Suresh outlined CMU's new commitments to support the Maker movement in a separate letter to the U.S. president. His letter highlighted the leadership role CMU has played in the movement historically.

"Carnegie Mellon's roots as a technical trade school founded for the sons and daughters of steelworkers instills in us a deep appreciation of the power of 'making things,' an approach to learning that has driven CMU's educational experience for more than a century," Dr. Suresh said.

Work by Lee Weiss of CMU's Robotics Institute in the 1990s was among the first steps in the development of 3-D printing technology. CMU also was one of the first universities to give students the option of including a Maker portfolio in its undergraduate admission process.

The new commitments focus on expanding the role of Making in CMU's educational offerings, building new maker infrastructure on campus and connecting the university's Maker capabilities to help meet the needs of the Pittsburgh region and the nation.

Among these investments is the opening of the university's new Integrated Innovation Institute this summer. This Maker environment educates students on market-centered innovations and facilitates cross-training in engineering, design and business.

CMU's Integrative Design Arts and Technology (IDeATe) Network will launch in fall 2014. The university is introducing eight interdisciplinary minors that provide undergraduates the opportunity to learn through collaborative maker experiences in 30 new studio-based courses. Many of the courses will be taught in the new IDeATe@Hunt Collaborative Making Facility.

"Hunt Library has been a collaborative on-campus hub since its construction in 1961. With IDeATe@Hunt, the library will take an evolutionary leap toward becoming a 21st century mediated learning commons," said Thanassis Rikakis, CMU's vice provost for Design, Arts and Technology.

More than 3,000 square feet on the first two floors of the library will feature digital fabrication shops, a physical computing lab, an interactive media black box, a virtual computer cluster and collaborative design studios.

CMU's IDeATe Network is a partner to the community-based workshop and protoyping studio that offers work space and training on a variety of tools. Carnegie Mellon University faculty, alumni and students have used the site to bring innovative ideas to life.

At the TechShop Pittsburgh event Rikakis and CMU alumni asked questions about increasing the pipeline of students studying science, technology, engineering and mathematics (commonly known as STEM), entrepreneurship, startups and economic policy.

Throughout 2014 and 2015, CMU also will develop a new advanced manufacturing facility for research and development on its Pittsburgh campus featuring several high-end metal and polymer additive manufacturing machines. CMU will use the facility to further collaborate with America Makes, the National Additive Manufacturing Innovation Institute it helped to create in 2012.

As part of the Simon Initiative, the university will open a Learning Media Design Center in fall 2014 that will focus on K–12 education through new media and Maker experiences. The center will work in collaboration with Pittsburgh's Remake Learning Council to integrate neighborhood, school, library, TechShop and museum initiatives with CMU's research and educational offerings.

CMU also proposed to adapt the National Science Foundation-funded collaborative creative exchange site, XSEAD, as a permanent forum for dialogue across the higher education community on Maker initiatives.

"This readily available, multi-institutional site will support the ongoing sharing of best practices and Maker projects that this Faire has sparked," President Suresh said.
Related Links: White House Maker Faire | IDeATe | Integrative Media Program | IDeATe @Hunt Collaborative Making Facility | Integrated Innovation Institute | Sherman & Joyce Bowie Scott Hall | America Makes
---