October 18, 2010
CPID Student Chelsey Delaney Headed to SXSW Interactive Festival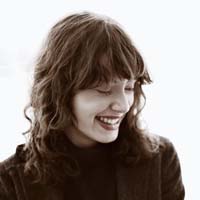 CPID student Chelsey Delaney has been selected to participate in the 2011 South by Southwest (SXSW) Interactive Festival. She will be organizing a panel based on her Master of Design thesis at the festival, which will be held from March 11-15 in Austin, TX. Her panel, entitled "Comedic Communication: Designing for Pleasure and Play" will focus on employing humor as a rhetorical strategy in design work.
Chelsey has been interested in the relationship between humor and design since her years as an undergraduate student at the University of Texas. She worked as the web designer for the Texas Travesty, the school's humor publication. Through her work there, as well as the relationships she formed with the staff, she recognized the positive impact humor can have.
"I realized humor is an amazingly powerful tool that is often underestimated, and I wanted to teach people how to use it to help their own lives and the lives of others," she says.
Chelsey studied journalism during her undergraduate career, doing design work on the side "for fun." This side interest led her to work creating websites for comedy and improv theaters and comedians in Austin, which ultimately brought her to Carnegie Mellon's CPID program.
"I decided I wanted to find a grad program that could teach me the principles of design but still have an emphasis on the significance of writing. When I heard about the CPID program, I fell in love," she explains.
"I think what makes design appealing to me is that everything seems possible. I remember the first journalism class I had the teacher said, 'All journalists want to save the world; well you can't.' At CMU Design, no one has told me that because no one believes that's true," she elaborates.
Though Chelsey has already had experience with the SXSW festival—she has attended for the past four years—she says it has been one of her dreams to have her own panel. Her proposal was one of 200 chosen out of 2,500 submissions.  She jokes: "I still keep waiting for an email from them with the subject heading 'OOPS!'"
Congratulations and good luck to Chelsey!