April 02, 2021
Pennsylvania Expansion of COVID-19 Vaccine Eligibility
Dear Members of the Carnegie Mellon University Community:
As we eagerly await the promise of expanded access to COVID vaccines, we are pleased to provide updates and guidance to the Carnegie Mellon community. 
Thanks to our partnership with Giant Eagle, Carnegie Mellon has offered more than 1,100 dedicated appointments to our Phase 1A eligible community members. Earlier this week, the Commonwealth of Pennsylvania announced that starting Monday, April 5th, all residents in Phase 1B are able to schedule vaccination appointments. 
Many members of our community are eligible for Phase 1B as educational workers:
Faculty, staff members and vendors who have in-person contact with students, and
Students who are in contact with other students while providing instructional, health-related, or other services on behalf of the university.
On April 19, the Commonwealth of Pennsylvania will expand eligibility to all adults, which includes all students, faculty and staff who live in Pennsylvania.
PA Vaccine Rollout Timeline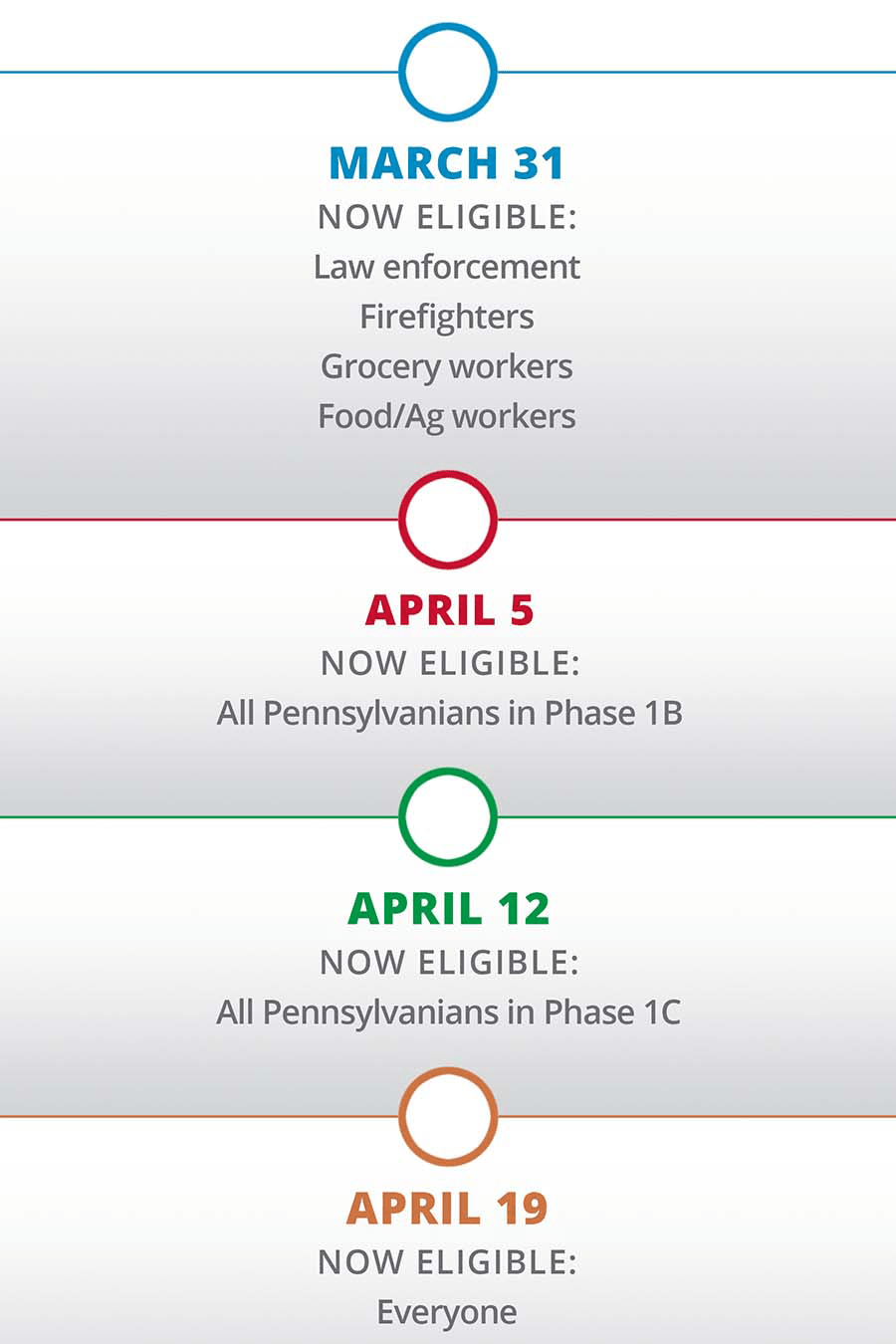 We encourage all eligible community members to look to the many vaccine providers offering appointments in the region as access to appointments is rapidly expanding. Members of our community can seek a vaccine using this tool managed by the Commonwealth. We encourage you to learn more about the vaccines and the important role they will play in supporting the health and well-being of our community. Carnegie Mellon leadership will also continue to actively work with partners and the Commonwealth in hopes of securing dedicated opportunities to serve our community. 
We also want to remind you that while we are filled with hope for the future, the current uptick of COVID-19 cases nationally in Allegheny County and within the CMU community is concerning. Participating in weekly Tartan Testing and practicing all mitigation protocols of wearing facial coverings, handwashing, physical distancing, and completing the daily self-assessment surveys are important tools to help curb the spread of COVID-19 in our community. 
Thank you for doing your part to protect our community.
Sincerely,
Gina Casalegno
Vice President for Student Affairs and Dean of Students
Daryl Weinert
Chief of Staff and Vice President for Strategic Initiatives
COVID-19 Coordinator