July 21, 2020
Fall Planning: Meet CMU COVID-19 Coordinator Daryl Weinert
Full email text from 7/21/20 below
---
Dear Members of the CMU Community:
I hope that all of you are staying safe and well through these ever-evolving times.
I write to you today as CMU's COVID coordinator, a role I have taken on in addition to my duties as President Jahanian's chief of staff. In this role, one of my responsibilities is to provide regular updates to you on our preparations for the fall semester, as well as ongoing information as the year progresses.
The university's goal is to create an environment that keeps health and wellness top of mind for all community members, while continuing to deliver the education and research programs that have made CMU a world-renowned institution of higher education.
CMU leadership is actively monitoring the pandemic both globally and locally, and engaging with internal and external experts to inform our approach to on-campus preparations and policies. There is no denying that our campuses will be different in the fall as we implement widely recommended protocols for reducing the spread of the virus. These protocols are driven by science- and research-based evidence and will evolve as our knowledge of the virus also continues to evolve.
At the highest level, our mitigation strategy follows the National Institute for Occupational Safety and Health "hierarchy of controls" approach below, a widely accepted system used to minimize exposure to hazards. No one part of this strategy will completely eliminate risk, but through a combination of containment (symptom screening, testing, contact tracing), substitution (remote work/instruction), engineering controls (modified work spaces, plexiglass barriers, enhanced HVAC and cleaning), administrative controls (staggered work schedules, de-densification, signage, training) and personal protective equipment (facial coverings, regular hand-washing), we can substantially reduce the risk.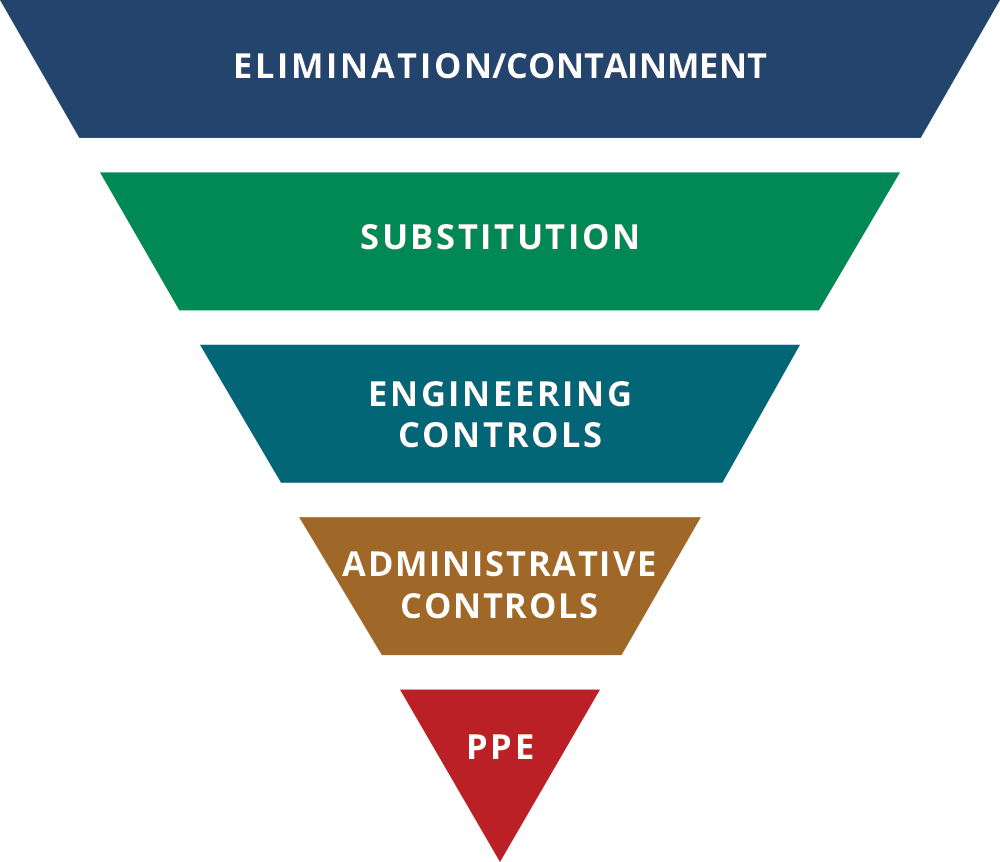 Our COVID-19 website continues to provide the most up-to-date guidance for students and families, faculty, researchers and staff as well as answers to many frequently asked questions. I will be sharing greater details concerning the elements of this multilayered approach in regular updates over the coming weeks.
I thank you in advance for your cooperation and support as we adapt to new and ever-changing conditions. Each of us has unique circumstances and concerns to contend with during these challenging times and our entire team is working hard to prepare for these changes both in and out of the classrooms and laboratories. We will be relying on shared responsibility and we must all do our part. I remain grateful for your patience, resilience and support as we navigate and finalize the next best steps to solidify our safe return to our campuses around the globe.
Sincerely,
Daryl Weinert
Chief of Staff and Vice President for Strategic Initiatives
COVID Coordinator