Rachel Rubin Franklin played her first video game when she was 7 years old. Today, the Carnegie Mellon University alumna is head of Social Virtual Reality for Facebook.
Since earning her bachelor's degree in applied math and computer science in 1991, Franklin has climbed the virtual ladder to become an executive in electronic and online gaming. She was hired by Facebook in October 2016 to create virtual spaces for its more than 1 billion active users.
"Virtual reality is pretty amazing technology that allows you to feel like you're really there with other people at a destination or present with other people when you're physically not actually there," Franklin said.
Facebook founder and CEO Mark Zuckerberg demonstrated this technology during his keynote address at the Oculus Connect conference last fall.
In his address, Zuckerberg donned a virtual reality (VR) headset and he was suddenly standing with the cartoon avatars of two other co-workers. Together, the trio swam with sharks, visited the surface of Mars, checked on Zuckerberg's dog, played cards, had a sword fight and even took a video call from Zuckerberg's wife, Priscilla Chan ‑ who appeared live in the VR session to take a selfie with her husband's avatar, which he promptly posted to Facebook.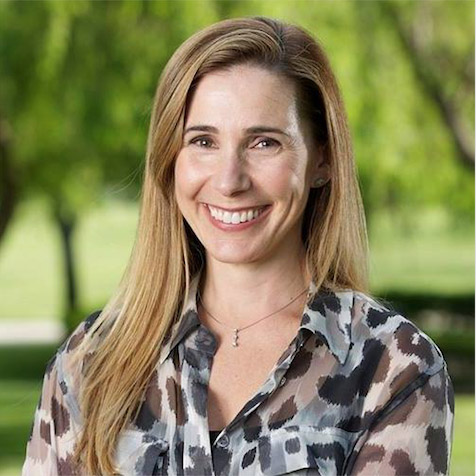 "Facebook is all about bringing people together, so all of the products that are being developed [including VR], have that same mission," Franklin said. "When you think about a company with such forward-looking technology and with the incredible momentum that Facebook has, there's really, really exciting opportunities to build new ways for people to connect. And that's going to unfold over many, many years."
Franklin has always been drawn to technology and to cultural and artistic pursuits. While at CMU, she took classes in filmmaking and acting, and hosted programs on the university's radio station. Later, she studied acting for a year in London.
A self-described "arcade rat," she loved video games from an early age, and recalls that as a child her stepfather bought her a small computer that allowed her to learn BASIC, a beginner's programming language.
Her diverse educational background led her to spend time professionally as an actor and voiceover artist, in addition to her career in computer programming and gaming, most notably at Electronic Arts as the general manager and executive producer of one of the best-selling PC games of all time, The Sims 4.
"I've always had this mix of passions, a love for computers combined with a love for entertainment and acting," she said. "So really the reason I went to CMU — one of the very, very strong reasons — was because of the incredible computer science opportunities but also because of the opportunities to pursue acting. Then when I got to EA, I found that all my experience kind of came together. My right brain and my left brain were working very closely together every day."
Lucy Bradshaw, a product manager in Social VR at Facebook who worked with Franklin at EA, commends her ability to push forward a cohesive idea from a variety of suggestions and perspectives.
"She's inclusive in developing a shared vision using intuition, data and plain old talking to people," Bradshaw said of Franklin. "Then she synthesizes information and opinions to help challenge our creative thinking and shape direction. Brainstorming with Rachel is a blast, a fun back-and-forth of ideas that invariably leads to better results."
The brainstorming at Facebook is just getting started.
"To come here and be entrusted with the goal of connecting people with this future technology, I don't know that there's anything I could wish for beyond that," Franklin said. "There's lots of shiny technology that you can go pursue but when you get the chance to work on something that's going to meaningfully better the world, that's pretty special."
Franklin's team is hiring, and she welcomes interested CMU alumni to check out Facebook's career page for openings.