With a focus on sustainability, Carnegie Mellon University alumna Michelle Wolf is cooking up an edible, sustainable alternative to shrimp, the most popular seafood in the U.S.
Wolf, who earned a bachelor's degree in materials science and biomedical engineering in 2014 and a master's degree in biomedical engineering in 2015, keeps fiddling with the taste. After four months of trial and error, she hit on a combination of red algae and plant proteins. The pinkish food looks, tastes and feels like real shrimp, according to taste-testers at a nearby mall and some initial customers.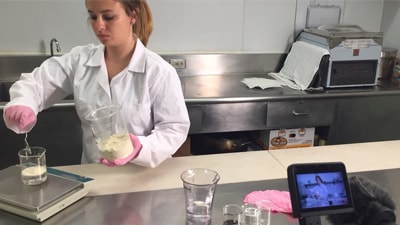 "The lab-made shrimp had that springiness and mixture of crunch and chew that you'd expect from the real thing. I could see myself replacing real shrimp with this in some situations," said one taste-tester, Ariel Schwartz, deputy editor for innovation for the digital publication Tech Insider, who wrote about the experience.
Wolf said that had it not been for her training at CMU, she might have given up. She points to how CMU taught her to look for creative solutions to problems with no known answers.
"We were always digging a little deeper to understand a problem," she said.
Originally, Wolf figured she would pursue a career with a biomedical firm after graduation. But she went in another direction after meeting Dominique Barnes, who studied marine biodiversity and oceanography at the Scripps Institution of Oceanography.
Their shared concern about the sustainability of seafood gave the women the idea to create an alternative for shrimp.
"Shrimp is the biggest, baddest seafood out there," Wolf said. "For every pound of shrimp, five pounds of fish are also caught and disregarded."
Wolf and Barnes started New Wave Foods in 2015, and received seed money and their first work space from Indie Bio, a San Francisco-based synthetic biology accelerator that bills itself as "devoted to funding and building startups dedicated toward solving humanity's most pressing problems."
During New Wave's trials and errors in the lab, news reports publicized the abusive, slave-like conditions for workers on shrimp boats in Thailand, fanning even more demand for synthetic shrimp.
But Wolf didn't want to create "seafood baloney," like some of the imitation crab out there. She wanted something with the look, taste and nutritional content as the real thing. Her study of polymers in materials science classes helped her to understand the properties of a shrimp muscle.
She has concocted a blend using small doses of algae combined with plant proteins and carbohydrates.
"Working with New Wave Foods has given me a unique opportunity to have fun with one of my favorite ingredients — shrimp," said JP Reyes, a vegetarian chef. "Shrimp is a huge part of Filipino cooking, so when I started as the lead vegan chef at a large tech company and launched a Filipino pop-up, I was focused on finding a way to share the flavor and texture of my favorite dishes with vegans, vegetarians and people with shrimp allergies."
Wolf is still perfecting the taste at a new lab in San Leandro, near San Francisco. Once she and Barnes deem it irresistibly good, the plan is to have a mass-market release within six months. The company has raised more than $300,000 from investors.