Carnegie Mellon University alumna Linden Dahlkemper has made it to the White House.
Recognizing her exceptional leadership potential, the White House Fellows program selected her to be among this year's class of 16 fellows. Each fellow works with senior White House staff in full-time, paid positions. Several have gone on to become mayors, governors, members of Congress, U.S. ambassadors and CEOs of corporations.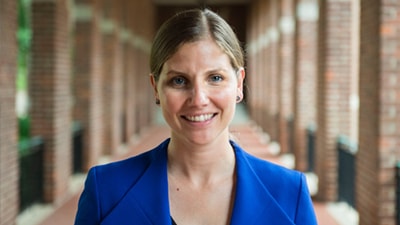 "It's an incredible opportunity to develop your own leadership style," Dahlkemper said of the yearlong fellowship. "The combination of the work placement, the educational program, the service activities and the fellowship provide a comprehensive program that is not replicated at the same level elsewhere."
Dahlkemper is one of six fellows with a background in the armed services. She graduated from the U.S. Coast Guard Academy in 2008 and served on two ships over the next four years, climbing the ranks to lieutenant.
In 2010, she served as operations officer on the cutter Aspen, managing almost 50 personnel.
Dahlkemper views her challenging experiences with the Coast Guard as valuable preparation for her fellowship.
"As a Coast Guard operator, I was implementing the policies that were decided in Washington and elsewhere," she explained. "I believe that for our government to function well, policymakers need to understand the challenges of implementation and the conditions on the ground — or on the ocean."
After four years serving in the Coast Guard, she enrolled in CMU's H. John Heinz III College in its Public Policy & Management program in 2012. She worked with CMU's Jonathan Caulkins, a renowned international expert on drug policy. During the summer of 2013, Dahlkemper and Caulkins conducted policy analysis on behalf of the Washington state government as it dealt for the first time with the effects of the recent legalization of marijuana.
Through a range of techniques that ran the gamut from informational interviews to mathematical analysis, Dahlkemper and Caulkins created an optimization model that helped the state decide how many stores to license in each of its counties. The model was complex, but it was designed to be simple for the state to use.
"She's got that package of real math chops, leadership and understands how to get things done and how the real world works," Caulkins reflected. "It's a pretty unusual trifecta. She has greater capacity to both make difficult decisions under pressure and to inspire people than 99 percent of people I've ever encountered."
Caulkins wasn't surprised when she was awarded the White House Fellowship.
"Coming out of Heinz, I would have voted her most likely to go to the White House," he said. "I had in mind going as president, but she got there quicker."
For her part, Dahlkemper said the PPM program helped her to become a fellow.
"The data-driven approach of the PPM program at Heinz changed the way that I look at problems," she explained. "Without this background, I'm not sure I would have been so eager to apply for this fellowship to see how decisions are really made."
After her fellowship, she will return to her operational career in the Coast Guard, better equipped, she says, to serve the American people with all she's learned.
Top Photo: The U.S. Coast Guard Cutter ASPEN, where Lt. Dahlkemper served as operations officer.