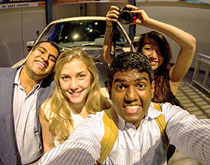 As David Baboolall sifts through the day's emails, one in particular piques the Carnegie Mellon student's interest. The subject is the Ford College Ambassador Challenge. It involves student teams representing their respective colleges in a semester-long marketing competition to help introduce the Ford Motor Company brand to college students. Specifically, the teams would compete in three separate challenges with the goal of attracting the most participants.
Create a one-minute video integrating a Ford vehicle and its technologies with the life of a college student.
Host an on-campus speaking event concerning how to prepare for the job market, which—among the speakers—would include Ford representatives.
Plan and market a one-day, student test-drive marathon with a local Ford dealer. Each test drive would earn the team $20 to the charity of its choice, up to $6,000.
The team with the highest composite score would win $500, a Ford vehicle for one month, and an all-expenses-paid trip to Ford's headquarters in Michigan to network with company executives.
Baboolall (DC'14), interested in business and marketing, wanted to enter, and soon he had three teammates whom he knew through the coed business fraternity, Alpha Kappa Psi: Chloe Chia (A'16), Jay Chopra (DC'15), and Sarabeth Perry (DC'16).
For months, the quartet laboriously wrote up marketing plans and spent time outside of class to work on all components of the competition. They found the test-drive challenge to be the most problematic because nearly all of the students they knew weren't in the market for a car, and the dealership where the test drives were required to take place was miles from CMU's campus.
To overcome the test-drive hurdle, the team tapped into the friendly competition that often takes place in CMU's Greek life—telling the fraternities and sororities they could compete for charity dollars. The marketing strategy worked, as 336 test drives were completed in one day, raising the maximum $6,000 for charity.
The team used that kind of ingenuity in all phases of the competition and ended up winning the Ford Challenge, beating out competitors such as Michigan State, Purdue, Minnesota, and Wisconsin.
Baboolall and his teammates were thrilled with their victory, but even if they hadn't won, Baboolall says it would have been worthwhile competing: "Being able to share design, technology, communication, and leadership skills with each other over the course of a semester really made us better students and problem solvers."
—Jamar Thrasher (HNZ'14)