Andy Warhol, in black except for his signature shock wig of silver hair and oversized, clear pink glasses, steps onto the stage of Manhattan's Lincoln Center with punk-rock icon Debbie Harry of Blondie beside him.
The year is 1985—the Cretaceous Period of American home video-game/desktop computers. Little beige computers with playroom-sized, black-and-white monitors are jockeying for position as an alternative to the IBM PC that has dominated the market. This is the Age of the Commodore 64, Atari, Texas Instruments, and the first Apple Macintosh. Tonight, Commodore International, which had bought the Amiga company, is launching the Amiga 1000 with a celebrity-studded gala. And who better to tout the machine's graphic capabilities than enduring pop artist/hipster Andy Warhol? The 1949 Carnegie Mellon graduate had been anxious to keep pace with other popular artists who were already working digitally. Still, he had spurned Steve Jobs when Jobs tried to gift him an Apple Macintosh—it was only in black and white, you see. But this Amiga is different. Its monitor displays 4,096 glorious shades of color. It is the one, Warhol says, that he'd been waiting for.
Warhol doesn't make eye contact with the audience. He takes a seat in front of the Amiga, where a Commodore pitchman is ready to narrate his every click. (Well in advance of the evening's event, Commodore had equipped Warhol with an array of expensive hardware and software to play around with.)
Harry fluffs her hair a bit and asks, in a breathless voice, "Are you ready to paint me now?" Her image is captured by a built-in digital camera. This, in and of itself, is a big deal. An instant later, her face appears on the computer monitor. Warhol uses the graphics program to flood-fill areas of her hair and background with yellow, giving Harry's image the look of his famous silk-screened takes on Marilyn Monroe, Elvis Presley, and Elizabeth Taylor.
In about a minute, he has created his first computer portrait. "I like it," the artist murmers. "I think I'll keep it. It's a masterpiece." With that, his part in the evening is over.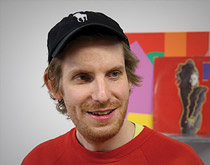 Decades later, Cory Arcangel, a 30-something New York artist, watched the Andy Warhol/Debbie Harry video on YouTube. Arcangel—who refers to himself as a fine artist entrepreneur—deploys, among other things, YouTube clips and "fossilized" video games as source material for his installation art. This time, however, he found himself more interested in whether Warhol had made art on the Amiga prototype that Commodore had given him. And if he had, what had become of the works? He tucked that question away in the back of his mind.
Arcangel had long been interested in Warhol. Soon after moving to New York City in the early 2000s, he picked up a copy of Warhol's diaries. "They were helpful on a practical level," he says. "Sort of a manual of what it's like to live as an artist." Arcangel appreciated everything in the entries—from the regularity of Warhol's work patterns, to the way he tracked receipts, to how he got ideas.
In 2004, Arcangel came to prominence through the Whitney Museum of Art Biennial exhibition, regarded as one of the leading shows in the contemporary art world. The Whitney curators had selected his work, Super Mario Clouds, which projected only the drifting clouds from the Nintendo game. Eight years later, he was linked to Warhol through the Metropolitan Museum of Art exhibition Regarding Warhol: Sixty Artists, Fifty Years. Alongside more than 40 works by Warhol were the works of 60 other artists, including Arcangel.
The Carnegie Museum of Art in Pittsburgh took notice. In 2011, they invited him to exhibit his work at a show. When he traveled to Pittsburgh for a preliminary meeting, on his list of things to do was a visit to the Andy Warhol Museum on the city's North Shore. He had the Carnegie Museum curator arrange a get-together with the Warhol folks, figuring this was an ideal time to find out more about any images Warhol may have created on the Amiga computer.
During his conversation with Warhol administrators, he learned that, indeed, the Warhol Museum did have the computer equipment given to the artist, including floppy disks. What was on the floppies no one knew. This was 2011, a generation away from what was considered state of the art in 1985. The disks were obsolete technology; anything stored on them was inaccessible.
This is the part of the story when Golan Levin, Carnegie Mellon professor of electronic art, gets a call. Levin is director of Carnegie Mellon's Frank-Ratchye STUDIO for Creative Inquiry, which is a "flexible laboratory for new modes of arts research, production, and presentation." Levin says the studio has always taken an interdisciplinary interest in finding places where the arts edge up against engineering and computer science, which helps explain why its benefactors include the husband-and-wife team of artist Sarah Ratchye (A'83) and chip expert Ed Frank (S'85, Trustee).
Did Levin know anyone who could unlock these floppies back to life? He knew where to start.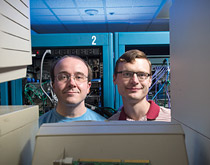 A computer club might seem superfluous on a campus where everyone is plugged in. But the Carnegie Mellon Computer Club still attracts 20 or so members of varying degrees of intensity, including alumni: Two of the most stalwart are Keith Bare (CS'08, '09) and Michael Dille (CS'06, '07, '10, '13).
Carnegie Mellon students from the past five or so years may remember seeing Bare and Dille carting stacks of beer cartons around campus. They weren't for a party, because the contents weren't beer bottles. The cartons were the ideal size to hold computers of an earlier era—the era, actually, when Andy Warhol's Amiga 1000 had its 15 minutes of fame. The duo were schlepping the machines to Wean Hall, where they would put on a show of "demos."
Demos are audio and video software presentations in which a programmer shows off his or her coding skills by generating graphics and music in real time. The real-time part is what makes a demo different than a movie with computer graphics: in a demo, a computer calculates the graphics at that moment. A movie with computer graphics, on the other hand, just shows what some computer spent a really, really long time generating. That's what makes writing demos more of a challenge—coders can't crunch numbers for a month to generate the graphics, each frame must be calculated in that fraction of a second when viewers are watching in order to make the motions smooth and fluid.
The demoscene can be traced back to the 1980s. Dille was instantly hooked when he was introduced to demos by Michael Kasick (E'06, '09, '14), another member of the computer club. "They're totally eye candy," Dille says. "Back then, they tended to be just a little software program that someone wrote to show off their programming prowess, kind of 'Haha, look what I just did. I made this crazy 3D thing spin around in real time, with a soundtrack.'"
As computer scientists, Dille and Bare embraced the technical challenge of these ancient demos. They wanted to present them properly, which meant running them on the original hardware. Hello, eBay. They started collecting obsolete machines—an Amiga here, a Commodore there—soon Dille's basement was full of old computers. "Along the way, we came to appreciate that these machines are very sneaky," says Dille. "These are all old electronics—crazy, finicky things—and on top of that, they all have weird video interfaces." Adds Bare: "For me, it's a way to look into an alternate universe where maybe the PC didn't win. What if Amiga had taken off differently?"
So the short answer when Levin contacted them about unlocking the Warhol floppies: "Yeah, no problem."
The Andy Warhol Museum was just an idea on paper in the early 1990s when Matt Wrbican (A'81, '89), now chief archivist, signed on to inventory all the "stuff" that wasn't art that remained in Warhol's studio several years after his 1987 death. "Since Warhol was a phenomenal packrat, it was like walking into his autobiography," remembers Wrbican. One day he was rooting around in a dark, damp part of the basement when he found a bunch of papers and canvases rolled up in the corner. "I had to take everything out to where it was drier. One canvas had a lot of paint on it," he says. "I rolled it out on the floor because there was nowhere else to do it." It was a portrait of Warhol by his friend and collaborator Jean-Michel Basquiat. Everyone—the people from Sotheby's, Warhol's assistants—had all missed it. "Five years later, I was in a museum gift shop and saw it reproduced on a T-shirt, so I bought it," he says. "My Basquiat painting that got away."
Another unexpected find—140 hundred-dollar bills in an envelope inside an envelope inside an old shortbread cookie tin. Warhol's former painting assistant happened to be there that day, Wrbican says. "He said, 'Every time Andy had you run an errand, no matter what it was—coffee, paints, flowers for somebody—he would always hand you a crisp hundred-dollar bill. He would just reach into his pocket. Everyone always wondered where he kept it.'"
All together, Wrbican inventoried about a half a million objects, including two Amigas and a box of software. Everything in the museum is inventoried. But even 20 years after its opening, not everything is catalogued. Before anything could move forward—before anyone could learn whether there were original masterpieces trapped inside the floppies, every individual piece in that generic "box of software" had to be numbered and described for the database. "My standard line is that most museums develop their collections incrementally over a long period of time," Wrbican laughs. "And we were created with an enormous collection. We hit the ground running with this gigantic thing on our backs."
There came a March 2013 morning when everyone gathered at the Warhol—Arcangel, Wrbican, Dille, Bare, and Amber Morgan, the Warhol's collections manager. Morgan would be the only one who touched the artifacts—and only once. There were concerns about the 28-year-old disks. "Anytime you read a disk like this, you're risking it becoming damaged," says Morgan, "so the fewer times you actually touch the physical disk, the better."
Dille and Bare had brought with them a device called a Kryoflux, which had been created for the very purpose of copying floppy disks originally used in vintage machines.
The actual data dump proceeded uneventfully. Hope began fading that that important new works would be discovered because the floppies turned out to be either systems software for the Amiga or were commercial labels. None looked promising as data disks that Warhol might have used to store images he created.
During the next couple of days, Dille and Bare, with Arcangel at their side, did reconnaissance. Suddenly, in the directory on one of the disks, there was a file labeled with an IFF (image file format) extension. They were able to open it—and there on the screen came a discovery.
It was a clunky, pixellated version of a well-known Amiga clip art rendering of Botticelli's Birth of Venus. Only the beautiful Venus, in this case, had three eyes across her forehead. "It was so silly," Arcangel laughs. "It made sense. It's exactly the kind of thing you'd do—copy and paste—if you were learning how to do graphics on a computer."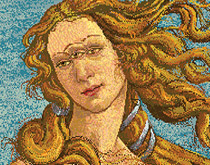 In all, they would recover 28 images, even though most weren't as easy to open as the Venus because the other file formats were unrecognizable. So the computer team did some reverse engineering that freed the other images files—among them a doodle drawing of the famous Campbell's soup can, which appeared to be created with the line tool. And, on a self-portrait, Warhol played around with wallpaper-like flood fills to interesting effect.
"I remember, back then, how hard it was to get adjusted to using a mouse. I was used to using pencils and brushes," recalls Wrbican. "And the same would have been true for Andy as well. He was a very accomplished draftsman. But just that weird hand-eye coordination thing—I remember wanting to just smack my computer screen because it wasn't doing what I wanted it to do. I would imagine he felt the same way. He was trying to adapt his method and techniques to this new thing. I think he was really frustrated by the low resolution of it. If you see these images, they're very blocky, the pixels are gigantic, you can't draw a beautiful, elegant line. When you think you're drawing a beautiful line, you're getting this thing that's composed of all these little blocks of color. I think it must have been shocking and frustrating for him."
It would be a year before all of the analysis of the disks was complete, the report prepared, and the team ready to publicly announce their findings. The news, released last April, that original Warhol images had been retrieved from old software disks reverberated around the world.
Newspapers, television and radio broadcasts, social media of all kinds headlined the story—The New York Times, The Wall Street Journal, USA Today, Popular Mechanics, Slate, Wired to the Associated Press, CNN, Fox, Reuters, The Telegraph in the United Kingdom, The Australian, The Times of Malta, The Buenos Aires Herald, El País in Uruguay, El Mundo in Spain, Süddeutsche Zeitung in Germany… you get the idea.
The international coverage certainly pleased Robbee Kosak, Carnegie Mellon's vice president of university advancement who, among her responsibilities, is in charge of CMU's media relations: "It was so heartening to know that more than 1,000 news outlets have reported on this story because it gave the world a glimpse of what makes this university unique—alumni from different eras and different disciplines coming together in such an impactful way. It's the core of who we are and what we do at Carnegie Mellon."
Wrbican points out that the recovered images don't necessarily expand Warhol's canon. But, he adds, "They show that Warhol was really interested in new technologies. I think there's a very good chance that if Warhol had lived, he probably would have done much more with computers."
The artist would be 86 years old today. It's easy to imagine him in his Manhattan studio—a bank of monitors behind him displaying his latest digital work.
The Warhol Museum is currently working with a design firm to develop a method of presenting Warhol's Amiga images so that they will appear to museum visitors similar to how he saw them. "We've had a surprising number of international inquiries about exhibiting them," says Wrbican, who hopes to have the display open to the public later this year.
Arcangel, who was there the moment the images were set free, is very grateful. "It was a complete thrill and honor to work so intimately with my favorite artist," he says. "It helped my spirit."