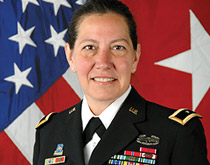 Jody Daniels (S'83) is a U.S. Army brigadier general and deputy director, Intelligence and Knowledge Development Directorate with the U.S. Africa Command (AFRICOM). The command is responsible for U.S. military operations and military relations with the African nations. It's headquartered in Germany and is staffed by 1,300 personnel. In her civilian career, Daniels served as the first Director of Advanced Programs for Lockheed Martin's Advanced Technology Laboratories.
What are your responsibilities in AFRICOM?
For my part, I do a lot of analytical reading on violent extremist organizations and helping to build the intelligence capabilities of our African partners to counter those problems—examining a problem set to figure out what information is needed to inform the commander, everything from monitoring terrorist groups to building a nation's intelligence structure.
Do you face any unique challenges?
Africa is made up of 54 countries with over one billion people who speak more than 1,000 different languages, and encompass tribal, regional, national, familial, ethnic, and religious diversity. The continent is three times the size of the U.S. It can make solving any one problem especially complex.
How did Carnegie Mellon help prepare you for what you are doing today?
I was a math and computer science major. CMU has a heavy focus on problem-solving, and it's that skill set, the analytics framework, that is a great value to what I do today—in terms of me conducting research that gets to the statement of the problem to create a set of options and solutions.
How did you end up in AFRICOM?
I attended CMU through receipt of a ROTC scholarship. I started out as an intelligence officer and during my career I've also had positions in civil affairs and in training. My last position was command of a number of training units, so working at a combatant command in an intelligence directorate was the next step in my professional development.
What does it take to succeed in the intelligence space?
In intelligence, it's having an inquisitive mind and understanding the inter-relationships among people, industry, defense, economics, culture, etc.—so when you look at something, you are considering it through those different lenses. That's a large part of what I do. I may be meeting with the chief of the air force in Niger, then serve as graduation speaker in Tanzania for a group of junior officers, or coordinating for lethal action in another country.
Do you find the work fulfilling?
Absolutely! Africa is fascinating and full of challenges and opportunities. To help the Africans come up with solutions for their problems is the goal. I'm not there to sell U.S. solutions; I'm there to provide advice and assistance in what is needed to achieve their solution. For example, we provide course content that covers everything from military professionalism to dealing with unconventional adversaries to establishing research tools and intelligence support. We provide this instruction regionally, so it's not just one country at a time. Challenging the participants' thinking and watching them interact, no matter their backgrounds, and witnessing friendships form is both rewarding and inspiring. We hope those friendships, acquired through AFRICOM facilitated training, transcends borders.
 —as told to Lisa Kay Davis (DC'09)