In the beginning was the Waffle Shop. And it was good. But man and woman do not live by breakfast alone. So they said, "Let there be lunch." And they made kubideh. And it was very good.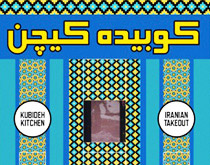 What you notice most when you ask Carnegie Mellon art professor Jon Rubin to tell you the story of the creation of the Conflict Kitchen is how easy he makes it sound. He was kicking around ideas with another professor, John Peña (A'08) and artist Dawn Weleski (A'09), who is in charge of the day-to-day operations as well as developing new ideas for the Waffle Shop. The breakfast restaurant in Pittsburgh's diverse and transitioning East Liberty neighborhood had its genesis in one of Rubin's Storefront Project classes a few years back. For that class, students take on an abandoned space and are charged with creating a project that involves the community in some way. It's part of an area in the School of Art called Contextual Practice, a program dedicated to the art of public engagement, which is based on a relationship with an audience or situation. Carnegie Mellon is the first school in the country to have this kind of undergraduate program, according to Rubin. "You could come to the School of Art and be a painter or sculptor or work in video," he says. "Or you could work in this form of contextual practice or public engagement. It's directly tied to a lineage of conceptual art, public art, performance art, street art."
For the Waffle Shop, think of a breakfast diner combined with the old television show Candid Camera, only there are no pranks and people aren't unwitting participants. You can go to the Waffle Shop, for instance, to simply eat breakfast. But, if you like, you can also be a guest on a live-streaming talk show (www.waffleshop.org), hosted most often by Carnegie Mellon students, but sometimes by members of the local community. The point is, people who might never step into each other's worlds have an opportunity to interact with one another. One of Weleski's favorite Waffle Shop moments was the Sunday morning that an 80-year-old Jewish woman from a nearby affluent neighborhood, out celebrating her birthday with her family, had a conversation about race with a 19-year-old African American man from East Liberty. "Nothing extraordinary was understood about race that day," says Weleski. "It was the fact that these two people were having a discussion that they normally wouldn't. We try to provide a space for that to happen-sort of a portal, a neutral, odd, curious, confusing, but really energizing space where things like this can happen."
Now, with the Waffle Shop well established, they were trying to figure out what new experience they could set into motion. Because an unused storefront was connected to the kitchen, it seemed logical to create another project that also used food as its medium-maybe just a take-out window. They started to brainstorm about the types of things that could happen there. "We're artists," says Rubin. "We think in nonlinear ways about business opportunities. We started talking about why don't we just sell food from countries that people are unfamiliar with as a way of introducing them." As they began naming places that would be interesting, they realized they were all countries that the United States was in conflict with. "We thought that would be a very brilliant possibility-introducing people in Pittsburgh to these countries through food," Rubin says. "A culture's history and identity are really embedded a lot in its food, its ingredients, flavors. There's a story to be told with food itself. So we thought that could be a really interesting opportunity."
And there you have it. The Conflict Kitchen, according to Jon Rubin.
Because there were so many countries, as they put it, to choose from, Rubin, Peña, and Weleski planned to make Conflict Kitchen a rotating take-out restaurant that would stay open for four months, then close, then re-open as another country. They decided on Iran as the first iteration and asked their friend Illah Nourbakhsh, professor of robotics, to help with the menu. They would keep it simple. One item. Something you could hold in your hand and eat right there on the street.
Kubideh seemed to be just the thing-a traditional Persian sandwich that's a favorite in Iran the way the hamburger is in America. You mix ground beef with egg, chopped onions, turmeric, parsley, and the secret ingredient, cinnamon. Shape it into fat little sausages. Grill it. Wrap it in a round of mouthwateringly fresh barbari bread, and top it with basil and mint leaves and some sliced onions marinated in sumac, a deliciously tart spice.
Nourbakhsh invited the three artists to his home to share his mother's recipe for kubideh. "Illah oversaw the initial development of the kitchen and the specific details," says Rubin. "Everything is made from scratch, and everything's made from locally grown food." Nourbakhsh, who calls himself a "locavore," insisted the flour for the bread come from the St. Vincent Gristmill in Latrobe and beef from a farm in Ligonier, about 50 miles from Pittsburgh. "Dawn grows all the herbs in her backyard, which is a very Persian thing to do," adds Rubin. "The food in and of itself is a nice metaphor for dual culture conversation. It's very local, yet it's authentically made to Iranian culture. It has a nice Pittsburgh-Iranian mix."
One of the first special events to be hosted by the Conflict Kitchen-or Kubideh Kitchen as it's called this time around-was a live video Web cast meal between Pittsburgh and Tehran. A long table was set up in the Waffle Shop dining area with a video projector at the end, which showed a long table set up in Tehran. "Imagine one continuous table," says Rubin. "We cooked Persian dishes here, and they cooked the same dishes there. It was sort of an international dinner party."
The dinner was held on a Saturday morning from ten until noon, which allowed it to be nighttime in Iran. In Pittsburgh, where it was open to the public, an eclectic mix of people showed up: neighborhood families, local Iranians, college students, a steelworker. On the Tehran side, governmental sway made it prudent to hold the dinner as a private event. Rubin's Iranian friend, multidisciplinary artist Sohrab Kashani, invited a group of 30 men and women, including artists, curators, writers, filmmakers, and musicians. Conversation traveled back and forth over the 4,500-mile virtual-table-leaf-ranging from food to dating to current public restrictions in Iran and how people get around them.
Most of the questions came from the Pittsburghers. "Iranians have a lot of access to our satellite feeds, to our culture," Rubin says. "By and large, folks in the United States have a much more isolated cultural and political perspective. The premise of our project is to get things to be as first-person as possible, to become more familiar with the people and the cultures of these countries that we're in conflict with.
"There are definitely people who don't like the Iranian government policies, including many Iranians I know. But likewise, there are many Americans who don't like the American government's policies. I'm not trying to oversimplify. They're not the same policies. Someone could still feel pride in their country and disagree with their government's policies. I think in America that's something we're very comfortable understanding. But oftentimes, the way in which the people in these countries are represented is that it's all one voice and the government is somehow representing the populace's intent. And I think it's a much more nuanced world than that."
Kubideh Kitchen has Carnegie Mellon fingerprints all over it. Architecture professor Pablo Garcia designed the structure for the façade, an inventive one that lies flat when the restaurant is closed and then folds out to an awning and take-out window. Brett Yasko, a design professor, created the intricate geometry of the graphics, including the name in eye-catching Farsi script.
It is 11am on a particular sunny morning, and already someone is standing at the window. Originally, the kitchen was going to be open the same hours as the Waffle Shop-weekends and wee hours. But the demand was so strong that it also began opening between 11am and 2pm for the lunch crowd. Altogether, the Waffle Shop and Kubideh Kitchen employ about 55 Carnegie Mellon work-study students and interns from across the university.
On this day, Jasmine Friedrich, a linguistics major, is one of the students inside the small kitchen, making rounds of barbari bread and dishing out kubideh-along with some friendly banter and information about the food and the project. She was responsible for doing some of the research on Iran to authenticate the project. Currently, she's studying the visual identity of Afghanistan, which will be the next country the Conflict Kitchen presents. Another intern, Hilary Baribeau, an English and Global Studies dual major, did research on the role contemporary literature plays in Iranian life and is developing contacts with people who live in Afghanistan, as well as learning about Afghanistan's history.
At the Kubideh Kitchen take-out window, a youngish-looking gray-haired man orders two kubidehs. Friedrich asks if he's been here before. When he answers no, she asks whether she can tell him about what they're doing. "I read about it in the newspaper," he says. "That's why I'm here." He likes Middle Eastern food, but he's never had anything from Iran. Friedrich tells him about the next event coming up, which will be much like the first Persian dinner. This time, though, there will also be viewings of YouTube videos made by people in Pittsburgh and Tehran, Rubin and Kashani serving as curators of the selected videos. The topics will be similar in nature but different in the way they play out. For instance, Kashani in Iran may show a video of girls dancing in an elementary classroom, something that's considered taboo there. And Rubin might follow that up with a video of a cheerleading competition in Pittsburgh. Or Kashani might show a protest in Iran, and Rubin a protest from when the G20 Summit was held in Pittsburgh last year. Friedrich's customer takes it all in, a conversation a bit more intense than whether he wants to supersize his lunch order.
On a typical day, Kubideh Kitchen has about 50 customers, including a few regulars. Some customers heard about it through the grapevine, others read about it in one of the local newspapers or on the Web. One woman, dressed in brightly colored African garb, was walking down the street and just wanted to know what was going on.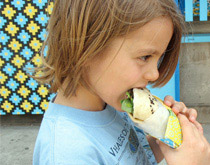 The sandwich comes wrapped in an intricately folded paper that, when unwrapped, contains first-person accounts from Iranians and Iranian Americans talking about everything from the role of tea in society to nuclear power to women's rights to New Year's customs. By and large, the people who come up to the window are interested and willing to engage, says Rubin.
One morning, though, a Post-it note was left on the take-out window that said, "Cultural tourism does not beget social change." Rubin acknowledges that some view the project as controversial, and he monitors what's being said, especially on Web blogs and forums. "You tend to get extremes on the Internet," he says. "We've had people from the far right who've called us traitors and said it's treasonous. Then we've had people on the far left who've complained that we're not doing enough. Or that it's criminal that we're not vegetarian or vegan. That's going to happen."
Weleski likes that Kubideh Kitchen is stimulating an open dialogue. "I think it's about providing an entrance to everyday life in Iran and all the complexities that exist within that," she says, "instead of just the information that passes between our governments and about our governments. It's about connecting people to people."

Sally Ann Flecker is an award-winning freelance writer. She is a regular contributor to this magazine.
---

Related Links:
Conflict Kitchen uses food to bridge divide
Conflict Kitchen Project serves the food of adversary nations to bring people together