Lillian Dukes (E'83) is vice president of business operations, global customer support and services for Spirit AeroSystems, which is one of the largest designers and manufacturers of aerostructures for commercial, military, and business/regional jets in the world. Dukes is responsible for a team of more than 150 people, with a focus on Spirit's customer support, maintenance, repair, and overhaul shops.
You had a unique childhood. Your parents were foster parents and you have 17 brothers and three sisters! How did that impact you?
From the second or third grade on, my family was all boys, and anyone who has been around young boys knows that it can be very competitive. It certainly made me less shy. They were always challenging me, whether it was stick ball or hiking in the woods, it was a constant competition. My childhood really helped me in a professional environment because corporate America is still predominantly male and very competitive. The workplace never intimidated me because that environment had become second nature to me growing up.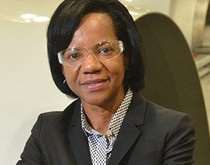 How did your studies at Carnegie Mellon prepare you for your career?
Engineering teaches you how to think and approach problems. All the areas I've worked in have needed problem solving and being open to the idea that "there has to be a solution, you just haven't figured it out yet." As an example, we were having issues with a particular assembly line. We were frequently being forced to do work out of station. Identifying why we were doing work out of station—we were constantly running out of certain parts to complete the work that should have been completed at the previous station—allowed us to make a better decision on how to schedule the flow of material.
Do you like what you do?
Absolutely! I don't think air travelers realize how much goes on behind the scenes. Outside the world of the terminal, there are so many things happening in the airline and aviation industry. I'm in charge of getting parts to aircraft customers, but my work isn't just manufacturing issues. There's dealing with federal policies, which affect our scheduled deliveries to aircraft companies like Boeing or Airbus. Related to the aftermarket, everything from changes in customs, import/export, and international law, can affect how we can distribute our products around the world. It makes every day different and challenging.
What type of advice would you give a young woman looking to pursue a career in your field?
Mentors are critical whether you're male or female. There is no substitute for experience. I've had multiple mentors, and I still stay in touch with many of them. They've been able to guide me through any difficulties throughout my career. Sometimes, it takes someone at a higher level to help you navigate through challenges by simply creating a safe zone for you to bounce ideas off of, without you feeling judged or like it's being held against you. It's so helpful in order to ultimately make the best decisions.
—as told to Lisa Kay Davis (DC'09)