Public art has come to the Carnegie Mellon campus . . . in a BIG way. "Walking to the Sky," the most recent large-scale sculpture by internationally renowned alumnus Jonathan Borofsky (A'64), was installed on campus in front of Warner Hall just off Forbes Avenue in mid-May. The sculpture was a gift from Carnegie Mellon Trustee Jill Gansman Kraus (A'74) and her husband, Peter Kraus, of New York City.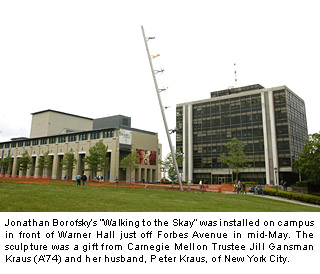 "Walking to the Sky," first seen in the U.S. in New York City's Rockefeller Center, is the latest work in Borofsky's ongoing exploration of universal human forms. The seven-ton sculpture depicts a little girl, a businesswoman, a young man and several other individuals scaling a soaring 100-foot-tall stainless steel pole. Three people are looking upward at the base of the pole, which points to the east at a 75-degree angle.
"Borofsky's 'Walking to The Sky' is such an optimistic piece of work. To me, it says something about being ambitious, aiming high and the sky's the limit," said Hilary Robinson, the Stanley and Marcia Gumberg Dean of the College of Fine Arts and chair of Carnegie Mellon's Public Art Committee, which recommended the installation site. "I think all of those messages are absolutely right for this university and what we do here."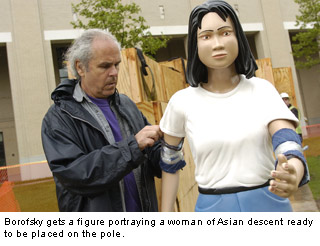 "This is an inspiring work of art by one of our most acclaimed graduates," said Carnegie Mellon President Jared L. Cohon, "We are delighted that it has come to our campus, and are grateful to Jonathan Borofsky and to Jill and Peter Kraus for making this possible."
The piece was inspired by a story that Borofsky's father used to tell him when he was a child about a friendly giant who lived in the sky. In each tale, father and son would travel up to the sky to talk to the giant about what needed to be done for everyone back on earth. The sculpture is, the artist says, "a celebration of the human potential for discovering who we are and where we need to go."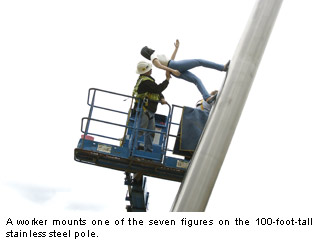 Borofsky, who has had more than 35 large-scale sculptures installed in major cities around the world, including Tokyo, Berlin, Munich, Seoul, New York, Baltimore, Denver, Minneapolis, Los Angeles and Seattle, said, "'Walking to the Sky' is a portrait of all of humanity rising upwards from the earth to the heavens above — striving into the future with strength and determination. Ultimately, this sculpture is a symbol for our collective search for wisdom and awakened consciousness."
He also said the sculpture "reflects Carnegie Mellon's 21st century effort to bring new forms of art and architecture to campus."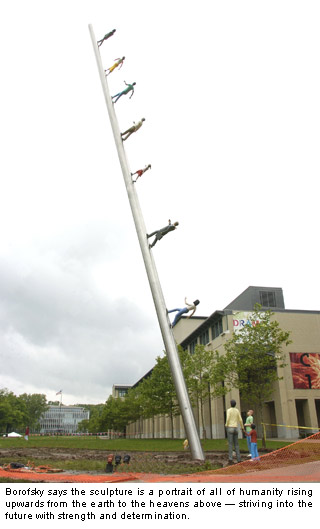 After earning his bachelor's degree in art from Carnegie Mellon in 1964 and his master's degree from Yale University's School of Art & Architecture in 1966, Borofsky has become one of the most preeminent artists in the world, creating complex multimedia art installations incorporating paintings, sculpture, sound and video in numerous galleries and museum spaces around the globe. His work has been exhibited in the Whitney Museum in New York City; the Kunst Museum in Basel, Switzerland; the Moderna Museet in Stockholm, Sweden; the Israel Museum in Jerusalem; the Philadelphia Museum; the Tokyo Metropolitan Museum; and the Los Angeles Contemporary Museum of Art.
In 1985, Borofsky co-produced and directed an hour-long video documentary, "Prisoners," featuring interviews with inmates from San Quentin Prison and the California Institution for Women. The documentary was shown in the U.S., Germany and Japan and is in the collection of the Museum of Modern Art in New York City and the Centre Pompidou in Paris.
Since 1990, he has created large-scale outdoor public sculptures that have become landmarks in major cities around the world, including Munich, Germany; Seoul, Korea; Tokyo; Denver; Los Angeles; and Seattle. His sculptures include the 100-foot-tall "Molecule Man" standing in the Spree River in Berlin, the 70-foot-tall "Hammering Man" in Frankfurt, and the 80-foot-tall "Woman Walking to the Sky" in Strasbourg, France.
Borofsky was one of six honorary degree recipients at Carnegie Mellon's 109th commencement on May 21. Other recipients were Her Highness Sheikha Mozah bint Nasser al-Missned, chairperson of the Qatar Foundation for Education, Science and Community Development; Vartan Gregorian, president of Carnegie Corporation of New York; John Hall (S'56'58'62), who shared the 2005 Nobel Prize in Physics; Jeffrey Romoff, president of the University of Pittsburgh Medical Center; and Bud Yorkin (E'48), Emmy-award winning producer and director.