The folks at clothing retailer Abercrombie & Fitch might have thought it funny to sell T-shirts with slogans like "I had a nightmare I was a brunette" and "Who needs brains when you have these?" But it's a group of young women in Pittsburgh - along with a student and alumna of the College of Humanities and Social Sciences - who are having the last laugh.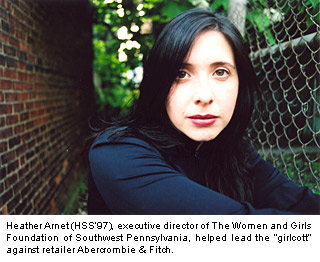 Over the summer, a group of teenage girls participating in a retreat at The Women and Girls Foundation of Southwest Pennsylvania (WGF) discussed projects that would allow them to combat sexism and contribute to social change. The discussion turned toward popular culture, and someone came up with the idea of a "girlcott" of Abercrombie & Fitch to protest the demeaning T-shirts.
It was new territory to the four-year-old foundation, whose primary mission is to support, through grants and public advocacy, projects and organizations that aim to achieve social and economic justice for women and girls in southwest Pennsylvania.
"The foundation didn't have a history of engaging in warfare with corporate America," said WGF Executive Director Heather Arnet (HSS'97).
The retreat was part of the foundation's Girls as Grantmakers program, which provides a group of 24 teenage girls with $10,000 in grants to give to other teens in Pittsburgh to manage projects to promote social change. The girls, in regards to Abercrombie & Fitch, believed that the t-shirts were reinforcing stereotypes and biases that promote social and economic inequality.
So Carnegie Mellon student Anne Giovanni, who works as a communications associate at WGF, penned a news release and organized a press conference last fall for the girls to talk to the local media about their "Girlcott". Local reporters scarcely had time to file stories before the word got to the national media. The next day, Arnet and two of the girls found themselves being interviewed live by Katie Couric on NBC's "Today Show."
From there, the story snowballed. It got picked up by Fox News, CNN, ABC, CBS and NPR, to name a few. "I've worked on marketing campaigns in New York City, and I've never worked on anything like this that got such national exposure," Arnet said.
For Abercrombie & Fitch, it was a public relations nightmare, and the company eventually succumbed to the girls' pressure. They pulled the offensive T-shirts and agreed to sit down with the girls at the company headquarters in Ohio to hear their ideas for promoting positive images of women. Initially, the company rebuffed the girls' suggestions for more affirming T-shirt messages, but eventually produced shirts with messages like "Brunettes have brains."
"I really liked Heather's message through it all, which was that getting these girls' voices heard and showing that young women can have a say in consumer issues in society was the main point of this," said Giovanni, a senior majoring in professional writing and anthropology and history.
Arnet, 31, previously worked as director of development for City Theatre in Pittsburgh. She returned to Pittsburgh in 2000 after living in New York City, where she had directed theater and worked in marketing for a tech firm. She returned to Pittsburgh in part because she got engaged to Carnegie Mellon English Professor David Shumway.
"David and City Theatre brought me back to Pittsburgh," she said. Now married, Arnet and Shumway have a 3-year-old son, Travis.
The City Theatre job allowed Arnet to combine her love of the arts - she was a drama minor at Carnegie Mellon - with her experience in marketing and development. But with her spare time increasingly devoted to politics and activism, Arnet realized that she needed to dedicate herself full-time to social justice.
"Everything that mattered in my soul I was doing outside my work," Arnet said.
Chalk it up to being in the right place at the right time. Two years ago, the fledgling WGF was looking to hire its first executive director, and that's when Arnet came on board. The job allows her to make good use of her humanities education and to call on a range of talents - including her marketing skills and her artistic creativity.
"A lot of times, especially if you're an interdisciplinary person, it's hard to find a job where you can flex all your muscles. ...This is the first job where I'm being paid to be an activist, a fundraiser, a spokesperson, and to be creative," Arnet said. "I get to use all talents all day long to fight for women's rights and that is incredibly exciting."
---

Related Links:
The Women and Girls Foundation of Southwest Pennsylvania

Heather Arnet