Think Carnegie Tech was tailor-made for men? Think again. On that brisk November day in 1900, when good ol' Andy offered to found a trade school, an adventure in education for women began.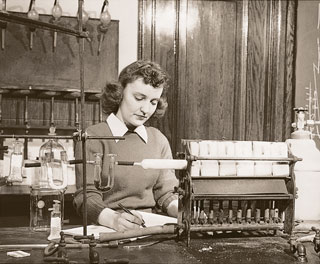 Surprising? Maybe to you, but not to the Brits, who were already providing women with trade education. Carnegie had this in mind as he concocted his plan to provide similar opportunities for young men and women in the Pittsburgh area. Spurred by a deep appreciation for his own trade school education in Scotland, he and an advisory committee appointed by the trustees of the Carnegie Institute carefully laid out plans for a separate school whose principal aim would be training young women to earn their livelihood.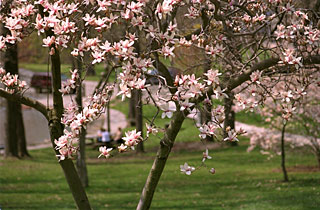 Six years later, the first students entered the halls of the Margaret Morrison Carnegie School for Women.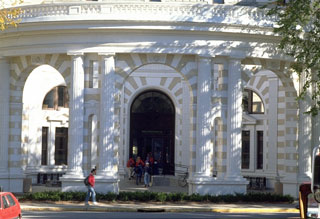 Required courses in the first year included principles of science and economics, history, english, accounts, ocial ethics, sewing, drawing, "cookery," and personal hygiene. In their second and third years, students could choose to specialize in secretarial courses, household arts and institutional management, technical dressmaking, costume design, applied design, or architectural and interior decoration.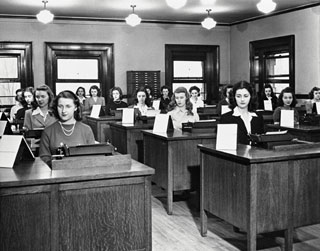 "Although some of the major disciplines available to us may seem archaic to current students, for our era they were relevant," says Eileen McConomy (MM '56), steering committee chairperson of the MMCC Centennial. "Our education was rigorous. Our women professors were the forerunners of the feminist movement and inspired us to take charge of our lives, to not be afraid to speak out for what we believed was right, and to demand excellence in all that we did."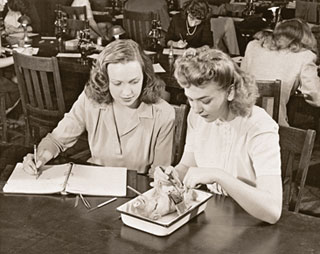 The school's leaders steadily expanded the curriculum to include many courses in the sciences and humanities. By 1912, the school was ready to offer bachelor's degrees in the Carnegie Institute of Technology (Tech).

Fast-forward about 40 years. Entering on the coattails of the 1950s were societal and institutional changes that would ultimately seal the fate of MMCC. Homemaking was less apt to be considered a profession; women students were turning increasingly to careers based in the liberal arts and sciences. A steadily climbing enrollment in these fields led to the integration of many MMCC programs into Tech's other schools. Attempts to develop an MMCC business program that could rival Tech's nationally recognized Graduate School of Industrial Administration (GSIA) failed. With enrollment declining and a faculty nearing retirement age (and largely uninvolved in research), the trustees voted to phase out the women's college. The last Maggie Murphs graduated in 1973, but their spirit and influence live on.
---
Related Links:
Carnegie Mellon Bookstore
The History of Carnegie Mellon