Alumna heads trend-setting fashion empire
If the world seems to be getting juicier, it may not be due to global warming. It may be due to global wearing—of Juicy Couture, the white-hot fashion empire launched by a Carnegie Mellon alumna.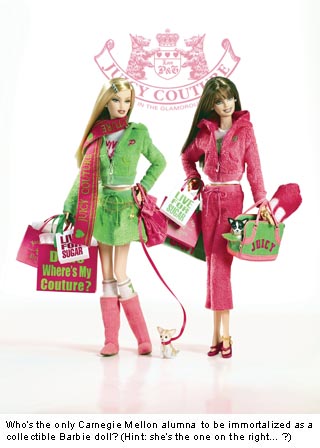 Juicy Couture is everywhere. It's casual and cocktail; sunglasses and shoes; men, women, and children. It's equal parts class and sass—and stores can't get enough of it. Reese, Gwyneth, Madonna, Brad, Kevin, and Ben all wear Juicy. But Juicy's more affordable than many other labels, so the soccer mom next door wears it, too.
It began modestly. Gela Nash-Taylor—who was Gela Jacobson when she graduated from Carnegie Mellon as a drama major in 1978—was pregnant and couldn't find maternity clothes she liked. So she and her good friend Pam Skaist-Levy bought loads of plain vintage jeans. Using their design sense and a lot of hard work, they transformed the jeans into a successful line of maternity wear.
By 1997, having learned the basics of the fashion business, they were ready to tackle something larger—but they didn't go the standard route. Nash-Taylor recalls, "People say you have to go to a bank, do a business plan, and borrow $60,000 to $100,000. If I'd started a business $60,000 in debt, I wouldn't have been able to get up in the morning.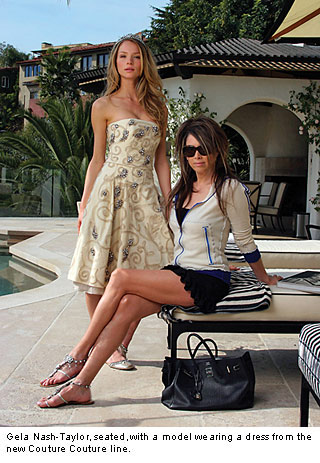 "I don't know if that's the difference between men and women, or between business majors and acting majors—but Pam and I didn't want that kind of debt."
Instead, the entrepreneurs launched Juicy Couture with $200 of their own money and a revolving line of credit. They didn't take a salary for two years; they plowed profits back into the business; and they repaid loans almost instantly. "The bank was irritated," says Nash-Taylor wryly. "They didn't make much money from us."
Juicy Couture is different from many companies in another way: it does no formal market research. The founders create and sell what they want to have in their own closets, and in the closets of their husbands and kids. (Nash-Taylor is married to Duran Duran bassist John Taylor; he designs the logos for the Juicy men's line.) "We know what we like," says Nash-Taylor.
And clearly they know what their customers like. Juicy Couture's lines have expanded quickly, but thoughtfully. Women loved the casual "lifestyle clothes," so the company added men's and kids' lines—along with accessories, swimwear, and watches. The founders didn't want to wear other designers' clothes at night, so they launched Couture Couture—basically "Juicy after dark" cocktail and evening wear. This summer, their first fragrance will debut. And this year, 17 new free-standing Juicy Couture stores will join the four already open. "We have so many ideas and plans," says Nash-Taylor.
In 2003, Liz Claiborne bought the company for a reported $53 million and a percent of future sales, but Nash-Taylor and Skaist-Levy are still the heart of Juicy Couture, with responsibility for creative direction as well as day-to-day operations.
"We get letters from young people who want to be designers, but they don't know if they can make it. We always say, 'Yes! We did it; you can, too.' We started with $200 and some t-shirts, and ended up succeeding and providing employment for people in our own communities. There's always room for entrepreneurs who want to work hard. It's an old-fashioned business model, and most people don't do things that way anymore. But it works."
And it works well. An informed "guesstimate" puts Juicy sales at about $200 million this year. Vogue magazine noted the company's growing—even exploding—popularity, saying "The time may have come when Seventh Avenue's lofty vantage point suddenly seems less relevant than the ground-level perspective of the designer as consumer."
Even Mattel has hopped on the Juicy juggernaut: it created two new "Gela" and "Pam" Barbie dolls—that's probably unique among honors given to Carnegie Mellon alumni.
Do the Barbie dolls and Juicy's flirty short skirts and playful slogans ("Live for sugar") get in the way of the founders' being taken seriously? "Not for long," replies Nash-Taylor. "Sometimes in a board room they don't quite know what to make of us, and, to be honest, sometimes we play to that. But very soon they see that we know what we're doing. "
And did a Carnegie Mellon education play any part in this success story? Nash-Taylor says it did: "Your major in college may not turn out to be what you do in your life—but what you learn gives you a foundation. That's what's important. I think a lot of people feel very pressured to decide early what they want to do with their lives. I wanted to be an actress from the time I was 5, and I majored in acting at Carnegie Mellon. But of course that's not what I'm doing now, and I'm the happiest girl in the world.
"Being a drama major is competitive and intense and stressful—but eventually you learn how to just follow through and not be afraid of competition; you don't look over your shoulder.
"That's worked very well for me in business. I think you come out of a program like Carnegie Mellon's with a sense of accomplishment and even security. It was a great experience for me."
Then she laughs and—true to her L.A. roots—adds, "Well, except for the weather."
---
Related Links:
Juicy Couture
Barbie Collectibles