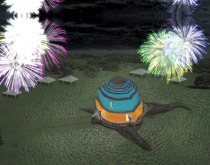 Gathered in the apartment of architecture student Matthew Ho (A'15), four CMU classmates are brainstorming, but no one is saying anything. Finally, design major Angeline Chen, says, "Tell me a story" to Ho, architecture major Christina Brant (A'14), and computer science major John Brieger (CS'14).
Just like that, the storytelling begins:
Once upon a time there were two magical, whispering trees: one in Lima, Peru, the other in Bangkok, Thailand. Separated by more than 12,000 miles, the trees—now massive stumps—once served as portals between the antipodal cities, meaning they could be connected to each other by a straight line running through the center of the Earth.
The four students want to tell the story about connecting two cultures as physically far apart as possible. All add creative ideas, and all are thrilled, particularly Ho. When he was a youngster in Southern California, Disneyland seemed like an amazing place. The interest never faded. When a friend linked him to a video of Randy Pausch's "Last Lecture, "Achieving your Childhood Dreams," Ho says he realized, "I wanted to be an Imagineer, just like Randy. … I fell in love with CMU through my love of Disney." 
That same love propelled Ho to enter the annual Disney Imagineering Imaginations Design Competition and to recruit his classmates. For this year's competition, Disney asked college teams from schools across the country to design "entirely new immersive or entertainment experiences that go beyond what our guests currently experience in our parks and resorts."
The CMU team decided to double the challenge with antipodal urban areas where they would develop a magical, two-week cultural exchange festival. They mocked up a stage using hand-sketched and computer-drawn art, as well as 3d modeling, to create what looks like a massive magical stump, remnants of the trees that once connected the children in their story. 
The festival would connect the cities, in part, through pictograms of each location's distinctive features, such as the legendary Nazca Lines in southern Peru and the underwater canals of Bangkok. There would also be a live-feed view from locations in both cities.
In less than a month from that initial storytelling session in Ho's apartment, the team was ready to present against the other five national finalists from across the United States, each treated to an all-expenses-paid trip to Walt Disney Imagineering's headquarters in Glendale, Calif.
Brant says their presentation's wow moment came when the stage's stump sunk down and visitors could see their antipodal neighbors. The Disney Imagineers' judges were wowed enough to give the CMU students first prize.