New York's Y Theater on 92nd Street is buzzing with anticipation. As part of its ongoing theater and film series, an audience has gathered on this night to watch Jordan Roth, president of Broadway's renowned Jujamcyn Theaters, interview legendary actress Cherry Jones. Roth welcomes her, she smiles, and a tangible warmth envelops the room.
For you see Cherry Jones (A'78) is regarded as one of the most captivating women in theater. Her talent, developed and honed, in part, at Carnegie Mellon's School of Drama, has earned her more than a dozen awards, including a Tony, Obie, and Drama Desk.
Over the next 90 minutes, Jones easily and eagerly rolls out one story and then another. Her deep voice, sweetened with a Tennessee twang, entrances the audience as she talks of her Southern upbringing, theater education, and the roles that defined her career—challenging characters that span a breadth of diverse scenarios.
But above all else, talk of Jones' imagination takes center stage. She discusses the lengths she goes to while preparing for a role, and how she weaves tales together, richly coloring in her character's past. Roth, taking this all in, is clearly in awe of her inspiring, exhaustive research.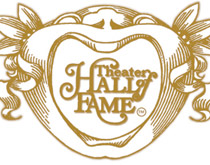 A few months later, Jones will be inducted into the Theater Hall of Fame, an institution founded in 1971 to honor lifetime achievement in the American theater. Inductees, carefully chosen by the members of the Theater Hall of Fame and the American theater Critics Association, must have given 25 years of service to the American Theater and have at least five major Broadway credits.
As of January 2014, Jones ranks among them.
Back at the 92nd Street Y, one of the final questions is asked: "Did you know you always wanted to be an actress?"
Jones smiles: "I don't remember when I didn't."