Editor's Note: Since the following story was published, Krzysztof Matyjaszewski has won the 2015 Dreyfus Prize in the Chemical Sciences, an international award presented every two years to recognize accomplishments in chemistry. Matyjaszewski will receive the $250,000 prize, a medal, and a citation at an award ceremony and lecture taking place October 1, 2015, at Carnegie Mellon's Mellon Institute Auditorium
Squinting into the sun of the Polish seaside some 40 years ago, Malgosia Matyjaszewska peers at her new husband. The pretty and bubbly university student, just age 20, is thrilled to be on her honeymoon. Unfortunately, it seems her usually attentive new spouse doesn't know she's there. Krzysztof is sitting on the sand, completely absorbed in a book. He's utterly fascinated and has been this way for days now. Malgosia glares at the cover of the thick polymer chemistry text. How can she not be annoyed? Her new husband has been spending their honeymoon with the book's author, renowned Polish-born scientist Michael Szwarc, rather than with his new wife.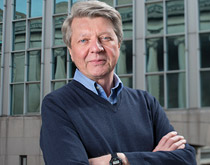 Although she's always known Kris to be an excellent student, he's never acted like this—so obsessed by a topic, so driven. She has no idea, however, that this week marks the beginning of more than a marriage. It's also the start of her young husband's remarkable scientific career—one in which he will go on to earn worldwide recognition
One day recently, Matyjaszewski (pronounced Ma-ti-ya-shev-ski) explained his lifelong fascination, as he sat behind the desk in his comfortable Mellon Institute office, where he works as J.C. Warner University Professor of Natural Sciences and director of the Center for Macromolecular Engineering. "Chemistry, in a way, is unique—and I think that's why it's challenging," he says. "In chemistry, unlike math, two plus two is not always four. It may be three or it may be six. For example, you can have the same two reagents but you cannot exactly say what will happen under different conditions. In chemistry, you can manipulate things the way you want, make two plus two equal five. You can do things that otherwise wouldn't happen." And that's how he has spent his long and illustrious career—devising ways to make remarkable things happen.
Matyjaszewski grew up not far from Lodz, at the time Poland's second-largest city. He and his two older sisters were raised by their mother and veterinarian father. Quick in science and math, he nevertheless was more captivated with sports, excelling at playing volleyball, skiing, and for one year, airplane gliding—courtesy of Polish air force recruiting efforts. He went to Lodz to enter the university. During his two years there, he had a crush on Malgosia, then a high school junior. He impressed her, bringing her flowers and writing her poetry.
At the end of his sophomore year, Matyjaszewski, one of the brightest students, was offered the chance to complete his degree outside Poland. Because his maternal grandmother had been Russian and his mother had been born in Russia, he chose to study at the Technical University of Moscow. Within three years, he finished his undergraduate and master's degrees in chemistry. Although glad for the experience, he was anxious to come home so he and Malgosia could plan their wedding.
Ten days before the big event, Matyjaszewski secured an interview at the Polish Academy of Sciences in Lodz, in the new Center for Molecular and Macromolecular Studies. Finding a job in the Poland of 1972 was a challenge, and he was grateful for the opportunity. The meeting was going well when the interviewer—and potential supervisor—said, "You know, you have to be fluent in English. Can you read?"
"I can read some," answered Matyjaszewski.
"What about polymers?"
"Well, I know a little."
The interviewer handed the young man a tome and said, "Come back in a month, and I will ask you about it," which is why a few weeks later, Matyjaszewski spends his honeymoon with his bride and the book.
At the end of what Malgosia describes as their "kind of unusual" honeymoon, Matyjaszewski returns to the Polytechnic Academy of Sciences, prepared for a rigorous, in-depth discussion of the cutting-edge polymer chemistry text. "Did you like the book?" asks the interviewer.
"Oh, yes," says an eager Matyjaszewski, expectantly.
"Good," answers the interviewer. "You're hired."
That's it? Matyjaszewski sits. Not a single question? He's dumbfounded—but happy to be employed.
He soon finds that being a member of the small new group of motivated young researchers allows him to flourish. He finds polymer chemistry particularly intriguing. Polymers are large molecules, composed of repeating subunits, like links in a chain. Polymer materials can be natural, like the amino acids in our bodies, or synthetic, like familiar plastics. Although naturally occurring polymers have been chemically modified since the 19th century—vulcanized rubber is one example—real understanding didn't develop until the 1920s. After WWII, synthetic polymer use flourished, soon entrenched in everyday life.
Matyjaszewski's research quickly demonstrates encouraging results. He's even sent to Belgium for a collaboration, the first time such a young scientist is sent there from an Iron Curtain country. But the salary of a scientist in Lodz doesn't go very far, especially after the Matyjaszewskis welcome their first child, Antoni, in 1975. Malgosia, who earned a master's degree in Polish literature and history, helps support the family through two jobs—artistic director of a puppet theater and public librarian.
In 1977, Matyjaszewski accepts a one-year post-doctoral fellowship at the University of Florida, which he feels is instrumental for his career even though he can't afford to bring Malgosia and Antoni. After the fellowship, the family reunites in Poland and two years later they welcome their second child, Maria. Times are tough, though, in the Soviet-bloc country. The Polish government institutes martial law in 1981; endless shopping lines of citizens clutching coupons for sugar, milk, and bread become the norm.
Matyjaszewski does his best to not let the economic climate hinder his research, and in 1984 he is rewarded for his perseverance with a one-year visiting professorship at the University of Paris. This time, he can afford to have the family accompany him. He and Malgosia stuff their tiny Fiat with four suitcases and their two small children and head off to another world, optimistic about what the future holds.
During his studies in Paris, his publications begin attracting attention, and he starts hearing about several intriguing career opportunities, which is in stark contrast to back home, where he found that his beloved country's challenges led to a lackluster scientific climate. While mulling over what to do next, he seeks career advice from a colleague, who tells him he is leaving a position at Carnegie Mellon University. The institution is well known to Matyjaszewski for its prominence in the field of polymer chemistry, in part through its previous faculty members, among them Nobel Laureate Paul Flory and Thomas Fox, who were prominent in that memorable tome Matyjaszewski read on his honeymoon. Matyjaszewski is delighted to learn there is also an active Polish community in Pittsburgh. He interviews for the position, and soon afterward the family packs up again, this time Pittsburgh bound.
As they settle into their new home in the United States, Matyjaszewski throws himself into his work, keeping his habitual 12-hour-a-day schedule, including many weekends. Malgosia keeps their life running smoothly—flowers and candles on the table each evening. She also keeps her husband well dressed and comfortable, because, as she teases, "He never goes to a store. He thinks it's a waste of time."
Matyjaszewski takes on a research project on behalf of the Office of Naval Research. At its conclusion, the officer in charge is so pleased with Matyjaszewski's comprehensive research that he makes a proposal that is almost unheard of—funding for a topic completely of his own choosing. Matyjaszewski, the world open before him, thinks, "What is the biggest challenge in polymer science?" He decides on a project of tremendous commercial interest—radical polymerization control.
Radical polymerization is a process used to produce many of the polymers in existence, materials that include rubbers, fibers, plastics, paints, and more. Matyjaszewski compares the generally long, linear polymer molecule to a strand of pearls. He describes radical polymerization as stringing a chain of thousands of these "pearls," a few each millisecond, in a reaction so rapid that it's complete in under a second. It's a process that is, therefore, extremely difficult to control, like trying to catch bullets from a gun. He sees a challenge in extending the life of this chain growth, allowing time to manipulate what's occurring chemically and create the structures and properties desired. It's this challenge that drives him—and exactly what he manages to accomplish.
Matyjaszewski develops a pioneering process he dubs atom transfer radical polymerization (ATRP). In simple terms, by using copper as a catalyst, he's able to insert dormant periods into the reactions occurring each millisecond, like repeatedly pausing a stopwatch. This effectively extends the life of the radical polymerization process from under a second to an hour or even a day. It allows the process to be shut down or re-started, depending on how conditions such as temperature or sequence are varied. This level of control enables scientists to envision a previously unimaginable variety of polymers with tailor-made properties, like biocompatible coatings for cardiovascular stents.
In 1995, Matyjaszewski publishes his breakthrough results in the Journal of the American Chemical Society, creating a revolution in the scientific community. His paper is so innovative that it is cited more than 3,000 times. Letters and invitations pour in.
To continue to develop and improve ATRP and controlled radical polymerization (CRP) systems, he founds his Carnegie Mellon research group, the Center for Macromolecular Engineering. He also forms two consortia with more than 50 multinational chemical companies from around the globe, which give him valuable feedback while allowing producers to incorporate the process into potential new products. (The new uses can't be named here. Most are kept tightly under wraps for proprietary reasons.)
The Matyjaszewski research group today numbers 20, with four subgroups that study aspects from designing molecular architectures with specific properties to discovering more robust catalysts. The group's most recent advances include reducing the ATRP catalyst to minute amounts—a few parts per million—by using environmentally friendly materials like sugar and vitamin C to regenerate the catalyst and keep the process going. They've also developed an electro-polymerization technique, using electricity from a battery as a re-activator.
As a committed mentor, Matyjaszewski advises a large number of students—15 doctoral students and five postdoctoral fellows and visiting researchers. Over the years, more than 200 have been members of the Matyjaszewski research group, one that collaborates across the university. His influence extends further afield as well.
A professor of chemical and biological engineering at Princeton University, Lynn Loo, says she began her own academic career inspired by Matyjaszewski's work. In fact, his research became the basis of her first proposal. Later, the two would collaborate. "Kris has been a great mentor to me," she notes. "He makes times for junior people and tries to help them along. I think that was very important, particularly in that juncture of my career. I was an assistant professor, and he was always available for me, always accessible to answer both technical and professional questions."
Olson, research fellow at PPG's Coatings Innovation Center, can also speak to the importance of Matyjaszewski's work. "Kris' discovery is pretty significant in my world. I'm a polymer chemist by training, and something like this doesn't come along very often," he says. His relationship with Matyjaszewski goes back to the first consortium Matyjaszewski assembled, with PPG as one of the founding members. The company currently uses ATRP to produce a pigment dispersant to make paints with superior color.
"The recent innovations coming out of Kris' group have made ATRP much more commercially feasible," says Olson, referencing the relatively higher cost of the slow, controlled process. "There's a great deal of potential on the upside. ATRP is going to enable things we couldn't do before."
Loo says Matyjaszewski's process opens up the possibility of making a wide array of functional polymers with specific properties and uses. "Previously, they came in just three basic flavors—strawberry, vanilla, and chocolate," she says. "Now you have butter pecan, chocolate chip mint, and so much more."
The ATRP technology has been licensed for 16 commercial products manufactured in the United States, Japan, and Europe—a wide range of tremendously versatile materials that include adhesives, cosmetics, sealants, and electronics. Applications under consideration are strikingly futuristic. Imagine smart materials that respond to subtle environmental changes, targeted drug-delivery mechanisms, or scaffoldings for bone regeneration. Matyjaszewski is a co-inventor on 46 U.S.-patented technologies, 132 international patents, and 26 U.S. patent applications pending.
"This is what makes every chemist extremely happy," he says simply. "You not only do good things, but do useful things."
Today, Matyjaszewski is one of most cited chemists in the world and a prolific author. He has produced 17 books, 83 book chapters and more than 800 peer-reviewed scientific papers, a body of work that has been cited more than 60,000 times. He has garnered numerous prestigious awards, including the 2011 Wolf Prize, often regarded as the most significant award in chemistry, second only to the Nobel Prize. And though far from Poland, Matyjaszewski has been equally recognized by his home country, receiving its highest scientific honor—the 2004 Prize of the Foundation of Polish Science. Among his distinguished appointments, he is a member of the U.S. National Academy of Engineering, Polish Academy of Sciences and Russian Academy of Sciences. He holds seven honorary doctorates.
"Kris's pioneering work in ATRP has really made a substantial impact on the polymer science community," Loo stresses. She points out that he has advanced not only the fundamental science, but also the ability to apply it in developing polymers with applications from the electronic to the biomedical. "Indeed," she adds, "for this contribution, Kris has been rumored to be a candidate for the Nobel Prize in Chemistry."
Matyjaszewski, who'd once assumed he'd live his days in Lodz, now travels the world, Malgosia by his side. "We've been married more than 40 years, through good and bad," she says. "The first part of our life in Poland was really, really difficult, then things became so much nicer. Can you imagine two Polish people from a communist country with two kids would spend time on the Champs-Élysées and then live in America?"
The director of Carnegie Mellon's Center for Macromolecular Engineering has developed a way to slow down and control a chemical process that happens so fast, it's like catching bullets. With potential applications from smart materials to gene delivery, Krzysztof Matyjaszewski's innovative atrp process is changing the world.The director of Carnegie Mellon's Center for Macromolecular Engineering has developed a way to slow down and control a chemical process that happens so fast, it's like catching bullets. With potential applications from smart materials to gene delivery, Krzysztof Matyjaszewski's innovative atrp process is changing the world.One particularly memorable event seemed to bring that life full circle. About five years after Matyjaszewski settled in at Carnegie Mellon and was hard at work researching his seminal paper, he was set to host a very distinguished visiting scientist. Matyjaszewski had met the scholar—"a wonderful man"—a few times before and had invited the gentleman to join his wife and him for dinner. As the visitor introduced himself to Malgosia, her eyes grew wide. "I was with you on my honeymoon!" she blurted out. Michael Szwarc, the prominent author of that unforgettable book, stared at her, shocked. But as the Matyjaszewskis relayed the story, Szwarc burst out in laughter. Matyjaszewski and Malgosia joined in. It was a fitting reunion.