Brenda Harger stalks the aisles of an amusement-park trade show. The CMU professor is hunting for companies that might be attractive career-placement fits for her Entertainment Technology Center (ETC) students. Suddenly, she freezes. A child's eyes stare at her from a logo for Give Kids the World Village, a place she hasn't thought about—or wanted to—in nearly a decade. Images of her daughter bounding beneath palm trees, and of oncologists measuring their words, flood her mind. She approaches the booth. "I know you guys," says Harger. "I was a 'wish' mom."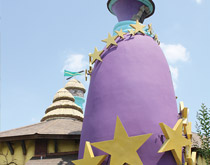 In 1990, Harger's 18-month-old daughter Hallie was diagnosed with leukemia and given a 78% chance of survival. For nearly three years, Harger and her husband watched chemotherapy treatments steal their daughter's hair, and steroids puff up her cheeks. After Harger (A'00) quit working to tend to Hallie's illness full-time, the family survived almost entirely on her husband's schoolteacher salary. Eating out became a luxury. "The word 'vacation' wasn't even in our lexicon," remembers Harger—that is, until Hallie's doctors recommended her family to the Make-A-Wish Foundation.
Just after Hallie entered the maintenance stage of her treatment, when chemo becomes less intense and less frequent, Make-A-Wish granted Hallie a visit to Disney World and several other Orlando theme parks, giving the Hargers their first vacation in nearly three years. For one all-expense-paid week, they stayed at the Give Kids the World Village, a non-profit storybook resort that provides cost-free lodging to children with life-threatening illnesses and their families.
In the mornings, before the family visited Disney World, Universal Studios, and Sea World, four-year-old Hallie careened around the Village's attractions. Designed with its exceptional guests in mind, the resort includes a wheelchair-accessible pool and carousel, an ice-cream parlor that starts slinging sundaes at 7:30 am, and Julie's Safari Theatre, where characters like Mickey Mouse and Donald Duck visit twice a week. In the evenings, Mayor Clayton, a six-foot-tall rabbit who watches over the Village, tucks the children in at bedtime.
For Harger and her husband, it was a worry-free respite from checking for fevers and monitoring white blood cell counts. For Hallie, it was a week free from the torment of saline drips and hospital trips. Five years later, Hallie's doctors declared her cured.
At that trade show booth, Harger tells Kathy Aubruner, the Village's director of strategic alliances, all about her family's trip and her daughter's battle with cancer. Tears flow. During the conversation, an idea comes to her. "I'm at this graduate program where we make stuff using technology," says Harger. "Perhaps we might be able to help?" They exchange contact information.
Founded in 1999 by now-retired drama professor Don Marinelli and the late computer science professor Randy Pausch, ETC is the home to a unique two-year program of the College of Fine Arts and the School of Computer Science. The center, which identifies itself as the "Graduate Program for the Left and Right Brain," unites students of diverse backgrounds—from engineers and software developers to artists and philosophers—and teaches them how to create new forms of digital entertainment. Through semester-long projects, students work in teams to conceive, design, and build prototypes of video games, animated films, and virtual-reality technology for actual and fictional clients. Their training turns them into candidates for careers at places like Pixar, Microsoft, and Disney—all of which employ ETC alumni. The hallways of the center's home—several floors in a building on the Pittsburgh riverfront—are lined floor-to-ceiling with memorabilia. There are eight-foot-wide replicas of Nintendo controllers, life-size statues of Batman, and Star Wars' C-3PO.
Harger has 15 ETC students in tow the following year when she returns to the conference, this time in Orlando. She brings the students by the Village's booth, and Aubruner offers to give them a tour of the resort. By the time the students finish their visit, tears run down their faces and ideas line their notebooks. "We have to do something with them. We have to," the students tell Harger. But what?
Upon their return to Pittsburgh, the students pitch several ideas for Village projects. An ETC and Give Kids the World partnership has its merits. Marinelli and Pausch, when founding ETC, aimed for the program to be life-changing, life-enlightening, and life-enhancing, and they strived to impart the values of compassion and altruism to their students. In addition to the goodwill, a collaboration would present some terrific learning opportunities—especially in the way of client constraints. For the resort, which survives exclusively on donations, budget concerns ring loudest. As Harger puts it, the Village "is held together with duct tape and love."
Still, Harger and other faculty members have their reservations. ETC's curriculum emphasizes risk-taking and creativity. Students are taught to embrace failure as an almost expected by-product of innovation. Their completed projects are functional, but by no means intended to be finished products. Harger, knowing intimately what the students' failure would mean, is wary—to say the least. "I was terrified," she remembers. "We make prototypes. What are we doing promising completed products?"
Her fears are no match for her students' enthusiasm, and the faculty ultimately gives them the go-ahead. They green-light a computer-animated short-film project called The Big Surprise, which will follow several Village characters as they plan a surprise birthday party for Mayor Clayton (that six-foot-tall bunny).
This will be no ordinary film. In addition to writing the script and doing the animation, the students plan to revamp the Village's under-utilized theater by outfitting it with wind, bubble, and mist machines to bring the film to life. It'll be a small-scale version of similar Disney World experiences. The scope is ambitious—especially given the semester-long timeline. But shooting for the stars is what ETC is all about. "By the end of the semester, they weren't sleeping anymore. I told them, 'Slow down. Cut something,'" remembers Harger. "No! No! No!" was their answer.
At semester's end, the students visit the Village for installation. They even organize an elaborate red-carpet premiere, with visiting parents acting as paparazzi for the Village's true stars: the children. The experience is jaw-dropping. Near the end of the film, Windy, the cloud, gives Mayor Clayton his birthday gift—a rainbow. Children's eyes light up as bubbles float around the theater and pop on their noses. "We had never seen the Village's characters animated—much less 3-D," remembers Aubruner. "To see them up on the big screen in such detail, it was perfect."
ETC was just getting started. "Once it happened, it was a match made in heaven," says Harger. With such special guests, the Village encountered some equally special problems—problems ETC students were exceptionally suited to tackle.
In the early '90s, the Village began having children write their names on two-inch, gold plastic stars. Each night, a volunteer glued the stars to the ceiling of the Village's Castle of Miracles, and the next day, children returned to see their stars—and their wishes—twinkling in the night sky. By 2005, the castle's ceiling boasted more than 50,000 stars, each representing a wish child. A fable about a star fairy who placed each star in the sky had emerged as well.
The stars took on added significance when parents of children who had passed away began returning to see their children's stars. Because they were placed on the ceiling in no particular order, finding one amid the galaxy often turned into an hours-long odyssey.
In the spring of 2006, seven ETC students undertook the massive Gold Star project. To bring the star fairy myth to life, they created a rumbling star box, into which children dropped their stars after autographing them. The children then followed the star fairy, whom the students named Stella, via an animated show on three video screens—fairy windows—as she placed their stars in the night sky.
They also created an electronic database to track each star's location. Again, the scope was extraordinary. But according to Amber Samdahl (CMU'06), currently a Disney Imagineer, who was a team member at the time, "We never lost sight of why we were doing it. When things got tough, we'd yell out, 'Think of the kids!' and keep going."
The final result was stunning. But the Castle of Miracle's ceiling had only so much room. As the Village grew and more children visited, ceiling space started to disappear. So, in 2010, the Village proposed to Harger that her students invent a way to make the stars digital. In an odd twist, Harger would have none of it. As she noted at the outset of the original star project planning: "The stars have to be physical. They're too meaningful for the families." Luckily, a company offered to build and donate a 30-foot addition to the Castle of Miracles, known as the Star Tower, to house tens of thousands of additional real, not digital, stars. The company then reached out to ETC: Would any students be interested in designing the star-tracking software for the new tower?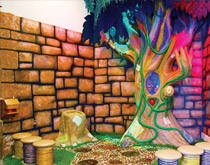 "It sounded like a fantastic project," says then-team member Tom Corbett (CMU'11), who now works for video-game juggernaut Electronic Arts. The Village needed a very specific solution. "There's a physical component, a location component, and a software component," Corbett says. But the students were motivated by more than just the challenge. "When you make a video game, you don't necessarily touch other people," he adds. "In this case, we could create something that had a lot of impact."
By May 2011, Corbett and seven other students had designed, coded, and installed remote-controlled cameras embedded in the tower walls, an updated star-tracking database, and a light and sound display that would make Disney jealous. The team even created an interactive application for the iPad that used the ability of the tablet's internal accelerometer and gyroscopes to respond to movement to make children feel like they were looking right into the star fairy's world.
But shooting for the stars creates its own problems. Because few—if any—of the park's army of volunteers have experience with software coding or entertainment technology, maintenance of the complex attractions designed by ETC students is difficult. Luckily, many graduates go on to design attractions at Orlando's theme parks, so they're sometimes able to return to make repairs. To assist them, Harger and several alumni are raising funds to create a paid summer internship position for an ETC student, as well as cover travel costs for current students to make periodic maintenance visits.
Over the years, ETC has delivered several other projects, including a giant interactive pillow-tree and a reservation kiosk for Mayor Clayton's bedtime tuck-ins. And an ETC team just debuted a new short film, Stardust, which will run before the poolside "dive-in" movie. The stunning 3-D animated film tells the story of how Mayor Clayton and his wife, Miss Merry, originally met.
The partnership has even inspired some alumni to found their own ventures, including an interactive technology firm, Electric Owl, launched by 2007 grads Patrick Mittereder and Brad Patton. Their company's first product, a kiosk developed to help alleviate children's fears and anxieties when visiting the doctor, is currently in hospitals on three continents.
Give Kids the World, which just celebrated its 27th anniversary and hosted its 120,000th child, has big plans for future additions and attractions, so the partnership isn't going anywhere. Every addition creates ever more opportunities for ETC students to donate their time and talents. And before too long, an ETC team will have to dream up a new star-tracking solution, too.
But for Harger, the Village is the one doing the giving: "From my perspective, it's a gift to our students that the Village is willing to work with us in this capacity." She wouldn't wish her daughter's ordeal on anyone. But as more stars fill the tower's sky, and as her students help bring more smiles to the faces of those who need them most, she can't help but see the beauty in it all. Sometimes the darkest clouds have the brightest silver linings.?

Nicholas Ducassi (A'10), an actor, writer, and filmmaker, has been a regular contributor to this magazine since his senior year.