If you imagine artist Piet Mondrian and architect Frank Lloyd Wright getting together on a design, it might look like this. Sleek blond wooden panels of various sizes are puzzled together and interspersed with reconstituted glass windows. The numerous windows—both large and small, high and low—give the partition an open feeling. In fact, you might not even consider the finished product as having any actual functionality; it's closer to art. But talk to Justin Rosenberry (A'11), or any of the other 11 students in the group who designed and built it, and they will modestly call it what it is: a wall.
The wall will eventually be part of Café 524, as part of a project by the Urban Design Build Studio in the School of Architecture. The goal of UDBS is to undertake an architectural project that will make a real-world impact on local communities. For Rosenberry and his UDBS classmates, their assignment took them to Homewood, an economically challenged neighborhood located just a few miles from the Pittsburgh campus. It's not a typical destination for Carnegie Mellon students. A "Homewood" Web search reveals multiple stories of shootings, drug-related arrests, and failed businesses.
Despite such tough times, Rosenberry and the other students soon discovered that the people there aren't giving up. That came through loud and clear during meetings with local leaders to determine how UDBS could help. According to one nationally prominent sociologist, Ray Oldenberg, there are three key "spaces" present in healthy communities: first is the home, second is the place of employment, and third is a place for informal social gatherings. It's that "third space," agreed all, which Homewood lacks today.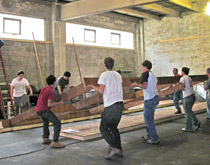 Enter Café 524. The former post office at 524 N. Homewood Avenue is in the heart of the community. The front of the building will be a café where everyone can eat and meet and greet; the back of the building, separated by the wall, will function as a nonprofit business incubator. An added bonus—the building is designed to minimize energy consumption through green technology. UDBS has built the wall and drafted final plans for the residents to complete what the students started.
Rosenberry envisions Café 524 becoming the pulse of the neighborhood, driving new economic development along Homewood's commercial corridor. He says the café is the star of his portfolio. But he adds that, for him and for those living in Homewood, Café 524 is much more than just a few lines on his résumé.
—Shannon Deep (CMU'10, HNZ'11)