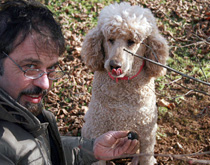 Franklin Garland makes a point to read today's Wall Street Journal. His father thought he might be interested in one of the front-page stories. It's not about banking or stocks, though. It's about French truffles. Garland doesn't have the foggiest notion what a truffle is. He doesn't even know enough to confuse it with the chocolate truffle—a rich, filled candy. But he is intrigued by what he learns in the article: Truffles grow underground in a symbiotic relationship with host trees and that, in the early 1970s, the French developed a new way to inoculate a tree's root system with the fungus. It's 1979 now and Garland reads how they are beginning to get their first truffles from that method.
Garland's curiosity is piqued, considering he has an interest in agriculture. After graduating from Carnegie Mellon in 1973 with a degree in psychology, he had planned to accept a job offer in his field from a company located north of Pittsburgh. But first he made a trip to visit his brother, who lived in North Carolina. Then, the unexpected happened. Garland, who had been a city boy all his life, fell in love with the rural state—from its mild climate to the beauty of the land. He never returned to Pennsylvania and the waiting job. Instead, he and his brother started a business growing off-season tomatoes.
Unfortunately, their timing coincided with the energy crunch of the 1970s. Greenhouses weren't nearly as efficient then as they are today. The price of energy got too expensive to make the business profitable, and after five years, it folded. Garland returned to school, earning degrees in manufacturing technology, electronic engineering technology, and biomedical equipment engineering at a nearby community college. He then worked at a company specializing in communications test equipment before teaching electronics at a community college. But agriculture was still in his blood.
His father, understanding his son's passion, thought there might be something to this French truffles farming. Garland does, too. After making a few inquiries, he is invited to Santa Rosa, Calif., for a presentation by a French subsidiary, newly licensed to sell inoculated plants in the United States. He flies to California where he is wined and dined with about 30 other potential growers. To his disappointment, none of the food in the elaborate meal contains truffles. When Garland asks the company's representatives why, their answer is straightforward: Truffles are too expensive. Garland's response is equally to the point: That's not good enough if they want to sell him on the product. He wants to know what the fuss is about these rare mushrooms. What do they taste like to make them so prized?
Frustrated but undaunted, he takes a trip to France, going right to Agri-Truffe, the company that had invented the new technique for inoculating the plants. He tours some truffle farms and is once again wined and dined. This time, though, things are done up right. He is finally about to have his introduction. The extravagant gourmet treat is served in lavish amounts. Once Garland tastes it, he is hooked—the mushroom is dense; the flavor is musky, nutty, and sweet, with the crispness of an apple and the crunch of a nut. The really fresh ones, just a few days out of the ground, have an aroma that he finds intoxicating. He decides on the spot that he wants to grow them, not just to please his own palate, but commercially as well. On his return to the United States, he brings 750 plants, enough for an acre-and-a-half orchard. The size might not seem like a lot. But here's what is compelling about growing truffles: You can expect an acre of a mature orchard to produce at least 50 pounds of truffles a year. Garland is going to try to grow black Perigord truffles, which, because of their scarcity, command a wholesale price of $800 per pound. His annual yield could be worth $60,000—a hefty income per acre for a small farm.
Truffles grow on the roots of several kinds of trees, typically filbert and three different oaks—holly-leafed oak, English oak, and downy oak. Once inoculated with the truffle fungus, the trees don't produce a crop overnight. Garland knows it will take seven or eight years until his first crop is ready. He plants the orchard and sits back and waits. And waits, and waits, and waits. Eleven years later, he reconciles himself to the idea that it's a bust.
But all is not lost. It's 1992. A group of mycology students from Duke University has come to visit his farm this day, curious to see how truffles grow. Garland knows that cinnamon truffles are growing in the orchard. They are unremarkable—about the size of a peanut and without much flavor or demand. They're native to North Carolina. In his effort to grow the black truffles, Garland had amended his soil and created conditions where the cinnamon truffles were proliferating like crazy. These he knows he can find to show the students.
If the orchard were producing the vaunted black Perigord truffles, there might be as many as 10-15 of them around a tree. They look like unruly black potatoes. But you can't dig them up by turning over the ground like you can with potatoes. You have to go after each one specifically. Historically, female pigs were used to root out the truffles. One of the chemicals in the truffles is similar to a male pig's sex pheromone, which attracts sows. Unfortunately, pigs also like to eat truffles. Today, dogs are trained to sniff out mature truffles, because they're not tempted to chow down on them.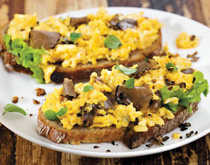 Garland takes the students to an area of the orchard where the trees have a big circle of barren ground around them, called a brulée. Truffles suck all nutrients out of the soil, leaving the ground to look like it's suffered a chemical burn. This is a good place to start the search. As an incentive, he holds up a Ben Franklin and tells the group that he'll give the $100 bill to the first person who finds the elusive black truffle. But he knows it is like finding the pot at the end of the rainbow. It's just not going to happen. Still, the students hustle, scratching around the roots of the tree, intent on winning the prize. One member of the group asks Garland to show him how to search. Garland bends down and puts a hand on the ground to support himself. To his utter astonishment, he's put his hand smack down on a black Perigord. It's a moment of complete redemption. His long wait is over.
It's still a surprise, he says, every time he finds a truffle—though these days he is likely to take his two-year-old lemon beagle, Pee Dee, with him to ferret out the mature truffles. "They sell for $50 an ounce, so you can imagine how good you feel when you find something that's the size of a tennis ball that weighs between six and eight ounces," he says. "It's like finding a gold nugget."
Tobacco is still a significant crop for North Carolina farmers. So when Garland began producing truffles there, he generated a lot of interest. With stories over the years in The New York Times, Los Angeles Times, and The Washington Post, as well as a television appearance on Martha Stewart, Garland and his wife, Betty, have become old hands at talking to the media. Many of the inquiries Garland has fielded are from people intrigued like he was by the proposition of growing truffles themselves. Ever the savvy entrepreneur, Garland has steered his business in the direction of growing trees inoculated with the truffle fungus. Now the nursery is the most profitable side of his venture. He sells an average of 30,000 trees a year for around $20 apiece. This year, he's ramping up production to 100,000 trees. His customers come from North Carolina, South Carolina, Virginia, West Virginia, Tennessee, and Kentucky—states where the climate is ideal for growing the black Perigord truffle.
Most of his customers have never tasted truffles, says Garland. Unlike his early experience in California, Garland treats his prospective buyers to a lunch that includes various dishes such as an omelet filled with truffles in cream sauce or asparagus with a hollandaise sauce containing truffles, and, of course, truffle ice cream for dessert.
Early in his nursery venture, Garland visited his clients' orchards once a year. "In terms of being successful as an entrepreneur having a new business, I just wanted to make sure that people were doing what they were supposed to be doing," he says. He discovered that many of his customers, often first-time farmers, had planted trees and left them pretty much to grow on their own. Now he ensures that more of his diligent customers will be successful truffle growers by offering them a discount on additional trees for a percentage of the truffles they grow. "That turns out to be a good incentive for the people I partner up with," he says. "I have to keep up after them to make sure they keep an orchard well tended. And they get me to be on their orchards for as much consulting as necessary."
Over the years, Garland has done a lot of research into truffle growing. He is quick to cite his education at Carnegie Mellon with giving him the ability to conduct trials in a precise way. The results of his studies have allowed him to continue to tweak the truffle growing technique. He's been able to produce higher yields as well as reduce the time until first harvest to five or six years. This past growing season, which runs from December through February, one of his customer's orchards yielded a record 200 pounds of mature truffles.
Jane Smith and her husband, Rick, first met Garland in 1995 and, for the next five years, thought over the idea of growing truffles on their north-central North Carolina property, which would be their initial foray into agriculture. They planted their first trees in 2000. "During that time, we grew to believe we could trust Franklin to be who he said he was and to do what he said he'd do," she says. "And he has come through for us every time we've asked him to." For instance, when the Smiths planted a second orchard in 2004, they had erosion problems on the orchard slope and lost about 10 percent of their trees. "He replaced every one of them," says Smith, who is the current president of the North American Truffle Growers Association.
The fruits of Garland's labor certainly seem to be paying off. "The quality of product they've developed is amazing," says Todd Gray, owner and executive chef of Washington D.C.'s Equinox restaurant, who has cooked for Barack and Michelle Obama.
Garland, who will be 59 years old this year, says he is thinking about retirement. The operative word is "thinking." There's a consortium in South America interested in having him come down and help them set up commercial truffle farms. He's also testing the waters in agri-tourism. On the drawing board are plans to put a visitor's center in the middle of his orchard for truffle tasting, as well as develop very high-end accommodations on his property where people can spend a romantic weekend.
And last year, he planted two new acres. He intends to plant eight more acres. When those orchards are producing, he says, he is going to turn the nursery business over to his two sons. (One already works for him part-time.) He's counting on the farm to yield 75 pounds per acre. "That would be about 750 pounds a year," he says. Even if the price of truffles dropped to $500 per pound, he would still make $350,000 to $400,000 a year.
Not a bad return, he says, especially once the orchards are established. "You take the dog with you and you walk around out there and harvest about twice a week. I think I can do that until I'm about in my 90s."
Sally Ann Flecker is an award-winning freelance writer. She is a regular contributor to this magazine.