Sandra Timmons laughs over the speakerphone from her Manhattan office as she talks about how happy she is in her job. She's president of A Better Chance, a nonprofit that develops educational opportunities for talented and promising African American, Latino, Asian American, and Native American students. "I have to tamp it down a bit," she says of her exuberance. It seems like whenever she gets to the point where she has mastered the challenges of a position enough to enjoy what she's doing, enough to feel like she could be happy staying there indefinitely, well, that's exactly when someone comes along and tries to tempt her away.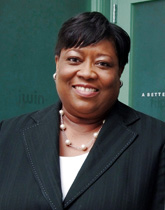 Five years ago, the 1985 Heinz School alumna was content as the chief operating officer, the second person in the chain of command, at Girls Inc. The national nonprofit organization, which includes 150 local affiliates with a mission to empower young girls ages six to 18, had just gone through a change in leadership. Earlier, Timmons had served as the interim president and had developed a strategic business plan to take the nonprofit into the future. When the new president came on board, the two finalized the business plan to expand educational programs in everything from science and math to self-defense and money management. Then they went out and raised $12 million to make it all happen. "From there, we were rockin' and rollin," Timmons says. "We were having a good time. We had money to do things we were trying to do." Timmons liked what she was doing. Life was good.
That, of course, is when she got the phone call from Korn/Ferry, an international recruitment firm. Timmons' name had come up in a search the firm was conducting for president of A Better Chance (ABC). Timmons agreed to meet with headhunter Ann Kern, but when Kern asked Timmons at that meeting if ABC interested her, Timmons answered with an emphatic, "No." She was reluctant to move to the top spot where there was so much emphasis on fundraising as well as the huge responsibility of being entrusted with the organization's reputation, its history, its constituents.
But Kern kept pitching. She pointed out that Timmons was already raising money. "I think you're selling yourself short. Look at you," she said. "You've done all the things you would need to do for this type of job. Why not now?" The logic worked.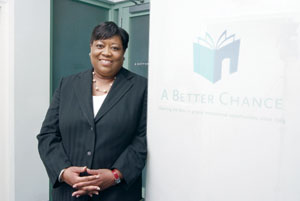 On Timmons' first day as president at ABC, she got in early to hang her pictures on the walls and add other touches to make it feel homey. "I think I scared people," she laughs, "because by 11 o'clock it was looking like I had been there for like a week. I think people were saying,"She's a little intense." Her intensity wasn't such a bad thing. She did have to hit the ground running. She started in May 2003, the big fundraising gala was that June, and ABC was relocating to new offices, which hadn't yet been found, in July. The board had assured her when they hired her that they would be in the new space before she started. But the location had fallen through. "You know what it's like to be unsettled and brand new, and then moving—but it worked out great because I became the one who established the new home," Timmons says. The home she found for ABC is in an ideal location, she says—35th Street between 7th and 8th Avenues in New York's old Garment District. Timmons took over a floor that had been vacated by a dot.com. "It's bright and open and colorful," she says. "Students and families love it. We have lots of open meeting spaces. It's been a good community-building kind of office space for us.

"Oh, and it's only one block from Macy's," she adds.
ABC has its roots in the civil-rights days of the 1960s. The idea driving it for 45 years is simple: Better education leads to better lives. What ABC does, in a nutshell, is identify promising students of color, as early as sixth grade, and help place them at one of the nation's finest college preparatory schools. The elite schools are typically pipelines into the nation's most prestigious colleges and universities.
To date, ABC's statistics illustrate some impressive results.
Nearly 12,000 middle and junior high school student have been placed in public and private college preparatory schools since ABC began.
1,800 students are currently enrolled.
More than 96% of ABC graduating seniors immediately enroll in college.
One-third of ABC scholars come from families receiving welfare or who are living at or below the federal poverty line.
65% of ABC scholars come from single-parent families.
An estimated $20+ million of financial aid is leveraged at the high school level annually.
Last year, there were 2,194 ABC applicants; 614 were accepted, and 475 were placed in a college preparatory school program. These are students who have demonstrated strong performance and interest and leadership, even at some very young ages," says Timmons, "young people who are already doing well in the schools but are overlooked maybe just by virtue of the school that they are in.
Without ABC, Timmons says, many of these students' best-case scenarios might not include a college education. "What our program does is provide access at a critical juncture. And, really, if it works as it's supposed to, it changes their whole trajectory. We give them access to a great [prep] school where they are exposed to a variety of options and, hopefully, will end up in one of the top colleges in the country."
Which they often do. ABC scholars start out at one of 300 day or boarding schools that participate in the program--a school such as Princeton Day School in Princeton, N.J., which this past year had a $26,200 tuition for grades seven through 12. From this day school's class of 2007, 85% attend a college ranked by Barron's as "Highly Competitive" or "Most Competitive," 16 percent attend an Ivy League school, and one of the 86 class members attends Carnegie Mellon.
In fact, by Timmons' count, at least 20 ABC students have gone on to graduate from Carnegie Mellon. These high-caliber schools are where many of the people who have influence and power still come from, Timmons says, so it is important to keep persons of color enrolling into these institutions.
"After 45 years and 12,000 graduates, I think we can say something is working here," Timmons says. "The first generation of people who have come out of this program are rising to top levels of business and leadership."
Among ABC alumni are Massachusetts Governor Deval Patrick (1974), who was the first in his family to attend college, and William M. Lewis Jr. (1974), who was the first African American managing director at Morgan Stanley and is now the co-chair of investment banking at Lazard Ltd. Alumna include Tracy Chapman (1982), who has sold more than 25 million albums and won four Grammy Awards, and Dina Strachan (1984), who has her own private dermatology practice in New York City and was recently named one of the nation's top doctors by the Consumers' Research Council. The list goes on and on: professors, lawyers, investment bankers, anesthesiologists, cardiologists, senior vice presidents, CEOs, writers, psychiatrists, publishers, entrepreneurs, screenwriters.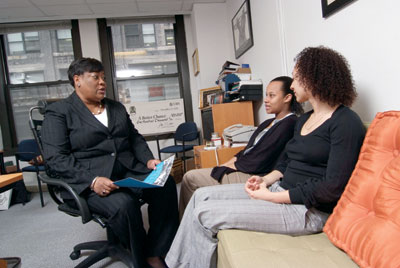 Some of the stories Timmons tells tug at your heartstrings. There's the one about the girl in a group home who stood out among the others. Not for how she got there--she was not the only child who had been abandoned--but because she liked books. The counselor there took notice. Most of the other girls in the group home were so scarred emotionally that they didn't have much interest in anything, let alone books. The counselor started channeling books to the school-age girl, who kept reading them as fast as they came in. There's got to be a way to give this child a fair chance in life, the counselor thought.
ABC made it possible for her to attend Marin Academy, a private college prep high school in San Rafael, Calif. There--in small, rigorous classes--she excelled. School, she says, was her sanctuary. She fell in love with the French language and was active in student organizations that fueled her interest in international relations. Today, she is a junior at Stanford. She's rolling on all cylinders, says Timmons, who gives credit to the counselor who paid attention, who sought out ABC. "I think together," Timmons says, "we have made a big difference in her life."
Timmons knows first hand how life can be transformed by one door opening. College didn't seem like what she wanted when she was 17. The FBI, on the other hand, looked interesting when it recruited at her Johnstown, Pa., high school. So after graduation, she moved to Washington, D.C., and became a fingerprint technician. For a year and a half, she lived what she calls a "grown-up life," being out on her own and working for the government. But she was astute enough to realize that her opportunities for more challenging jobs at the FBI were limited without a college degree. She returned home, signing up for classes at the University of Pittsburgh's Johnstown campus as a business major.
When she didn't have a job lined up for the summer between her sophomore and junior years, she applied to the SGSOI (Summer Graduate School Orientation Institute) at Carnegie Mellon, where participants attend classes and work on a research project with a university researcher. She made it onto the waiting list for that program. Unbeknownst to her, someone in the office who reviewed applications thought hers looked too good to go unnoticed. In the spirit of the university's interdisciplinary approach, that nameless person picked up her papers and carried them to another program on campus, the Quantitative Summer Skills Institute (QSSI).
Timmons received a letter from QSSI saying she was accepted. She siezed the opportunity to take classes for a summer at Carnegie Mellon. "I think many of [the students] came there that summer more out of curiosity, like I did. What we found was this bright network of people who inspired us to be better and to strive more. There was a strong competitive spirit and a very strong ambition in that summer program."
The program was part of the Sloan Foundation programming, introducing graduate school to students of color and also identifying students who might go on to public policy schools and become leaders in the public or not-for-profit sector. "I am really one of the people living out what Sloan's initial intentions were," Timmons says, who did go on to graduate school, earning a master's degree in public policy analysis and management from what is now the Heinz College.
That experience has given her useful insight. "You get used to being the only African American student, or the only top one, or the only one in the class, or there are only two of you or three of you," she says. "But I don't want to underestimate what it means to be in a community of high-achieving students of color who are trying to fulfill their potential."
ABC fosters that important sense of community starting with a weeklong orientation for new students as well as workshops and social activities. The students, many who attend prep schools throughout the country, can stay in touch with instant messages and email through ABC's online community.
Timmons feels that like what she is called on to do at ABC brings all of the pieces of her experience together. "I have been preparing for many years for this kind of role," she says, "where it speaks of my heart, my experiences, my ethics."

It doesn't get much better than that.

Sally Ann Flecker is an award-winning writer whose work appears regularly in this magazine.