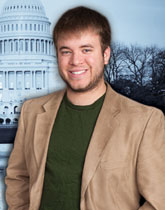 Within the walls of the U.S. Capitol building, Carnegie Mellon student Chris Sparks finds himself on the floor where the House of Representatives meets. Above him, the eyes of George Washington gaze out from a giant portrait. Sparks has journeyed to the nation's capital for CMU's Washington Semester Program, which will give the International Relations and Politics major the chance to explore life as a statesman.
The highlight of the program, he believes, will be a congressional internship. He has been paired with the office of Congressman William Lacy Clay of Missouri, whose progressive interests coincide with those of the third-year student.
During the spring semester, Sparks will take classes at Georgetown University. Among his courses' subjects will be counterterrorism and the role of religion in international politics. In addition, he will come into direct contact with political, business, and community leaders and learn about the most pressing policy issues gripping Washington. And for three days every week, he will be at his internship, getting to see what goes on behind the scenes in the legislative branch, not only performing standard intern work, but also sitting in on strategic meetings and debriefings and learning to give tours of the Capitol building.
Once his five months end, he will have a head full of new ideas and a fatter résumé. But on this first day of the Washington Semester Program, he is simply taking in the Capitol building. Suddenly, his supervisor asks all of the interns to follow him. They're about to go to a place not included on tours. They end up at the Speaker's Balcony, the highest balcony on the outside of the Capitol building, just below the famous dome.
Sparks, who grew up about 50 miles from Washington, D.C., didn't even know such a place existed. He steps out to a view of the National Mall expanding before him—the Washington Monument, the reflecting pool, the rows of embassy flags. He is overcome with "red, white, and blue, apple-pie love of country" and knows then and there that he wants to "keep the ball rolling" for democracy, whether it's in the Capitol or local politics.
After a few moments, the supervisor pulls the awe-struck interns back from the view. "Welcome aboard," he tells them. "Tomorrow, we get down to business."
—Olivia London (DC'13)
Related Links:
NACE Award Nominees