January 2012—Room keys dangle from their newly minted Carnegie Mellon lanyards as the two wide-eyed freshmen, separated by a hallway, size each other up. It's move-in day at Hamerschlag dorm, and the strangers are a mixture of excited, nervous, and oh-my-God-I'm-actually-in-college-now terrified. When they discover they're both acting majors, there's a connection. They're not roommates, but their shared home guarantees they'll see at least one friendly face in the coming days. Phew! They chat as their mothers help them cart boxes of their belongings up the Hamerschlag stairs.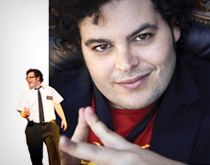 Although they have the same major, they're as different as their silhouettes. Josh Gad (left) is jovial, big-boned, and big-hearted—a class clown with a quick wit and a Zero Mostel zest for practical jokes. "An agent of anarchy within any class," says acting professor Ingrid Sonnichsen. "He was dear, absolutely dear—but you wanted to housebreak him." Rory O'Malley (below) is quieter, taller, and more muscular, with ruddy cheeks and a boyish smile. Acting professor Tony McKay describes him as "thoughtful, even-tempered, reserved" but no less passionate, a "reticent man who onstage brings it to a boil." Or as acting professor Don Wadsworth puts it: "Rory is an 'aw shucks,' 1950s, 'let me carry your groceries for you' kinda guy." And Josh Gad? "Josh would play the old lady who was carrying the groceries."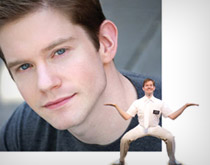 Their fall semester brings them closer together, a result of their groggy walks to mandatory 8am yoga classes and late-night post-rehearsal treks home. After an autumn of self-discovery and new routines, winter ushers in a geographical change in their friendship. Gad's roommate drops out, which hardly leaves him disappointed—he'll be perhaps the only freshman on campus with his own room. O'Malley, though, has other plans for the vacant top bunk. Despite Gad's best rebuttals, O'Malley carts his boxes down the hall and tacks up posters on the walls of his new digs.
Not long after moving in, O'Malley comes to the rescue of his new roommate. Gad is having trouble memorizing the weekly speech assignment. Every freshman acting student has to recite a memorized poem with perfect diction, followed by an immediate critique from the professor—in front of the entire class. "I knew I was going to get lambasted," says Gad. Not if O'Malley can help it. He listens to Gad's recital over and over, helping him whenever he loses his place. Gad passes the exam, avoiding the professor's wrath.
The roommates know they've got a good thing going, so they decide to move into an off-campus apartment together for sophomore year. Just seven days into their new living arrangement, O'Malley tells Gad there is something he must tell him. It sounds serious: "I'm gay."
Gad is speechless. It seems to him that O'Malley has charmed every female on campus with his boyish smile—he's gay? Gad's loss for words doesn't last long. He tells his best friend that being honest with himself and his friends is both courageous and the right thing to do. O'Malley, who had a "very Catholic upbringing," is relieved that he can count on Gad's friendship. Campus support follows. "CMU was a great place for me—to have great role models, other faculty members, students who were proud of themselves. … I made a decision to be one of them, to be proud of who I was." Gad says he should have realized O'Malley was gay the moment he decorated their Hamerschlag room freshman year. "He had a poster of Sarah McLachlan and Bono on his wall. Those two don't mix in any straight community, ever!"
After four years of training, the roommates—who have portrayed clowns, animals, even inanimate objects—are ready to get paid. During their final semester, they head to New York City with their classmates for the drama school's annual Senior Showcase. For three days, they each perform a few minutes of material for hundreds of agents, managers, casting directors, and producers. Like a scouting event for athletes, or a job fair for business majors, it's a big deal.
More than a dozen industry folk request to meet with Gad. No one calls O'Malley. No one. While Gad marches around Manhattan for meetings, O'Malley wanders the theater district, staring at Broadway marquees that his name may never grace. They'll get another shot at the Los Angeles Showcase just two months later, but it's little consolation for O'Malley—he planned to move to New York after graduation. At the L.A. showcase, Gad again gets a big response. This time, O'Malley gets a few bites. With no choice but to head west, he settles in L.A. after he and Gad earn their degrees from the School of Drama in 2003.
Gad, on the other hand, can't seem to settle down. He has prospects on both coasts and keeps chasing auditions. "It's really hard" he says. "You're in this little bubble [CMU], and suddenly it explodes, and you're thrown out into this enormous sea, and you don't know how to swim, and you have to figure out how to swim immediately, and that's really unsettling."
Drowning in frequent-flier miles, Gad calls O'Malley. O'Malley's advice is clear: "You have to just choose a place and make that your home for a little bit, because it'll ground you, and it'll give you the opportunity to figure things out." Gad listens. He leases an apartment near O'Malley's; soon enough, Gad is cast in a small play. Besides the paycheck, there's more good news in the role: he meets his future wife, who performs opposite Gad as the lead actress.
During the next two years, the former roommates' careers inch forward, barely. Ironically, Gad's struggles reassure O'Malley, who sees Gad's career as a benchmark for his own. "In those first few years when Josh wasn't really working a lot, I thought 'OK, good, I have some time. I'm still on my way.'"
In early 2005, while in New York City to help develop a small musical, O'Malley sees a preview performance of a new Broadway musical: The 25th Annual Putnam County Spelling Bee. He falls in love with the show and one role in particular, William Barfee. It reminds him of his best friend. He calls Gad and says, "There's a guy in this show who's going to win a Tony," and adds that if he ever leaves, "you're the only person who can replace him."
His words don't resonate with Gad. For the third year in a row, Saturday Night Live has refused to audition him. He's been out of work for months, and he's had enough. He calls his mother to deliver what he thinks will be welcome news: he's quitting acting and heading to law school. Surprisingly to him, she starts crying, heartbroken her son is giving up his dream.
A few days later, before he even has a chance to pick up an LSAT study guide, Gad's agent calls him. Spelling Bee needs a replacement for the role of William Barfee. They want to see him. He auditions, and O'Malley's prediction comes true. Instead of completing law-school applications, Gad starts memorizing lines for his Broadway role.
As goes Gad, so goes O'Malley, who soon starts to squeeze his way into bigger roles. He lands a small part in the movie-musical Dreamgirls, and once shooting ends, he decides to focus solely on musicals. He packs his car and heads to New York. His gutsy decision soon pays off when he's cast as an understudy in a musical. As an understudy, he waits in the wings, ready to perform one of several different roles in case an actor has to miss the show. It just so happens he is an understudy for, get this, Spelling Bee.
Sure enough, bigger auditions start coming Gad's way. He's soon asked to fly to L.A. to meet the producers of 21, a film starring Kevin Spacey. He'll have to miss a couple of Spelling Bee performances. With that, O'Malley is no longer waiting in the wings. You just can't make this stuff up: both Tartans make their Broadway debut—in the same show—less than three years removed from their off-campus apartment and walks across the Cut.
Work begets work; after 21, Gad lands a lead in the TV sitcom Back to You, while O'Malley enjoys consistent work in Off-Broadway and regional musicals. In early 2008, their agents ask whether they'd be interested in helping develop an irreverent new musical comedy written by Trey Parker and Matt Stone, creators of the wildly successful television cartoon South Park, with music by Robert Lopez, co-creator of the smash hit Broadway musical Avenue Q. For Gad and O'Malley—huge fans of South Park— the decision is a no-brainer. Giddy for the workshop to start, O'Malley even brings a DVD of Team America—the South Park duo's latest film—for Parker and Stone to sign.
Tentatively titled, The Book of Mormon, the show follows a pair of young Mormons on their missionary trip to Uganda. Gad is cast as "Elder Cunningham," a loveable, misguided Mormon missionary, and a lead in the show. O'Malley is in the ensemble, whose members play missionaries, prophets, devils, hobbits, and others. The show is shrouded in secrecy, and it's far from complete, containing only one act and fewer than 10 songs. At the end of the workshop, they turn in their scripts, and O'Malley is just thankful for the experience: "It'll probably never happen, or it'll be a movie without all of us, but at least I got them to sign my DVD." Gad heads back to L.A., where more work awaits him, and O'Malley continues working in musicals and plays in New York. Meanwhile, the creative team heads off to write new songs and scenes for what may become a Broadway musical, a motion picture, or an utter waste of time.
About 10 months later, Gad and O'Malley are asked to attend another Mormon workshop. Now there's a complete show—two acts, 16 songs, and new characters, including one for O'Malley, who impressed the creators so much that they developed a part just for him: "Elder McKinley," a ruddy-cheeked, flamboyantly gay-but-closeted Mormon missionary. He even has his own song, "Turn It Off," about the "nifty little Mormon trick" of pushing negative thoughts like homosexuality out of his head. The role hits close to home for O'Malley.
When the week is up, the creative team heads off for more rewrites. Still unsure of whether The Book of Mormon will ever be on a marquee, Gad keeps busy as a correspondent on The Daily Show with Jon Stewart, and in a few films, including Love and Other Drugs, starring Jake Gyllenhaal and Anne Hathaway. O'Malley lands a supporting role in a regional production of Pride and Prejudice.
A year later, the phone rings for the third time. The Book of Mormon is heading to Broadway. Would the two former college roommates like to join? Uh, yeah. And so, the two guys who met as nervous freshmen will soon star in a Broadway show together.
The curtains part for opening night on March 24, 2011, and not long after, the critics chime in. The New York Times calls the cast "the best in a musical since … The Producers" and "the best new musical … of the 21st century." Audiences agree, and future shows quickly sell out, currently through late 2012. When the Tony nominations roll in, Mormon leads the pack with 14, including Gad for Best Actor in a Musical and O'Malley for Best Featured Actor in a Musical.
Their intertwined success is almost surreal. "You start flashing back to those first days at CMU, where our moms are moving us into Hammerschlag, and then they're sitting next to each other at the Tonys," says Gad. "It has been the greatest experience of my life … to get to go through it with your best friend … it's amazing," adds O'Malley. Although neither one takes home a Tony that night, neither is complaining. They're living their dreams. Together.?

Nicholas Ducassi (A'10) is based in Miami, pursuing a career in acting and film production. He has been a regular contributor to this magazine since his senior year.
Related Links:
Tony Award Nominees
Josh Gad Talks 'Modern Family' Thanksgiving, 'Book of Mormon' Movie
Cleveland's own Rory O'Malley is Tony contender for Broadway's 'Book of Mormon'
'Book of Mormon': First a Tony, now Grammy nod, next a movie?