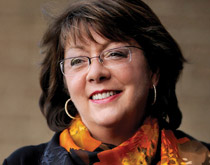 Years ago, I lost my corporate job as a creative director. The next night, I had a ticket to a Pittsburgh Symphony performance. I went, though I wasn't in the best of moods. During intermission, I stood outside Heinz Hall, having a cigarette-more common then. A homeless man walked up to me and asked for "a smoke." As others stepped away, I gave him one and a light.
"Bless you, madam," he said. "May I ask, did Maestro rush the scherzo in the Mahler 4th? He has a reputation for doing so."
I was taken aback. How could someone with such culture end up on the street? I promised myself that if I was ever in a position to hire people, I would be sensitive toward those who were out of work.
I didn't stay unemployed for long. For the next two decades, I was a Madison Avenue ad executive. But layoffs are a hazard in the ad biz, and I found myself unemployed again. Having been recruited many times by recruiters to go work for them, I instead decided in 1995 to start an executive search and recruiter firm-finding talent and building marketing communications teams for clients that range from ad agencies to corporations to boutique firms.
Shepherding talent is rewarding. Yet, there remains for me a connection to that Maestro critic. As a recruiter, I would come across the misery of broken dreams from the unemployed who reached out to me, many outside my specialty. I found myself wishing I could raise a magic wand to transform them back into the workforce.    
Through coaching, I began to do so.
I have many diverse client firms and am proud of my submission-to-interview rate, which is higher than 95%. What I look for in a candidate for my client firms is what I also nurture out of my unemployed contingent. I call them the five C's:
Clarity-Candidates must communicate their stories in words anyone can understand and in a way that intrigues prospective employers to want to learn more. Hint: A resume must be a marketing document with a compelling narrative.
Coordinated accomplishments-Prospective employers have problems to solve, so candidates must demonstrate how they have been problem solvers in the past and how that relates to the job openings.
Character-A Generic Presentation=A Generic Response. I believe everyone is gifted in some way. Candidates must showcase personality, spirit, and style! Hint: That doesn't mean unprofessional graphics, language, or attire.
Confidence-Candidates shouldn't view themselves as a chronological accumulation of jobs. They should accentuate what they've done that makes them proud. In so doing, they'll feel better about themselves and come across stronger in interactions with prospective employers-from the words they choose in composing a resume to the firm handshake of a personal introduction.
Check them out-In this competitive environment, candidates must rise above the crowd. They need to do their homework beyond a job description and have an understanding of prospective employers' strengths, weaknesses, and challenges. Candidates needn't be experts, but through basic research, they will differentiate themselves from others in the job market.
I'm the Fairy Job Mother, helping people get back to work.
Dolan-Brady, aka The Fairy Job Mother, is president of NDB Associates, Inc. She has been featured on London's BBC Global Radio Broadcast of "World News Tonight" to discuss unemployment and has been quoted in several publications, including The Wall Street Journal.