Outside, it's a gloomy morning on Carnegie Mellon's Pittsburgh campus. But inside the Rauh Studio Theater, there is a meticulous, almost frenetic energy. Students seem to be everywhere—sliding lights across the stage, walking with open laptops as they review sounds and images, practicing their lines one last time.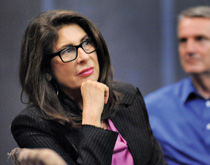 Seated just a few feet away from the School of Drama students is an alumna and university trustee— Paula Wagner, who also happens to be one of the most powerful women in Hollywood. Dressed in a conservative black suit accented with a pink satin blouse and donning very smart black glasses, she greets the students for her Future Stages workshop. Wagner exudes a level of Hollywood intensity and focus that can be expected for her line of work. She's here, along with another alumnus—legendary television writer and producer Steven Bochco —for a day of collaborative student workshops.
Wagner, who earned her degree from the College of Fine Arts School of Drama in 1969, had her marquee dreams just like many of the students scurrying around the theater. After graduation, the young actress had success, landing roles in several Broadway and off-Broadway productions, even performing at the prestigious Yale Repertory Theater. Growing tired, though, of the countless auditions and lack of consistent, quality work, she decided to try her hand as an agent when her agent offered her a job.
Anticipating that her new endeavor would be as competitive as acting, she determinedly pored over books and industry trades, spending hours learning the ins and outs of the business. All she needed was that one client, which she aggressively pursued. One screenwriter was so impressed with her drive that even though he opted to go with the well-established Creative Artists Agency, he told those in charge there about their competitor's acumen and persistence. The praise prompted a phone call to Wagner from the agency head. She ended up becoming the agency's first female agent. It turned out to be a good move. She would shape and influence a number of Hollywood careers and projects. Her roster of clients read like a Who's Who, including box office superstar Tom Cruise and acclaimed movie director Oliver Stone. With Cruise, she would form Cruise/Wagner Productions in 1993 and develop projects like the Mission: Impossible series, Vanilla Sky, and War of the Worlds. Those motion pictures grossed more than $3 billion worldwide, and, in 2004, Daily Variety christened the production duo, "Billion-Dollar Producers." Wagner would eventually move on to head United Artists. Today an independent producer, she heads her own film production company called Chestnut Ridge and has several projects in development as well as entertaining a number of entrepreneurial pursuits.
The drama students, in preparation for Wagner's workshop, have created four original pieces. Throughout the collaboration, all of the interactions—involving everyone from actors and writers to those behind the scenes—were tracked with a design journal shared online, via Wiki. The journal serves as as an electronic diary of the weeks of preparation that took place before Wagner's visit. Before performing each piece, the students share with Wagner how every aspect of the production evolved on and off stage. Then, Wagner gets to watch the end-result performance. As the houselights dim for each production, the students' exuberance is replaced by a remarkable calm. Moments before the final performance, one student actor exclaims, almost jokingly, "Let's do it; it's time to be a star."
The purpose for the stagings is for Wagner to consider the value in their work from conception to performance. For the students planning to break into the entertainment industry, either on stage or behind the scenes, this is their moment of validation—the moment when someone who's truly established and trusted tells them what they hope to hear, that it all will be worth it, that they're on the right track, that they will find success.
Now, post-performance, students are seated in the theater, anxiously awaiting Wagner's critique. Smiling, she seems pleased. As she speaks, there's a rustling of backpacks and laptops booting up so any and all of her feedback will be filed away. Wagner doesn't disappoint. She talks about the importance of studying your craft, cross-media explorations, and how audiences "should feel something." Although she has had her hand in a number of Hollywood films featuring massive explosions, death-defying stunts, and computer-generated images, she makes it clear that she is also a fan of the stage. Her face lights up as she talks about the many opportunities in live theater and the blending of different media. The students, most leaning forward in their seats, seem mesmerized. Wagner doesn't have any profound "insider secrets" to share. What she does pass along is what they probably already know but don't mind having reinforced—acting is a tough craft, so is the business of Hollywood, but ... there is room for them in the industry.
When Wagner disappears off stage, it's not unlike the intermission of a play or orchestral performance. Some students check email, others grab some food or head to the restroom to freshen up. Quickly, though, the seats are once again filled and an air of anticipation permeates the theater.
Enter Bochco. His industry success from a television perspective is as impressive as Wagner's motion-picture prowess. He, like Wagner, enrolled at Carnegie Mellon as a drama major, earning his degree in 1966. Along the way, the young student writer landed an MCA Writing Fellowship. The fellowship led to a chance summer job at Universal. There, he worked hard to climb the ranks, shaking hands with whomever he could to get noticed. After graduation, he was welcomed back at Universal, where he assumed the role of writer and eventually story editor. He hit the big time with the television series Hill Street Blues, which he co-created and produced; he also frequently wrote episodes. During its seven-year run from 1981–1987, the police drama was nominated for an astounding 95 awards, winning 51 times, including 26 Emmy awards. Among the Emmys were "Outstanding Drama Series" wins in 1981, 1982, 1983, and 1984, with Bochco credited as executive producer. More television hits followed, including the award-winning series L.A. Law (1986–1994; 113 nominations, 36 wins) and NYPD Blue (1993–2005; 163 nominations, 78 wins). Like Wagner, Bochco today heads his own production company, Steven Bochco Productions, which produces the critically acclaimed TV law drama Raising the Bar.
Tall and slim with a relaxed swagger, he is a native New Yorker and he wears it. He casually takes his seat wearing a powder blue sweater, jeans, and a slight smile. Bochco is easy, but clearly just as focused on the moment as Wagner was earlier. In his TV workshop, Bochco wants the students to understand how it all works and how it often isn't fair. "I want to talk to the actors," he states in a suddenly serious tone. He readjusts his seat, switching positions as students sit silent, ready to latch on to what he is about to share. Be prepared, he warns, for "flop sweat," the nervous perspiration caused by a fear of failure before an audience. And, for everyone in the theater, don't be afraid to approach big-time producers or actors if you get the chance, even if you're their waiter at a restaurant, just don't be too aggressive, let them enjoy their meal. In other words, you can't avoid being green, but use your smarts.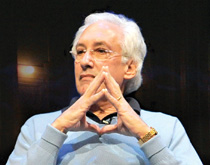 One of those green actors from the audience musters enough nerve to ask Bochco how not to look like the new kid on set. The director and writer is encouraging and almost nurturing, explaining that Carnegie Mellon has undoubtedly prepared them for life outside the classroom. The big concern, he cautions, isn't about being green, it's about evolving as a professional. "Getting the job is a very different skill set than doing the job." He says he learned the job partly by taking creative risks. For instance, before Hill Street Blues, most television shows developed through a linear structure. Bochco's series challenged that concept by making use of story arcs—he would use several storylines that would develop over the course of a series of episodes. Because of that approach, Bochco is credited with changing the structure of television drama. Finding success, says Bochco, is about trusting your instincts, taking risks, and seizing opportunities.
When Bochco's workshop ends, there is a 15-minute break. The students flock to the Chosky Theater, right next door, where Wagner will join Bochco for the Hollywood Panel open forum. Joining the student audience are professors, administrative staff, and the general public. Even the local press is there. Some students can be spotted texting their friends, excitedly detailing their whereabouts.
The two guests take center stage, seated with the Head of the School of Drama,Peter Cooke. Multiple cameras and mics record the discussion emceed by Cooke. After a few prepared questions, he invites questions from the audience. Students quickly line up to speak—some with the nervousness of beginners, others armed with a confidence that can only come with being on stage. The Q&A quickly turns into a dialogue among colleagues. Bochco would later remark on how together and knowledgeable the students appeared to be—much more aware than he was when he studied on the same campus.
As the students question Wagner and Bochco, there is an ongoing comedic break as the questioners struggle with the microphone stand—too high, too low. Everyone keeps getting a good laugh out of it. When a young student actress is able to position it at the appropriate height for her question, Bochco chuckles and celebrates her success. She'll make it, he jokes.
Advocates for proper training and a good résumé, Wagner and Bochco reassure the drama students again that a solid foundation and training from an institution, like Carnegie Mellon, can get you in the door. In a difficult economic climate that hasn't spared the entertainment industry, and at a time when competition for acting jobs has never been more intense, their words seem to create a renewed sense of purpose for any drama student second guessing his or her career choice. At one point, Wagner says, "There are times when there's a learning curve, and there are times when there is no margin for error. That is something that you learn only from pure experience." For now, the students are still in the midst of their learning curve.
With that comforting outlook, they also mention there is no set formula for success in the entertainment industry: "No two careers of anyone I've ever worked with or handled are the same. There's no definitive path," Wagner squarely tells a student, "Your sense of purpose transcends any one moment." For Wagner, who has overseen the careers of some of the most successful and talented individuals in Hollywood, stardom might appear glamorous, but it is invariably a bit messier and more challenging than it appears, she tells them. "Be aware and be skeptical."
Wagner and Bochco take their last question for the day, and the crowd quickly streams down the steps and descends upon them. Probably much like the paparazzi does to many of the stars with whom they work, everyone wants a piece of the two success stories. Both of them graciously stay, fielding questions. It's then back to the green room to meet with the press before they're whisked away.
The gloomy afternoon weather outside the theater remains oddly mismatched with the energy that still lingers inside. Some students hang around, talking to each other. Others perform a balancing act with their hot lattes and cell phones, explaining to loved ones miles away the events of the day—secretly hoping that one day it might just be them on that stage
Lisa Kay Davis (HS'09) recently earned her MFA in writing and has embarked on a freelance writing career.