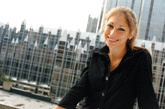 A few weeks ago, I surrendered. I joined Facebook.
Sure, it was "for research," but after a handful of exchanges with old friends, 135 photo uploads, and countless hours later, I was addicted.
And then I got a message from a former Carnegie Mellon classmate: I'll be disappointed if you tell me you're still in Pittsburgh.
That was all it said. Perfectly framed in white, that one-line sentence stood out against the background like a fortune cookie. And it made me think.
Why shouldn't I be here?
In high school, I simply assumed that Pittsburgh was my home, and when it came time to make a decision about college, nearby Carnegie Mellon seemed like a good choice. Aside from family trips to Florida, other states seemed worlds away.
Then came college. All of a sudden, everything seemed a little closer and a lot more exciting. I wanted DC. I wanted New York. And even though I never considered the possibility of starting a business, I ended up wanting that, too.
Somewhere along the way, undergrad turned into grad school. And just as seamlessly, grad school turned into my first company. I, along with other friends from Carnegie Mellon, created College Prowler, an ongoing series of student-written guides on colleges and universities across the country.
And that's how it was. While most of my friends were going on their first interviews, I was trying to figure out how to get College Prowler in The New York Times and on CNN. While some of my old classmates were getting coffee for their new bosses, I was serving it on Walnut Street to pay the bills until we could pay ourselves.
Even though some people think that the techies at Carnegie Mellon are the only entrepreneurs on campus, I know this isn't true.
Years later, after securing deals with the nation's top bookstores, developing marketing strategies, and personally securing media coverage from hundreds of outlets (The New York Times and CNN included), College Prowler turned into my second company, Branding Brand. Now, I, along with two other College Prowler co-founders, do the same thing for our clients that we did for our first company—we get results through innovative online marketing, branding, and public relations.
Branding Brand's office is in the heart of downtown Pittsburgh, in a rehabbed raw space that costs less than most people pay for parking. Our first weekend in our new location was spent painting walls and then walking to the gallery crawl outside our door.
The truth is, there's nothing easy about starting a business or staying in Pittsburgh. But my experiences have taught me that business is not just for business majors and that start-ups are not just for Silicon Valley. You do it because of your team, and, in the end, you do it for the one "what if" that really matters: What if we can make this work?
Yes, a humanities student can be entrepreneurial and start a company, and yes, it can be done in Pittsburgh.
Koshzow (HS'02, HNZ'03) co-founded Branding Brand Communications with Christopher Mason (TPR'01) and Joey Rahimi (TPR'01). Yes, she is still in Pittsburgh and says she is "pretty darn proud of it."