CARNEGIE TECH 19, NOTRE DAME 0
The game, played 80 years ago before a standing-room-only crowd at Pittsburgh's Forbes Field, is legendary. It stands as not only the greatest victory in school history, but also one of the biggest upsets in all of college football. ESPN includes the game in its television special called "Greatest College Football Upsets."


On paper, the Tartans didn't have much of a chance that snowy, cold, and gray November afternoon. Notre Dame came to Pittsburgh undefeated and with a super-stingy defense that had not yielded a single point in eight games. A national championship seemed to be well in hand with only two games remaining, Tech and Southern Cal. Conversely, Tech, which had fallen to Notre Dame the previous four years in a row by a combined score of 111-19, brought a 6-2 mark into its final contest of the season.
Notre Dame was such the heavy favorite that rumors flowed out of South Bend that Head Coach Knute Rockne planned to leave the first-string at home to rest for Southern Cal.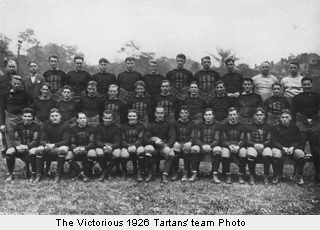 "We are pointing for your game Saturday and will give you all we have," wrote Rockne in a telegram to Carnegie Tech Athletic Director Clarence "Buddy" Overend in an effort to dispel the rumor.
The record shows that Notre Dame's first team did make the trip, but Rockne chose to stay in Chicago to attend the Army-Navy game at Soldier Field, and left the team in the hands of his top assistants. It was a move he would regret.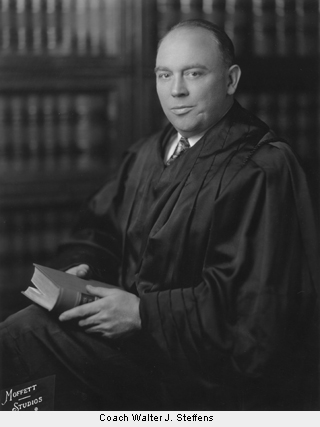 The teams played to a scoreless standstill in the opening quarter as Notre Dame predictably employed their "shock troops" to begin the contest. The Irish plan was to use their second team to build the confidence of its opponent before rushing their top 11 on the field for the kill. The plan backfired as Tech toyed with the Notre Dame backups before shocking their first team in the second frame.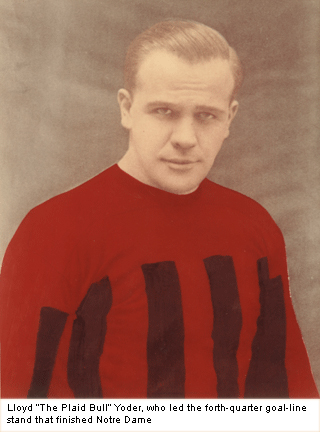 Touchdown runs by Bill Donohoe and C.J. Letzelter gave the Tartans a 13-0 halftime lead, and two drop-kick field goals of 32 and 45 yards by Quarterback Howard Harpster ended the scoring. Tech drove the final stake into Notre Dame with a fourth-quarter goal-line stand led by Lloyd "The Plaid Bull" Yoder. Harpster and Yoder later became Tech's first two football All-Americans and were inducted into the National Football Foundation and Hall of Fame.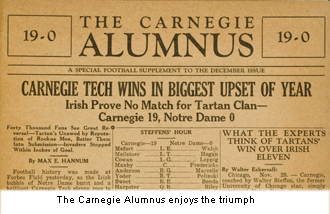 Tech "shocked the world" on Nov. 27, 1926, setting off post-game celebrations on campus that extended into the following week.
Today, players and coaches are reminded every day of that dramatic feat 80 years ago. As they walk from their locker room to the playing field through the Howard Harpster Hall of Fame, they see the game ball, a portrait of Harpster, and other memorabilia of Tech's glorious past.

"Knowing the history of this football team and all of the prestigious teams we have beaten in the past gives us a greater sense of pride and honor when we put on our jerseys and represent Carnegie Mellon football," says senior linebacker and co-captain Jamie Ploetzner.
Fellow co-captain Aaron Lewis, a senior All-America defensive back, agrees.
"I think it's very cool walking through the hall of fame . . . as you are about to play a football game. It really gets the adrenaline pumping," Lewis says.
Pumping like the arms and legs of Donohoe, Letzelter, Harpster and Yoder on that famed November afternoon.
---
Related Links:
Tartan Football
Coach Lackner
Rich Erdelyi and Terry Bodnar
National Football Foundation and College Hall of Fame