Too often, in the television era, we have picked our politicians on sound bites instead of substance. It seems the more news we're exposed to, the less real information we have to act upon.
Over the past two decades, a component of democratic theory known as Deliberative Democracy has risen up in response to the superficiality of our election process, and Carnegie Mellon is providing some of the technological tools to test its validity.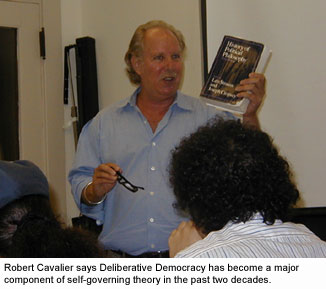 Deliberative Democracy holds that self-government works best when citizens can engage in an open and informed discussion on the issues, rather than act as isolated voters.
The university is developing computer tools to facilitate civic participation in an initiative known as the Deliberative Poll®. A Deliberative Poll gathers a representative sample of the community to discuss and respond to questions on national and local issues.
While traditional public opinion polls solicit knee-jerk responses from people who are not informed on the topic, a Deliberative Poll represents what people think about an issue if they have had time to consider and discuss it with experts and among themselves.
Robert Cavalier, an associate teaching professor of philosophy and director of the Digital Media Lab for Applied Ethics and Political Philosophy, spearheads the university's participation in the process. Cavalier says Deliberative Democracy has become a major component of self-governing theory in the past 20 years. The Digital Media Lab created software specifically for use in online Deliberative Polls.
The Institute for the Study of Information Technology in Society (InSITeS) at the H. John Heinz III School of Public Policy and Management has received funding from the National Science Foundation to compare face-to-face and online deliberations. For that study, InSITeS has selected more than 400 Pittsburgh residents to participate in a series of "congress" to discuss local issues.
---
Related Links:
Center for the Advancement of Applied Ethics
InSITeS
The Heinz School
Robert Cavalier
Deliberative Polls