Carnegie Mellon celebrated the 25th anniversary of its world-famous Robotics Institute with a four-day extravaganza that brought more than 1,000 people to the university to debate, view, demonstrate and ponder the future of the field of robotics.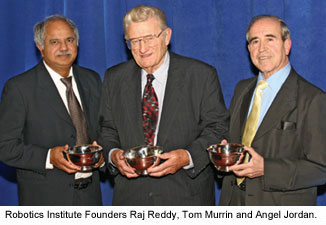 The institute was founded in 1979 by University Professors Raj Reddy and Angel Jordan, and Tom Murrin, then president of Westinghouse Electric Corporation's Energy and Advanced Technology Group. The original $3 million industrial research grant from Westinghouse spawned one of the largest robotics organizations in the world—now a $50 million enterprise with some 300 faculty, students and staff working on more than 100 projects.
As Carnegie Mellon President Jared L. Cohon pointed out, Robotics Institute research breakthroughs are changing the fields of agriculture, medicine, mining, transportation, space exploration and national security, to name just a few.
"Our work has furthered the goals of government agencies, including NASA, DARPA, the Department of Energy, the Department of Transportation and the Environmental Protection Agency," he said. "Companies from around the world work with us, learning how to use robotics to solve problems, develop new products and open new fields of commercial endeavor. Companies, government agencies and universities also come to recruit the outstanding potential employees produced in our unique master's and doctoral programs in robotics."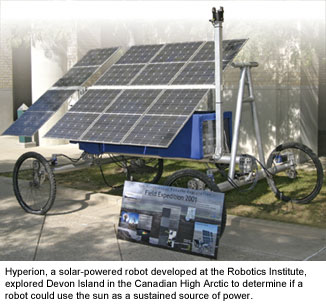 The celebration began Oct. 11 with the second annual Robot Hall of Fame induction ceremony. Inducted this year were: Honda's humanoid robot ASIMO; Shakey, the first mobile robot to reason about its actions, developed by SRI International; Astro Boy, a Japanese animation of a robot with a soul; Robby the Robot, from MGM's 1956 science-fiction epic "Forbidden Planet;" and C-3PO, from the Star Wars series. Established in 2003, the Robot Hall of Fame honors both real and fictional robots and their creators in recognition of the increasing benefits robots are bringing to society.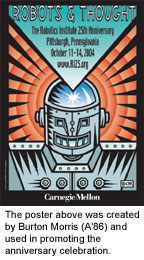 What followed (Oct. 12-14) was a smorgasbord of seminars on bringing robotics projects to commercialization; faculty discussions of the institute's latest research projects and demos of all kinds of robots, including Segways® playing soccer with people, a Sonic Flashlight™ to help doctors see beneath the skin of their patients and serenades from a very loud robotic bagpiper named McBlare.
Over it all floated the symbol of the event, a spectacular aqua-and-orange poster depicting a grinning robot created especially for the occasion by famed Carnegie Mellon design alum Burton Morris (A'86). It's already become a collector's item.
---
Related Links:
The Robotics Institute
The 25th Anniversary
Robot Hall of Fame