Are communications on the Internet spinning out of control, like a car without brakes? Yes, according to many of the experts and journalists on hand Oct. 12 for the 2nd annual Cybersecurity Journalism Awards panel and dinner at the National Press Club in Washington, D.C.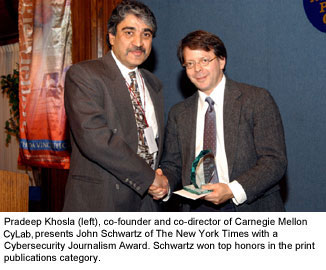 The awards were developed by Carnegie Mellon CyLab and the Information Networking Institute, along with the D.C.-based Newseum to honor editors, reporters and producers who have done the most to educate the public by giving readers, viewers and listeners a better understanding of America's ongoing battle to protect cyberspace and preserve our national security.
The winning entries this year covered a variety of topics ranging from identity theft to airport security issues.
This year's winners included Larry Abramson of National Public Radio (NPR), who won top honors in the broadcast category. John Schwartz of The New York Times was the winner among print publications with Jonathan Krim of The Washington Post and Ted Bridis of the Associated Press receiving awards of merit.
MSNBC.com's Brock Meeks won for online cybersecurity reporting, and Brian Krebs of Washingtonpost.com received the award of merit in that category.
In a new trade publication category added this year, eWeek took top honors with Scott Berinato of CSO Magazine receiving an award of merit.
A panel discussion on computer security issues was a prelude to the awards ceremony. Speakers focused on personal computing, liability issues for software developers and industry, and cybercrime, although many of the journalists observed that the Internet simply provides a new way to commit old crimes, like identify theft and fraud.

Carnegie Mellon CyLab

Carnegie Mellon CyLab is a bold and visionary effort aimed at creating a public-private partnership to develop new technologies for measurable, available, secure, trustworthy, and sustainable computing and communications systems, and to educate individuals at all levels. Carnegie Mellon CyLab is a university-wide, multidisciplinary initiative involving more than 200 faculty, students and staff that builds on more than two decades of leadership in information technology.

The Information Networking Institute

The Information Networking Institute (INI) was established by Carnegie Mellon in 1989 as the nation's first research and education center devoted to information networking. As a cooperative endeavor of the schools of engineering, computer science, business and public policy, INI focuses on professional degree programs that integrate technologies, economics and policies of global and secure communications networks. The Information Networking Institute is the education arm of Carnegie Mellon Cylab.
---
Related Links:
Carnegie Mellon Cylab
The Information Networking Institute