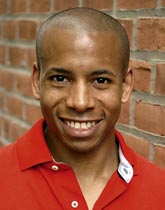 Darren Canady (DC'04) paces around his office, holding sheets of paper. He faces a wall and says, "I suppose it falls to me to tell them?" He pauses, alters his voice, and declares, "You ain't telling them no such thing." Canady crosses the room, scribbles a note, and continues speaking aloud, building up to a dialogue battle; it's a fight he's having with himself.
He isn't crazy. The scenes must get worked out: these are the last rewrites. So, he works the lines over and over, playing all the parts. He's frustrated when the lines ring false, but he keeps going.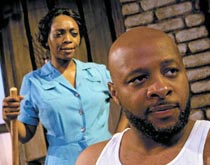 It has taken him about two years to get the script refined, all while working as an English professor at the University of Kansas. Driving him is the knowledge the play will, in ways, be a tribute to his father. Like his father's family, the characters in Brothers of the Dust are thrown into a dispute over ownership of a farm.
While working on the script, Canady spoke with his father about whether the story might cause the family pain. "I always tell people it's a dangerous thing to know me sometimes." Most people in his life, he says, will become his characters. His dad pushed Canady forward.
Finally, it's ready. Nearly 200 people pack the Chicago Center for the Performing Arts. Seven actors anxiously wait to take the stage. Canady sits in the audience. Sadly, Canady's father passed away before his debut. When the play begins, Canady sees the echoes of his dad in the lead character. His father believed in this story, and now at last the audience can as well, which makes Canady proud.
The play garners positive reviews and something else: the M. Elizabeth Osborn New Play Award, which is designed to recognize lesser-known playwrights. It's enough, Canady says, to give him the drive to keep writing. Sure enough, he's working on a new play, titled Ontario Was Here. "Saying that you're going to make a career in the arts is actually insane," he says, "The Osborn is just enough to keep me from throwing in the towel."
—Michelle Bova (DC'07)
Related Links:
'Brothers of Dust' Tops Black Theater Alliance Awards