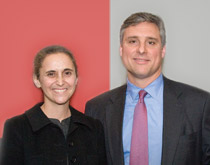 Paul Russo steps onto Carnegie Mellon's Pittsburgh campus for the first time in 15 years and marvels how the place has been transformed by gleaming buildings and new sculptures. When the managing director at Goldman Sachs walks across the Randy Pausch Memorial Bridge, he is moved by recollections of the bridge's namesake, whose "Last Lecture" was seen by millions on the Internet and was the subject of a best-selling book. As with many of us, the late professor's message of living a "grateful and fulfilling life" resonates with Russo (S'86); but, for him, so does what the bridge actually represents. It links the Purnell Center, home to many of the university's fine arts activities, to the Gates and Hillman centers, which form the computer science hub. The seemingly divergent connection echoes how Pausch lived his life and Russo's own undergraduate experience.
When he arrived at Carnegie Mellon as a freshman, the Buffalo native planned to immerse himself academically in applied mathematics and computer science. But in the first week of his junior year, he met Allison Goldberg, a freshman studying graphic communications management. They became friends and started dating. Spending time with Allison and her artistic friends soon expanded Russo's horizons. He was struck by how easily students of all disciplines got along. On other campuses, he imagined, math and art students would rarely cross paths.
For many undergraduates, graduation marks the end of a college romance. Not so for this couple. They continued dating, married in 1991, and now havea family. Allison Russo (AM'88) says creativity is an integral part of their lively household. Her husband can attest to that. After a typical workday in his office focusing on the financial markets, he often comes home to find his four children, ages 7 to 13, involved in activities such as silk-screening Tshirts for a children's art fair. They play instruments, paint, make pottery, and play various sports, too. Their mom balances the children's activities with running Alleycat Design, a graphics firm that designs books.
Weekends are family time for the Russos, and so are vacations. On a trip last winter to Costa Rica, all six of them learned to surf. "It was a family requirement," Russo jokes, underscoring that no family slackers are allowed because he wants his children to have the same work-hard, play-hard, compassionate mentality that has served him well throughout the years.
Russo hasn't forgotten his alma mater and how it helped broaden his view of the world. Last year, working through Goldman Sachs Gives-a donor-advised fund of the partners that earmarked money for causes such as scholarships for students hit hard by the economic downturn-Russo recommended Carnegie Mellon receive a $2 million gift to help current students in need. The gift was the catalyst for his return with his wife to the Pittsburgh campus.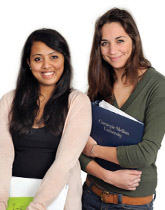 The Russos look forward to meeting the scholarship recipients during a reception. Urna Biswas, a 20-year-old business student, is among the guests and chats with the couple. She says she can't help but notice how supportive they are of each other. "He is more the person in the spotlight; but you can tell she is very capable, softspoken, and intelligent," says Biswas, who hails from New Jersey. "She told me that Carnegie Mellon will prepare you for anything that comes your way." Biswas adds that she feels a sense of community with the other scholarship recipients at the reception. "We all understand each others' troubles."
Her family's finances were strained after her father was forced to close his garment business a few years ago, though he has since opened a new one. Tuition has been a worry because her younger brother will enter college in another year. The scholarship is a huge relief for her, she says, as she can now "exhale" and concentrate on her studies, free from the anxiety of mounting debt.
The scholarship has also lifted a burden from Sylvianne Shurman, a 19-year old lighting and design major from New Hampshire. Her father can't work now, and she must pay her way through college. At the reception, she mingles with other scholarship recipients, surprised at the many disciplines represented-business, computer science, engineering, math, and science, to name a few.
"It's nice," she says, "to see that Goldman Sachs, which is about business, supports the arts, too." She says she was comforted by the Russos' downto-earth nature: "They were accepting of our problems. They said, 'You don't owe us anything. You owe it to yourself to try your best.'"
-Cristina Rouvalis