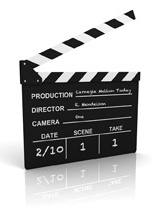 Soaring over the American heartland at 34,000 feet, Cote de Pablo studies the script for her screen test. It's 2005, and she's on a commercial airliner en route from New York to Los Angeles for a second-round audition to join a prime-time television series. She relaxes into her seat and scans the script pages—sides as they are called in industry jargon. The character she's auditioning to play, initially described as eastern European, will be the new female lead on the CBS ensemble drama NCIS, a crime-solving show about agents for the U.S. Naval Criminal Investigative Service.
At Cote de Pablo's first audition in New York, she opted for a Czech accent, figuring a specific accent would be better than making no choice. Weeks later, when her agent contacts her to say she is in the running for the role, she can't even remember trying out for the part.
That's not unusual for a busy New York actress. de Pablo is preparing for a Broadway run in The Mambo Kings, based on Oscar Hijuelos' Pulitzer Prize–winning novel. She's already appeared in a workshop production of the musical and in a pre-Broadway run in San Francisco. While the stage show has been winding its way to Broadway—a process that often takes years—de Pablo has been juggling auditions, too. She even landed her first regular role on a prime-time series, The Jury, a legal drama from Barry Levinson and Tom Fontana, producers of the acclaimed Homicide: Life on the Street. Fox executives ended up scheduling the show during the little-watched summer TV season, and it aired only briefly. That meant back to the auditions while waiting for The Mambo Kings to move forward. Welcome to the life of a working actress.
When her manager calls her on a Friday to tell her the NCIS folks might want her to have a second audition, he adds: Don't get your hopes up. Two days later, though, she gets another call. The good news: CBS will fly her to Los Angeles for a second audition. The bad news: She has to be on a flight in three hours so she can make a Monday afternoon audition at CBS's Television City headquarters in Los Angeles.
"My God, fax me those sides!" de Pablo says, feeling an adrenaline rush of anxiety, excitement, and much to consider; if she gets the NCIS job, she'll have to bow out of The Mambo Kings.
She sits on the plane, not sleeping, not eating, just preparing. Re-reading the script, she imagines the different ways she can play the scene, the different places in the dialogue where she can put emphasis. All the while, she flies over homes where viewers are already watching NCIS, in its second season. If she gets the job, she'll be appearing in those homes, too.
de Pablo got her first taste of performing when she took drama as an elective class in middle school. Born Maria Jose de Pablo Fernandez in Santiago, Chile (Cote is a common nickname for Maria Jose), she moved with her family to Miami at age 10 when her mother, Maria Olga Fernandez, took a job as a talk-show host with Telemundo. de Pablo says she was a shy child who didn't speak English well. She now believes that signing up for the drama class was a subconscious effort to expand her English vocabulary and with it, unknowingly, her opportunities in America.
"I remember, I was on stage in a scene and something happened, and I called somebody 'a bastard,'" she says, "and my teacher took me offstage, gave me detention. I said to myself, 'There's something very wrong with this class. ...People must express themselves on stage and have to be able to get it all out there.' I knew I just needed to find the proper class." That drama class did teach her something, however: "If I could make a living by singing and acting and doing musicals, that's what I wanted to do."
While de Pablo attended a performing arts high school, television producers noticed a photo of her on her mother's desk at the TV station and hired her to co-host a magazine-style, Spanish-language TV show. During that same period, she researched the best college for her area of academic interest. She kept coming across Carnegie Mellon. It became her first choice despite the long odds of getting into the prestigious musical theater conservatory program.
"I said, 'That's my school, that's where I'm going,'" smiling at her younger self's determination. de Pablo's dreams were realized, and she earned her degree in 2000. She remembers her years in Pittsburgh as "a beautiful time," filled with exploration in a creative playground. Challenging as she says her program of study was, she remembers feeling embraced by the faculty.
"They could see things in me I may not have seen at the time," she recalls during a conversation in the corner of a cozy Pasadena, Calif., hotel bar. "I always felt like they understood me. I was pretty complex: I was an immigrant, and my family was very far away. I was both incredibly fragile and incredibly strong, and I think they could see that, and I will always be grateful for that."
Casting a new character in a prime-time TV series is like walking a balance beam. Television viewers are fickle and sometimes abandon a show if a newcomer fails to jell with the established mix of characters. NCIS star Mark Harmon says he had some trepidation about a new actress joining the show in 2005. "Chemistry is a big intangible in television," he says. "We made some headway over the past two years, and the fact we were replacing a major character made us all a little concerned."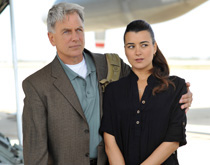 Co-executive producer Charles Floyd Johnson knows the cast will be wary of any newcomer as he screens DVDs of more than 50 actresses who have auditioned for the role. None of them seems quite right for the part. When de Pablo's audition DVD arrives from New York, Johnson pops it in a player. He's intrigued by her look and bearing. She's attractive, but her air is not overly glamorous. Johnson scans the pile of headshots of actresses with longer résumés, but he is impressed with de Pablo. There's a mystery about her that may be right for the character. He pulls the DVD out of the machine and rushes it to series creator Donald Bellisario, who agrees: de Pablo is one worth considering.
When de Pablo arrives for her test on Monday, she meets another actress auditioning for the role. Neither perceives the other as a rival; they're just colleagues hoping to land work. When de Pablo good naturedly wishes her counterpart well, saying, "Break a leg," the other actress tells de Pablo it's her 12th audition for the role. Learning about that many callbacks, de Pablo is a bit deflated, assuming the other actress will get the part. But she doesn't allow the news to break her concentration.
When de Pablo enters the audition room, NCIS co-star Michael Weatherly is there, too, to perform opposite her. Network executives are watching for chemistry (or a lack thereof) between the actors. During the audition, Weatherly, who is prone to improvisation, deviates from the script. The detour surprises de Pablo.
"Coming from theater, my training is that you respect the words, and you say it as it is," she says. Weatherly, in character as jocular NCIS agent Tony DiNozzo, grabs a wayward strand of de Pablo's hair and pushes it back into place.
"My God, you are so pretty," he says, improvising. "You remind me of Salma Hayek."
The actress is livid at what strikes her as an unprofessional breach of decorum. Is he trying to sabotage her audition? She doesn't let him throw her off. She responds in character.
"I dismissed him completely," she says. "My primary thought was, 'Don't let this guy get physically close to you.' And, at that moment, everybody in the room started laughing and thought it was the funniest thing in the world because the chemistry between the two characters was perfect."
Johnson, now an executive producer for NCIS, says the other actress' résumé had made her the frontrunner, but de Pablo won the part through her performance and spontaneous reactions to Weatherly. His departure from the script didn't fluster her, at least not in any way that was obvious to producers. "When you get actors who really listen and respond organically in the moment to what they're hearing, sometimes magic happens," Johnson says. "They really seemed to get that immediately, and that doesn't always happen."
After the audition, de Pablo waits outside in the California sun for a cab to take her back to her hotel. Executive producer Bellisario emerges from the building with Weatherly and suggests to Weatherly that he give de Pablo a ride.
"No, sir, I'll get a cab," de Pablo interrupts politely.
"No, you should get in the car with Michael and let him drive you to your hotel," Bellisario insists.
"No, it's fine," de Pablo replies. "A cab will be here soon."
"Damn it," says an exasperated Bellisario. "This is not the way I wanted to say it, but you got the job, I just need you to get familiar with Michael Weatherly."
Weatherly later recalls that the drive began coolly, owing to him going off-script during the audition. "I'm still living it down," he chuckles, noting that not much has changed on set. "I treat her exactly the same way as in the audition, which is to say I have the utmost respect for her as a human being, and then I try making it as difficult as possible for her to say the lines as written."
On the way back to the hotel, the relationship between the professionals warmed. "Initially, I thought, 'Wow this is a frosty, unfriendly, almost mean girl,'" Weatherly recalls, "but by the end of it, I dropped her off and thought, 'Wow, she's kind of sweet deep down.' Cote, in her intimate way, she gets very close to you when she talks, and you get a little googly-eyed."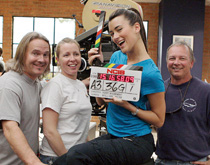 Her feisty reaction in an unscripted moment in the audition won her the role of NCIS character Ziva David, who morphed from European to Israeli as writers refined the character. David, now a former Mossad agent, often takes center stage in fight scenes. In one of this season's episodes, David twists a suspect's arm behind his back and shoves him against a wall before putting him in handcuffs. Then, she flips one of his compatriots onto his back.
"She was always great at that, always the girl who would bust in the door and do a fake action scene, head butt you, push you across the room and shoot at you," says actor Matt Bomer, star of the USA Network series White Collar and a friend since they were classmates at Carnegie Mellon. "She always had that in her," adds the man who was recently selected by People magazine as "Sexiest Rising Star." Bomer believes, "This role was just waiting for her to come and get it. She was one of the guys."
de Pablo says she has always been physical. When she first moved to America and could not speak the language, she found an escape in track and field. Her gym teacher would shout, "Run, Cote Wild Coyote," and even if she didn't completely understand the words, she knew that it meant to run as fast as possible. Her drive to continue moving forward serves de Pablo well, whether adapting to the culture and learning the language or perfecting her craft.

Her co-star Mark Harmon says he got a sense that de Pablo would fit in with the cast just fine from the moment she first walked onto the set. He describes her work ethic as "blue-collar solid," noting the prepared ease with which she rattled off a page of dialogue in Hebrew during a rehearsal for her first episode. He says her gusto to embrace teamwork in the production process helps make the set a welcoming environment; not every actor plays so well with others.

"Before I ever knew her, I remember seeing her in the squad room set, and I watched her walk from Point A to Point B after a shot. I watched her tousle the head of the dolly grip and hug the director of photography and continue right on. It's just what she does, who she is," Harmon says. "Cote did nothing other than what she'd do every day."

Her on-screen chemistry with co-star Weatherly also developed and affected the direction the writers have taken her character. The characters, David and DiNozzo, are frequent verbal sparring partners, but there's also an attraction between the pair that has fans, on various Web sites, hoping the twosome will end up romantically involved. Executive producer Johnson says viewers should not expect that to happen, at least not until the series' final episodes. And the show, given its ratings, won't be concluding anytime soon.

Midway through the 2009-10 TV season, NCIS ranks as television's top-rated series, drawing an average 21 million viewers weekly. The show is also No. 1 among viewers ages 18-49, a key demographic sought by advertisers. It's a rare feat for a television series in its seventh season to see such ratings growth. Harmon says de Pablo has been integral to the show's late-bloomer success. "I don't know how you define this show any longer without Cote," he says.

de Pablo, 30, is now in her fifth year on the series. She acknowledges that for an actor playing the same role on a TV series week after week, there are challenges to keeping boredom at bay, but she says her training at Carnegie Mellon prepared her for that. Her situation is not all that different from an actor on Broadway saying the same lines of dialogue night after night.

"My teachers used to tell me, 'If you think for a moment that doing a show on Broadway on your 137th show, you're going to be having the same kind of emotional rush for your work as in the first show, you're dead wrong. You're going to rely on technique sometimes, and, at times, you're going to find elements that surprise you.'"

Acting in a prime-time drama is a time-consuming job. de Pablo often works 12-hour days, nine months out of the year, allowing little time for stage or film roles, something she misses. The Mambo Kings never opened on Broadway, which made her decision to accept the NCIS part easier, but for someone who grew up singing songs from the musical Nine, even before she learned to speak English, she looks forward to a time when she'll be able to get back to it. For now, she's content.

"I feel like life is lived by chapters," she says, "and this is a chapter in my life I would love to finish well and give it my all."

Rob Owen is author of the book Gen X TV: The Brady Bunch to Melrose Place, a former president of the Television Critics Association, and the award-winning TV editor/critic for the Pittsburgh Post-Gazette.