Carnegie Mellon University alumnus Devon Rollins co-founded STEMLY, a Washington, D.C.-based nonprofit that aims to bring STEM (Science, Technology, Engineering and Mathematics) education to underrepresented minorities.
Rollins believes a STEM education can foster the 21st century American Dream, especially for those attending schools in the inner-city, "tech-desert" neighborhoods like he did as a child.
He remembers his school days, begging neighbors for their promotional CDs offering free AOL minutes on the internet so he could chat with people around the world.
"In those chats nobody was concerned where I came from. It became really clear to me that a way out of the neighborhood was what you knew," he recalled.
Rollins went on to earn multiple STEM degrees, including a master's degree in Information Security Policy & Management from CMU's H. John Heinz III College in 2010.
"It helped give me the foundation I needed to help build a career," he said.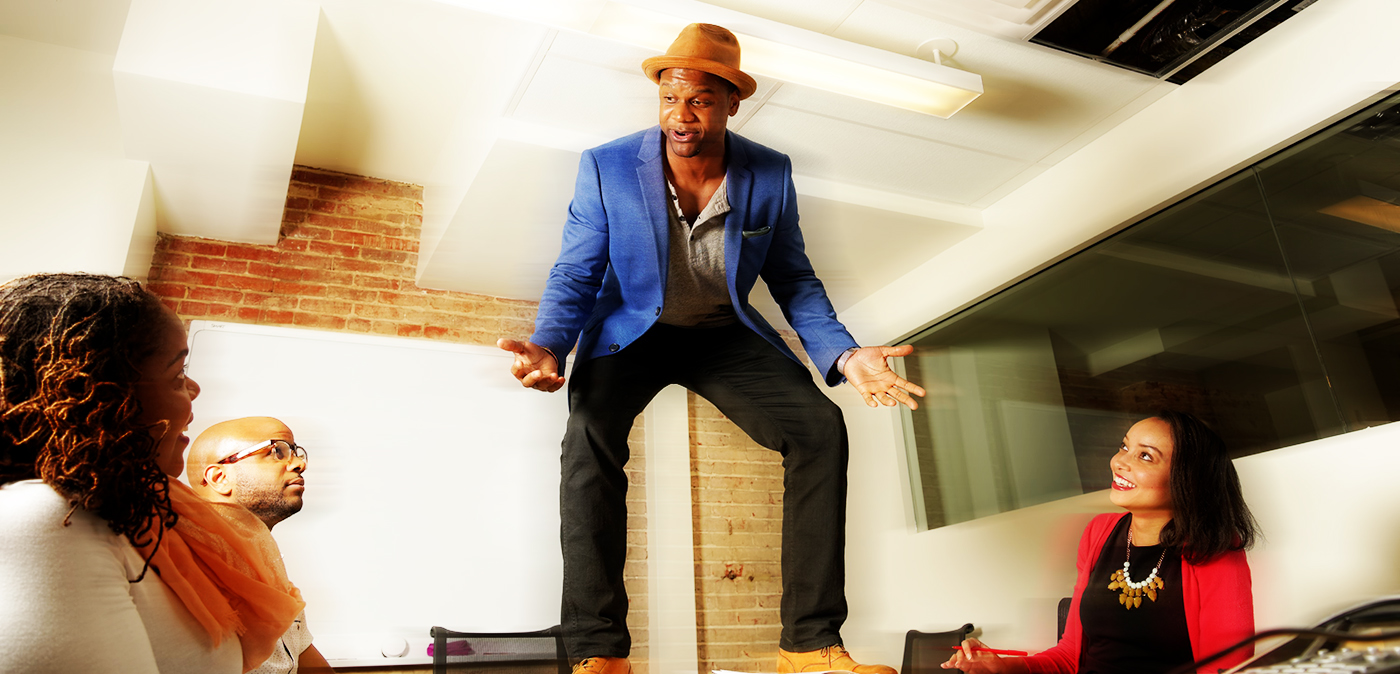 Today, he manages a multidisciplinary team of analysts at EY (formerly Ernst & Young). He takes a novel approach to cybersecurity, leveraging innovative data technology to evaluate how cybercriminals are funded, and then using that economic data as a "back channel to figure out the larger narrative and the real story in play," Rollins explained. "I get to be the translator of sorts for this technology," and he educates board members about risk management as it relates to cybersecurity.
His role at EY keeps him busy, but he hasn't forgotten neighborhoods like the one he grew up in outside of Washington, D.C. Through STEMLY, he and his co-founders — brother Duane; a friend, Phillip Stephen; and 2010 CMU alumna and friend Brittany McCoy — work to ensure STEM curricula for underrepresented students.
To date, STEMLY is the longest-standing partner organization of the Washington Leadership Academy (WLA) open-enrollment public charter high school.
"WLA chose to work with STEMLY because of its emphasis on culturally competent curricula and collaborative ethos. Devon, specifically, has been invaluable to creating a culture of STEM-thinking at WLA, offering everything from drone presentations on the first day of school to an impromptu cryptography lecture to our computer science class," said Natalie Gould, WLA's director of operations.
The two organizations have partnered to develop the computer science curriculum, the service learning program, senior capstone projects and a Friday lecture series.
"We want to find and harness those things that kids already find interesting and tease out where STEM is within those spaces," Rollins said.
With STEMLY's help, WLA unlocked its own prize: a $10 million dollar grant from XQ: The Super School Project, funded by Lauren Powell Jobs, wife of the late Apple founder Steve Jobs.
But that's just the start, Rollins said. Next year, STEMLY hopes to form corporate partnerships to enable the nonprofit to expand substantially and make a big difference for many young lives in the D.C. area and beyond.
Photo: Passionate about making a STEM education more accessible to high school students are (L-R): Britney McCoy, STEMLY Director of Educational Experiences, Duane Rollins and Devon Rollins, STEMLY cofounders and volunteer Sarah Bowers