Zap! The superhero runs through the grass, waves to activate his superpower shield, takes aim and blasts an opponent. He dodges when another foe appears from behind a tree. This is not the latest video game; it is SuperSuit, a wearable gaming platform that reduces screen time and encourages physical activity.
Carnegie Mellon University alumnus Rajat Dhariwal and his wife, Madhumita Halder, are co-creators of SuperSuit. They demonstrated the product at the 2016 Consumer Electronics Show in Las Vegas and were covered by more than 250 publications. WIRED and Mashable named SuperSuit to the Coolest Gear at CES 2016 and Coolest Gadgets for Generation Z, respectively.
SuperSuit is more than a toy.
"It takes kids and families outdoors to interact with one another and supports exciting but non-violent games. Above all, it is the coolest thing to play," Dhariwal said.
While SuperSuit's primary target audience is kids, it is meant for all ages. The 16 team members in the United States and India who developed the game plan to have the product to market by April 2017.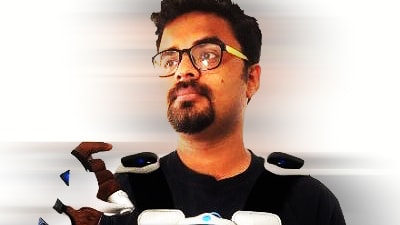 The platform includes 15 preloaded games, including capture-the-flag and Robin Hood, and its one-size-fits-all suit consists of a vest with haptic feedback and a glove with LCD display and triggers. The glove is capable of producing reflective zaps while gesture controls unlock various superpowers gained through experience points. It uses a radio transmitter with a range of 100-200 feet and can be played anywhere.
Citing findings from the Kaiser Family Foundation, Dhariwal points out that the average tween is exposed to more than eight hours of electronic media daily but spends less than 90 minutes in physical activity, adding that increased screen use is associated with reduced attention span and diminished social interaction. He is proud that his company is dedicated to physical play and providing parents with screen alternatives.
He gives credit to Carnegie Mellon for helping him reach his goals.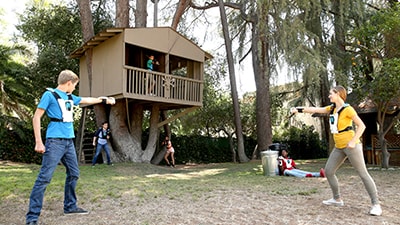 He earned a bachelor's degree in electrical and computer engineering in 2005 and honed his business acumen through numerous entrepreneurship courses at the Tepper School of Business. His first entrepreneurial team venture at CMU won a Pennsylvania Cybersecurity Commercialization Initiative Grant.
Jesse Schell, CEO of Schell Games and CMU Distinguished Professor of Entertainment Technology, helped guide Dhariwal.
"Rajat has an incredible vision for using digital technology to create new kinds of physical play, both indoors and outdoors," Schell said. "SuperSuit has the potential to start an entirely new genre of outdoor digital play for kids."
And last but hardly least, exactly what do those kids think?
Dhariwal said testers are excited, and one exclaimed: "It's like video games have come to real life!"